Ahmedabad is a lively city where roads are bustling with people and love. Where food is life and life is crazy. A city where dreams and towers are skyscraping. Where the fusion of legacy and modernity will blow your mind. It's a city full of life. It's not all about dhoklas, and khakhra's here & so I have come up with a curated list of  18 places to visit in Ahmedabad and things you must do while you are here.
Let me start by just boasting about my city, Ahmedabad is inscribed as First World Heritage City in the list of 2017 by UNESCO.

Karai Dam
A peaceful dam, located on the outskirts of Ahmedabad, is built on Narmada Canal. The dam comes out as a pleasant surprise when visited during monsoons. It's a cold & calm place with sunsets and sunrises the charm of the site. The scene at these times is mesmerising.
Enjoy the beauty of nature here with a bhutta in hand and rains pouring. Make sure to not litter the place.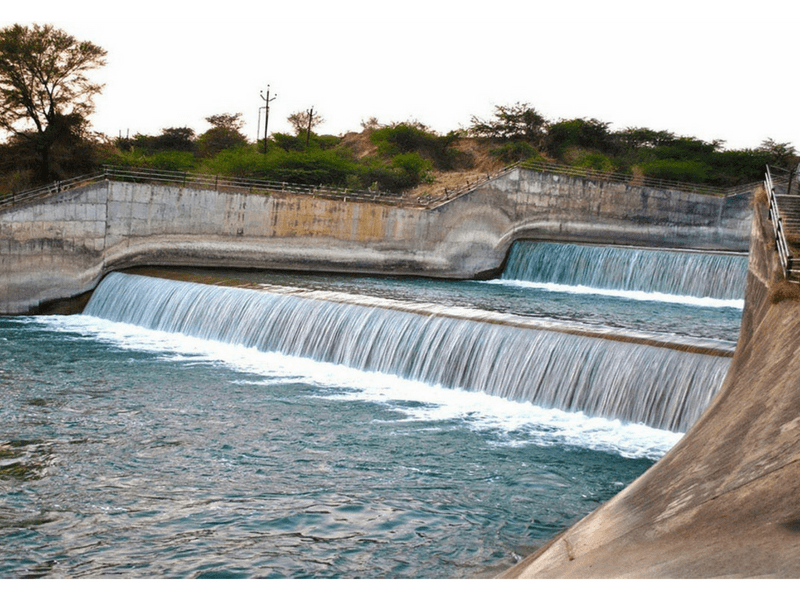 P.S. You need to carry your luck along to visit this place. We would recommend you to visit this place on Sundays as generally, it is open for the public on that day (we still are not sure)
French haveli is a 150-year-old restored Gujarati heritage home. French architect had restored this place and lived here in the past & hence the name French Haveli.
The splash of colours & homeliness makes it an attractive stay for most of the tourists. It also contains a 100-year-old Jain temple and chabutra. The outer design of the haveli depicts the French models, while when you go inside you will find Indian Haveli styled furniture and vessels to give you a homely feeling. It is not just the place to provide you with accommodation but brings you an opportunity to experience the local community too by staying in the heart of the city.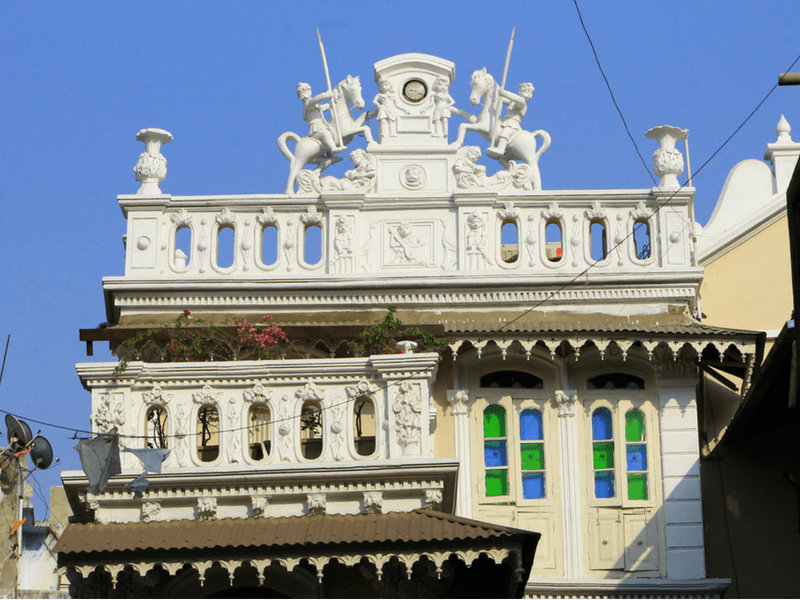 Address:1824 Khijada Sheri, Opp Jain Derasar, Dhal Ni Pole, Ahmedabad 380001
 
Amdavad ni Gufa

'Amdavad ni gufa' is a beautiful art gallery of the city having a cave-like structure. The architecture of this underground art-gallery holds its place among the unique and great modern architecture of India. The place is quiet and peaceful and at the same time exciting because of its structure the interconnected domes supported with tree-like pillars. There are snouts made in the walls through which light penetrates inside the gufa creating a natural and mystic atmosphere. That makes a beautiful site!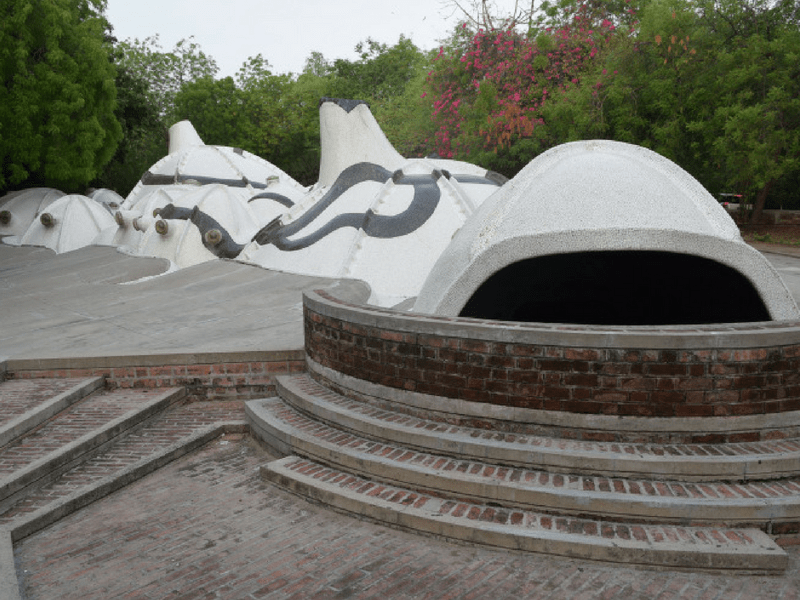 Amdavad ni gufa is undoubtedly the best place for any art lover. Even if you don't understand artwork, you can still visit the location for its beauty.
The Gufa was constructed in the year 1995 by Balkrishna Doshi, a Padma Shri awarded architect.
Address: Opposite L.D Engineering, Gujarat University campus, CEPT campus Ahmedabad, Gujarat 380009
Timings : 4:00 AM to 8:00 PM
Sarkhej Roza

Sarkhej  Roza is a mosque and a tomb built in 1451 AD. The place's beauty is remarkable & the Sarkhej lake just adds to the beauty of this mosque.
The rays of the sun getting in through the geometrically carved jaalis beautifully create a pattern on the walls when the sun goes down. The beauty of the site of this natural light show is magnificent.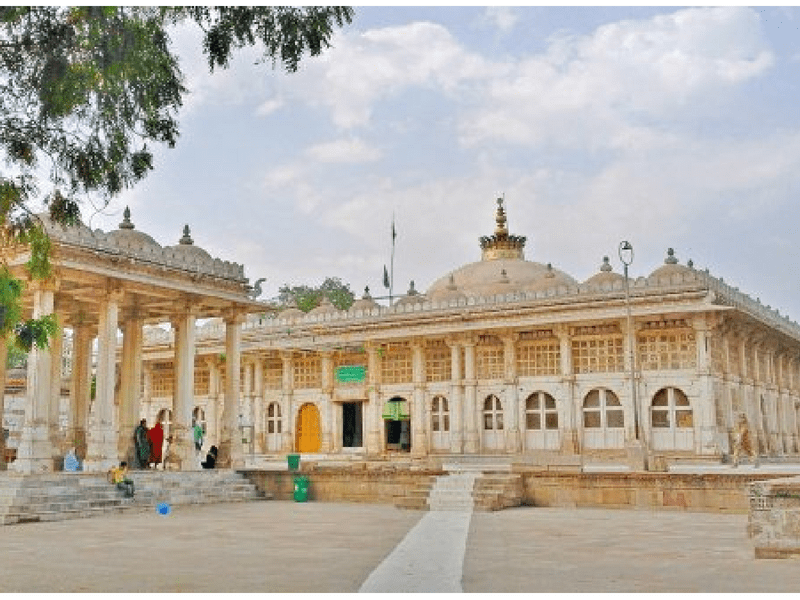 Not only this but the place is even used to conduct heritage & Sufi festivals. Stars like Amitabh Bachan, Javed Akhtar and our late president Dr APJ Abdul Kalam have visited this place and were awed by the scenic site.
To preserve this place, campaigns like "rediscover Sarkhej Roza" are conducted. Along with the government, many agencies have contributed to protecting this place.

Address: Post Jeevraj Park, Sarkhej Makarba Road, Makarba, Ahmedabad, Gujarat 380051
Auto-World Vintage Car Museum
A paradise for car lovers where you can find world-class vintage car collection and antique vehicles, motorcycles etc.. Spending few hours will be a delight here by finding cars like Mercedes, Rolls-Royce, Bentleys, Daimlers, Lagonda, Maybach, Packards, Cadillacs, Buicks, Auburn, Cord, Lancias, Lincolns, Chryslers and many other. You can also find refreshments and food places to spend your day there.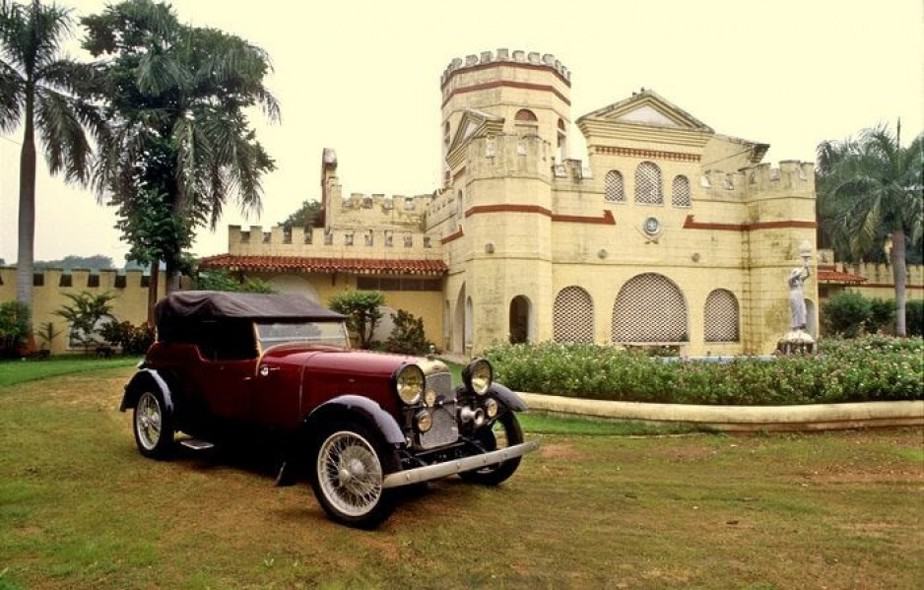 Address: Dastan Estate, Sardar Patel Ring Road, Kathwada, Ahmedabad-382430
Timing: 9:00 AM to 1:00 PM & 2:00 PM to 9:00 PM
Calico Museum of Textiles

The museum was founded in 1949 by Gautam Sarabhai and his sister Gira Sarabhai at that time when Gujarat was recognized for its textiles. The Calico Museum of Textiles is the exclusive textile museum of India. This museum contains one of the world's finest collections of antique and modern Indian textiles. There are some rare beautiful pieces that you can find here. In the visit, you can cover the main textile galleries where you get to see remarkable examples of royal garments, saris, tribal costumes, Patola and Mashru weaves and Bandhani tie-dyes.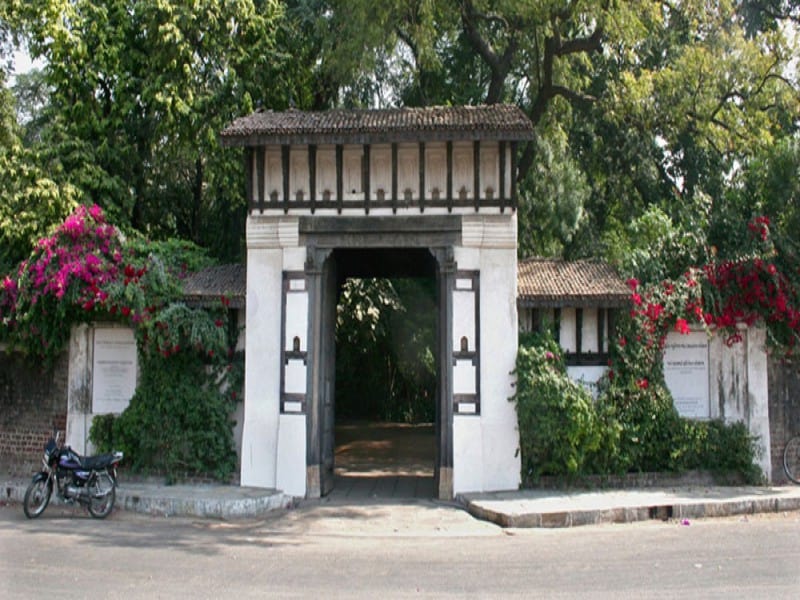 Address: The Retreat, Airport Rd, Opp. Rani Sati Mandir, Jain Colony, Shahibag, Ahmedabad, Gujarat 380004
Pols in Ahmedabad

A Pol (pronounced as pole) is a housing cluster which includes many families of a particular group, linked by caste, profession or religion.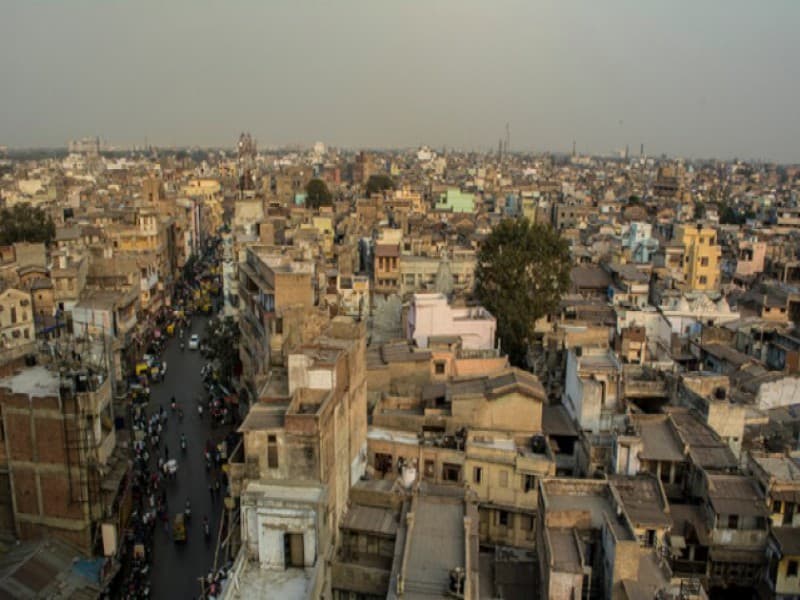 Pols are the best place to celebrate old architecture and Indian art of construction. Every single pol has its own history and story to tell. Besides having main gates poles also have secret doors or gates from where you can go from pol to pol. Here are few pols you can visit.
Doshiwada ni pole

Mandavi ni pole 

Haja

Patel ni pole
Adalaj Stepwell

Ahmedabad has preserved many heritage places of ancient times. Adalaj ni vav is one of the beautiful places preserved, which is situated about 12 km outside of the north end of Ahmedabad.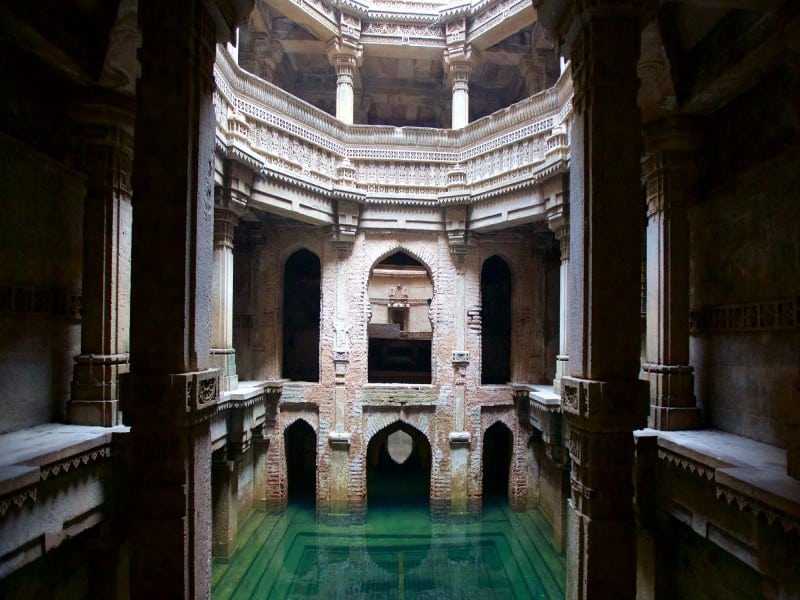 "vav" is a Gujarati term used for stepwell. It is an octagonally shaped well where light peeps in through the ceiling & is fascinating to watch. The stepwell is constructed in such a way that the temperature inside it remains almost 6 degrees lesser than the temperature outside.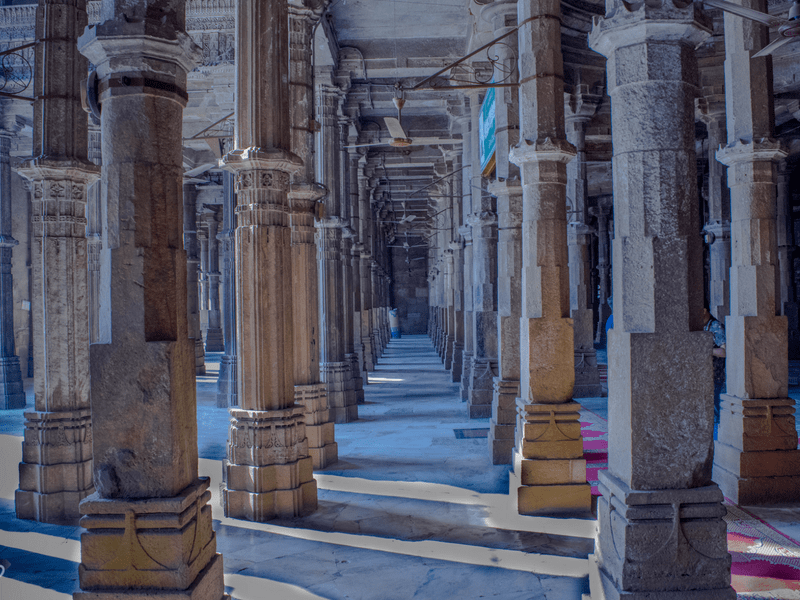 The history behind the construction of this place is epic too! Initially, the construction was started by King Veersinh to ensure enough storage of water for the people of Adalaj during lack of rainfall. But he died in a war with Sultan Mahmud Begada. Sultan Mahmud fell in love with the Rudabai, wife of Veersinh and proposed to her. Queen accepted the proposal so that the construction of the step well could be completed. After the completion of the well, she fell in the well and committed suicide. This is interesting, isn't it? You can read the entire story in detail on Ahmedabad Tourism.
Address: Adalaj, Gujarat 38242
Sabarmati Ashram (Gandhi ashram)
"My life is my message" – Mahatma Gandhi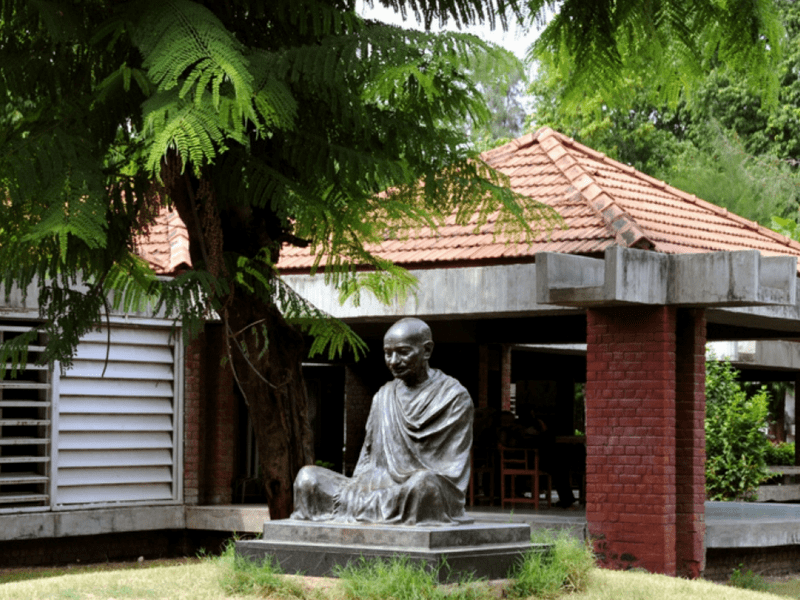 A place, which is an important part of Indian history, you cannot miss while you are in Ahmedabad. Sabarmati ashram is the Ashram established by the Great Indian independence leader Mahatma Gandhi, where he lived for almost for 12 years. Gandhi ashram has all the historic places where all the historic decisions were made by Gandhiji. They have also preserved all the belongings and original hand-written letters of Gandhiji. A visit to Gandhi ashram can give you peaceful vibes and sense of gratitude for India. Try to visit in evening for a greater experience.
Address: Gandhi Ashram, Gandhi Smarak Sangrahalaya Ahmedabad, Gujarat, India – 380027
Timing: 8:30 AM to 6:30 PM

Hutheesing Jain Temple
A Jain temple which is dedicated to fifteenth Jain Tirthankara Dharmanatha was constructed in 1848. It is a tourist attraction majorly for its architecture which is beautifully carved.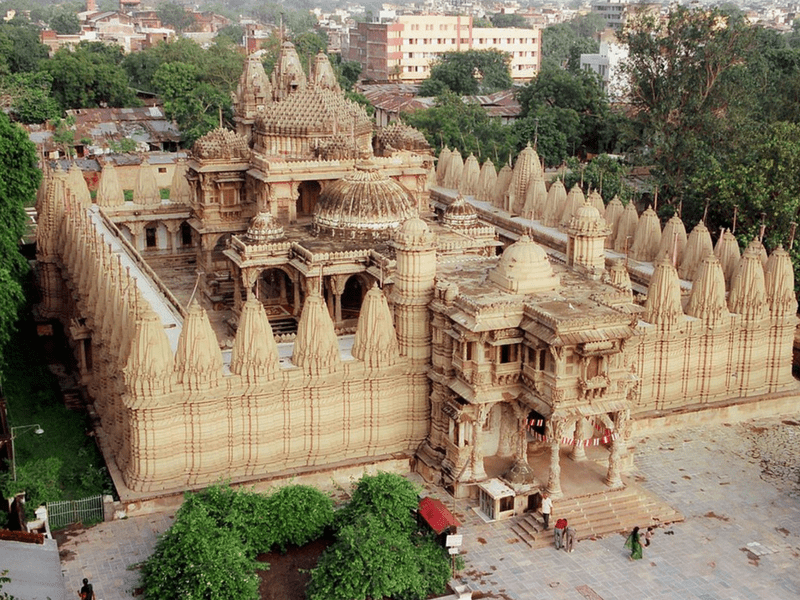 It also has a beautiful museum dedicated to Shri Mahavir Swami Bhagwan with beautiful canvas paintings and sculptures. One must visit this place to see its stonework and learn about Jainism.
They also have food and stay facilities for visitors.
Address: Shahibaug Rd, Delhi Darwaza, Ahmedabad, Gujarat 380004
Sabarmati Riverfront Ahmedabad
Sabarmati Riverfront is a waterfront situated along with the banks of Sabarmati river. It's a two-level place on both sides of river This place has continuous 11.2 km long walkway along the river on the east side and 11.3 km on the west side. A fantastic place to chill and the mild breeze makes it look even better in the evening. To add to the beautiful place, it also has activities there like a zip line, boating which you must try. Apart from this, there are beautiful parks and gardens to hang out. Riverfront is a must visit for every tourist for the feel of a pleasant and refreshing evening.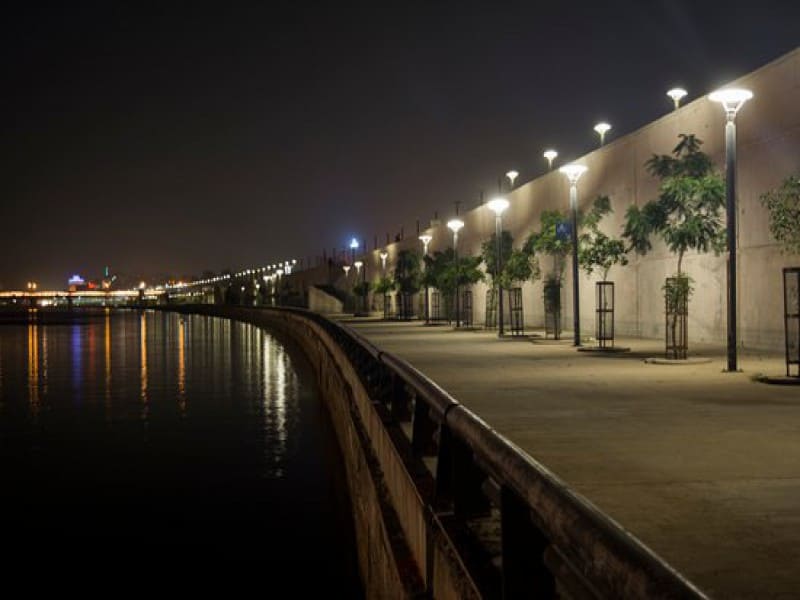 Office address: Sabarmati River Front Development Corporation Ltd. Dr Ramanbhai Patel Bhavan 1st Floor, West Zone Office, Ahmedabad Municipal Corporation, Nr Usmanpura Cross Road, Usmanpura Ahmedabad- 380013
Indroda Nature Park
Indroda park is located in Gandhinagar near Ahmedabad. It's a lovely place for animal and bird enthusiasts. Not only that, but there is also a special place for Dinosaurs, Snakes and a Botanical Garden too! This garden covers a massive area, and you will have to take a long walk while visiting the place but still it's so much fun to be in this place that it will not get tired.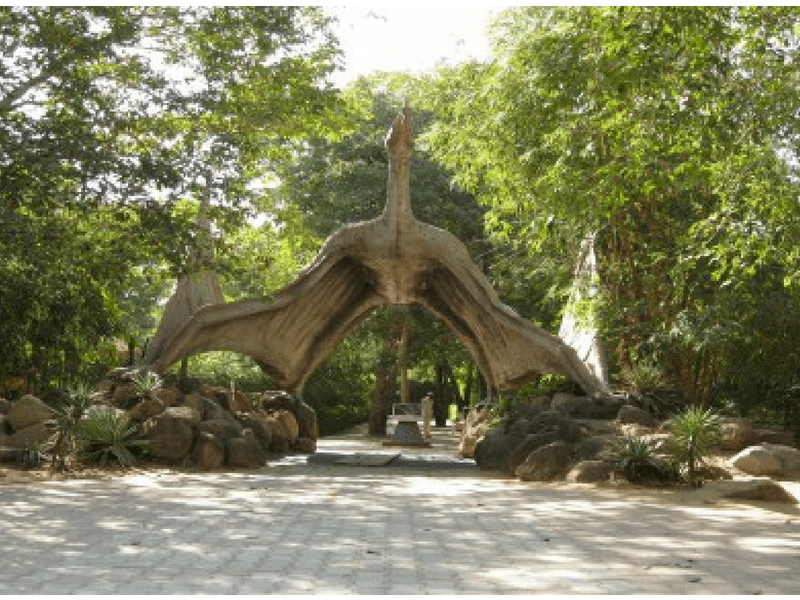 Address: GEER Foundation, Deer Park, Indroda Village, J road, Gandhinagar, Gujarat 382007
Timings: 7:00AM to 5:30PM
Kankaria Lake
Kankaria lake the biggest lake in the city offers one of the best attractions for tourists in Ahmedabad. It has got a zoo too, where you can see animals and birds from different countries. The list doesn't end here, there is also Balvatika, a park to play and spend time with the kids. You can also visit an amusement park which has some great adventurous rides like a roller coaster, flipping arm and many more.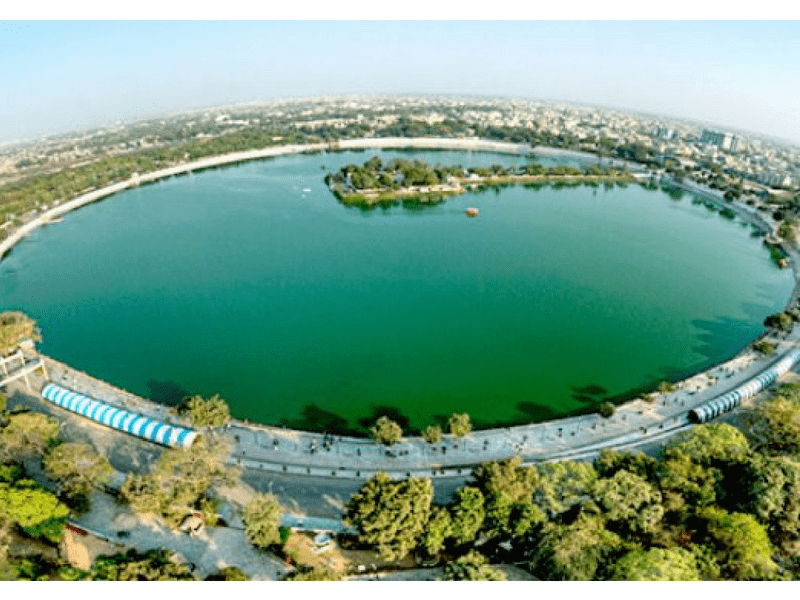 We also recommend you to visit "kids city" here that can give the kids an experience of small banks, fire station, science lab, radio station, police station, courtroom, and prison, dental as well as medical hospital, ice-cream factory etc.You can roam around the Kankaria lake in a train that runs around. The icing on the cake is the balloon safari from where you can see whole of Ahmedabad. It is definitely an experience for life.
Address: Himmatnagar Village, Maninagar Area, Ahmedabad, Gujarat 380002
Timing: 9:00 AM to 6:00 PM
Mahatma Mandir (Gandhinagar)

Mahatma Mandir is art, convention and exhibition centre and a memorial located at sector 13, Gandhinagar. It is inspired by the life and philosophy of Mahatma Gandhi. The architecture of this provides modern facilities. A love for history is a good reason to visit this place.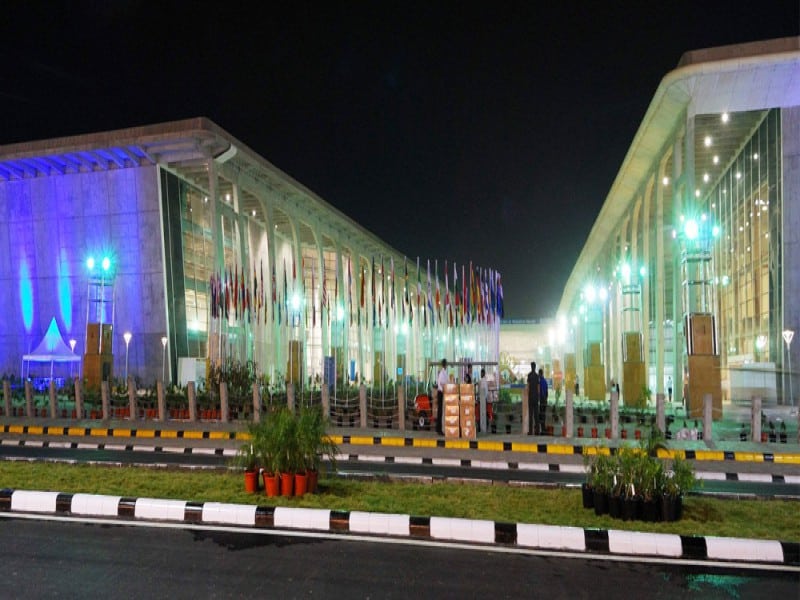 There are also gardens next to the centre where you can spend your time when you are in Gandhinagar.
Address: Sector 13C, Sector 13, Gandhinagar, Gujarat 382016

Sidi Saiyyed Mosque, the Architectural beauty

The mosque is one of the best places to see a blend of Hindu and Islamic architecture. There are marvellous carved stone windows which are the pride of Ahmedabad. There are eight arched windows which are decorated with these stone carved Jaalis. It is believed that 45 craftsmen worked on these Jaalis. However, just when it was about to get completed, Ahmedabad fell into the hands of the Mughal Emperors, and henceforth, the last window in the centre of the back wall was left without a jaali.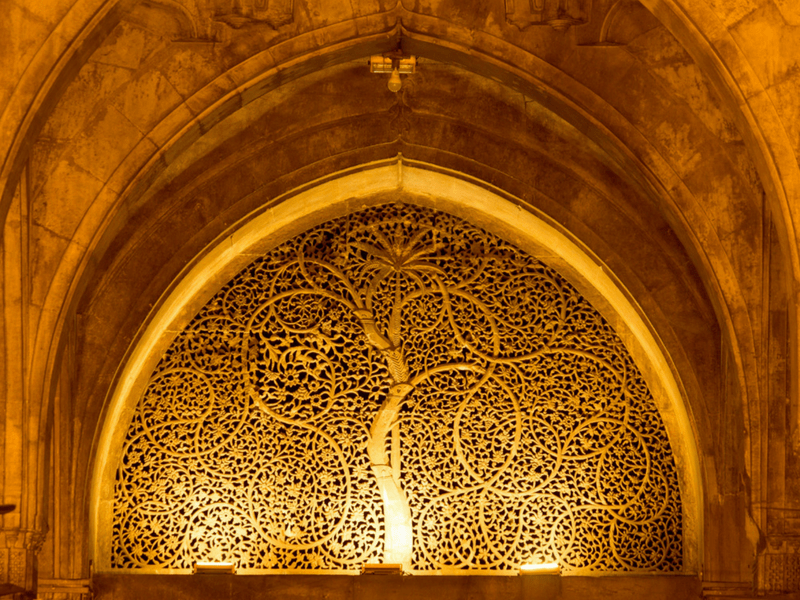 How is this mosque different from others? Of course, the first reason is its beautifully carved jaalis, and the other is that this is one of the few mosques where women are allowed to pray. Amazing, right?
Address: Opposite Electricity House, Gheekanta, Lal Darwaja, Ahmedabad, Gujarat 380001
Science city

If you want to take your child outdoors for amusement science city will be a perfect place to choose. This place is amazingly huge, where science is not at all dull but seen as entertainment. The main attractions here is the Imax 3D theatre the best 3d theatre in Ahmedabad which brings virtuality alive also there are other unusual corners here like Hall of space, Life science park and thrilling rides. You can even find many food shops in this place. Science city is a must visit for all the science enthusiasts there.
Address: Gujarat council of science city, science city rd, off to S.G highway, Ahmedabad – 380060
Nal Sarovar bird sanctuary

Nal Sarovar, a bird sanctuary, contains a beautiful lake where more than 200 species of birds migrate from all around the globe. This bird sanctuary is approximately 64 km to the west of the Ahmedabad. The place remains open from 6:00 AM to 5:30 PM. The best time to visit this place would be early in dawn before the sunrises when you can get to see different kinds of birds and the environment remains pleasant and quiet.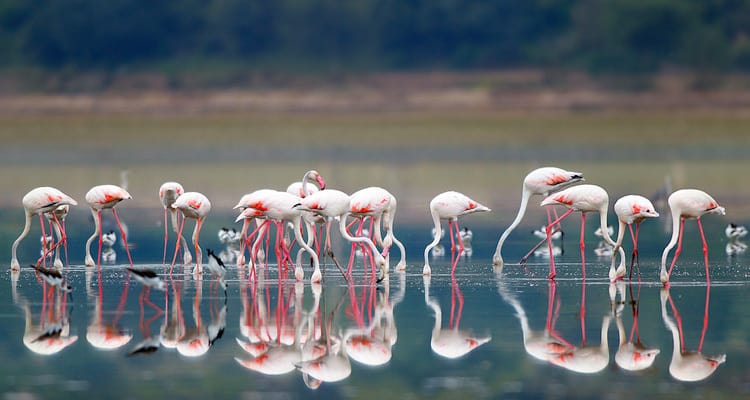 For bird watching, you have to be in the lake for which you can hire a boatman easily. But don't forget to bargain 😉 The sanctuary also has a small land between the lake where you can go by boat and enjoy a day with family or friends.

Address: Bagodara Nalsarovar Link Rd, Nalsarovar, Gujarat 382170
Jama Mosque

Jama Masjid is the oldest and also the most beautiful mosque of Ahmedabad, built in 1424 during the reign of King Ahmed Shah. Despite being so old, it has not lost his beauty even an inch.

Jama Masjid was considered to be one of the most prominent mosques of India in ancient time. Some of the minarets got damaged too in the earthquake in 2001. The charm of this place is in its architecture, the prayer hall, the open courtyard and the abolition pool. The area is filled with followers and worshippers every evening especially on the day of Eid.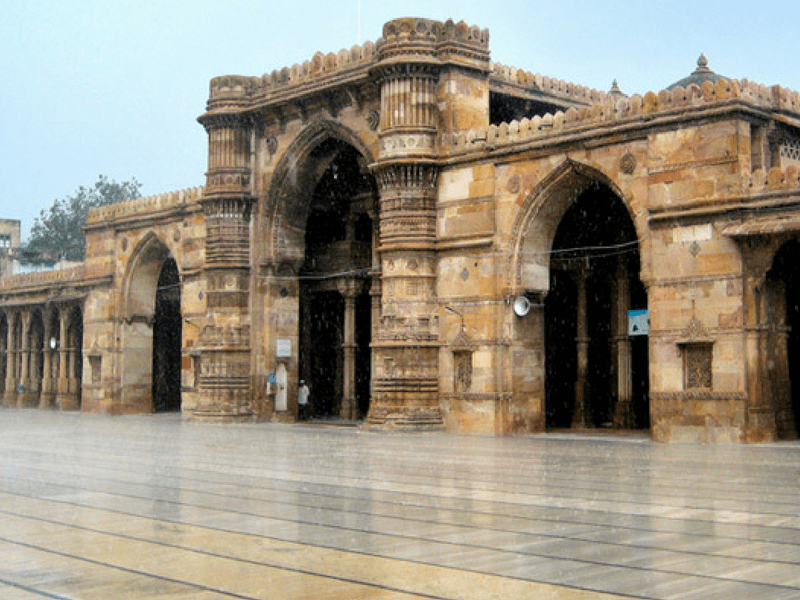 How and why this place is different from other mosques? Jama Masjid is one of the very few mosques where women are allowed to worship. And the reason why we call it our Heritage place 🙂 The timings to visit this mosque are 6:00AM to 10:00PM. The Jama Masjid is filled with the followers and worshippers every evening especially on  Eid.

Address: Gandhi Road, Danapidth, Khadia, Ahmedabad, Gujarat 38000

Rani no Hajiro

Rani no Hajiro is the place were the tombs of King Ahmed shah's Queens rest. The place is also known as Mughlai bibi's. It is located to the west of Jama Masjid. Rani no Hajiro showcases complex design and carving work on the walls and vault and the architecture design.

The place is now turned into a market, where you get traditional dresses of Navratri, jewellery, various mukhwas (mouth fresheners) and many such things. The place is very near to Manek Chowk, which is a great food place to hang out at night.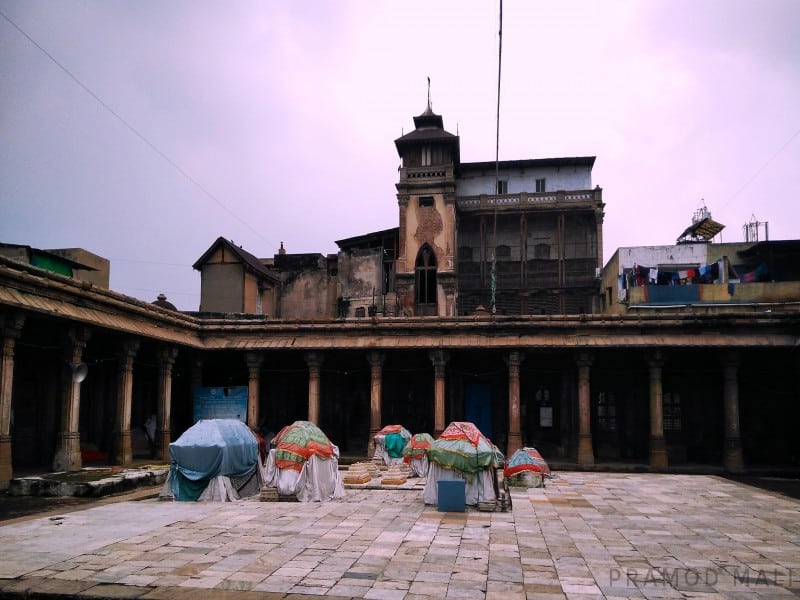 Address: Gandhi Rd, Manek Chowk, Khadia, Ahmedabad, Gujarat 380001
All in all, this was a blog from our end to you that could help you to travel around Ahmedabad. We have tried to bring all the explored and unexplored places we think are a must see when you are in Ahmedabad. Try to tour all the sites to witness the best version of the city.
We also have a blog on" 11 places to visit near Ahmedabad ", which you can read to go around the city. Share your reviews & recommendations about more such unexplored places in Ahmedabad that we can keep adding here and make this a useful blog for all. Hope you had a great time. Thank you!!