Street Food, I believe is the lifeline for food junkies. Ahmedabad has a vibrant street life which encompasses " food stalls" and "Chai addas" on its streets and we owe an obligation to the people who feed us.
When we hear someone mentioning 'Night street food' of Ahmedabad, the first thing we can think of is "Manek Chowk". And yes, "Manek Chowk" is Ahmedabad's most-famous place for foods; it is situated in heart of the old city and considered as a signature place for street food.
Manek Chowk "A Trip to Street Food in Ahmedabad"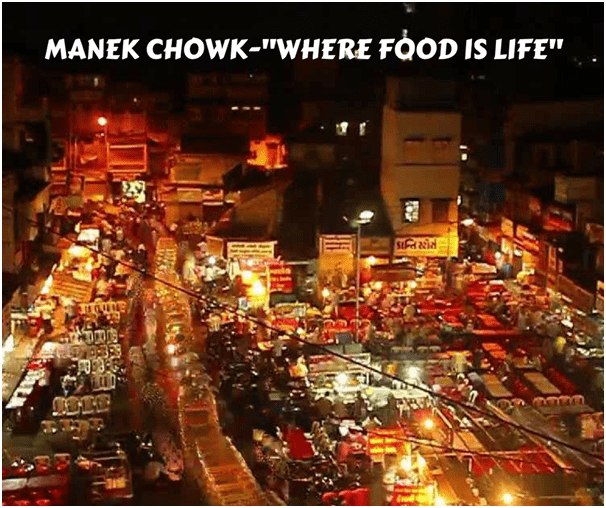 Manek Chowk is a well-known city square located in Old Ahmedabad. It is hedged by historical structures. Whirling open square near the center of the city it multi-functions as a Vegetable Market in the morning, a Jewellery Market in the afternoon and the street food market at night.
Manek Chowk is a place of attraction for foodies — has incredible street food and is most famous for Gwalia Dosa, Pav bhaji, Sandwiches, Chocolate Icecream Sandwich and Kulfi.
The buttery, Hot and Spicy Bhaji is served with onions and slices of lemon, coupled with extra butter- dripping, just-off-the-tawa pavs. Pav Bhaji is the most famous food of Manek Chowk.
From Pav-Bhaji, let's moved to the next famous food, Gwalia Dosa, a spot on a square with Chutney and  Sambhar. South Indian Cuisine is one of the most demanded and loved cuisine in Ahmedabad and all the Amdavadis come to Manek Chowk to have this delicious and buttery Gwalia Dosa. Healthy, tasty and Buttery, 'Gwalia Dosa' consist of all the qualities which any foodie will look for.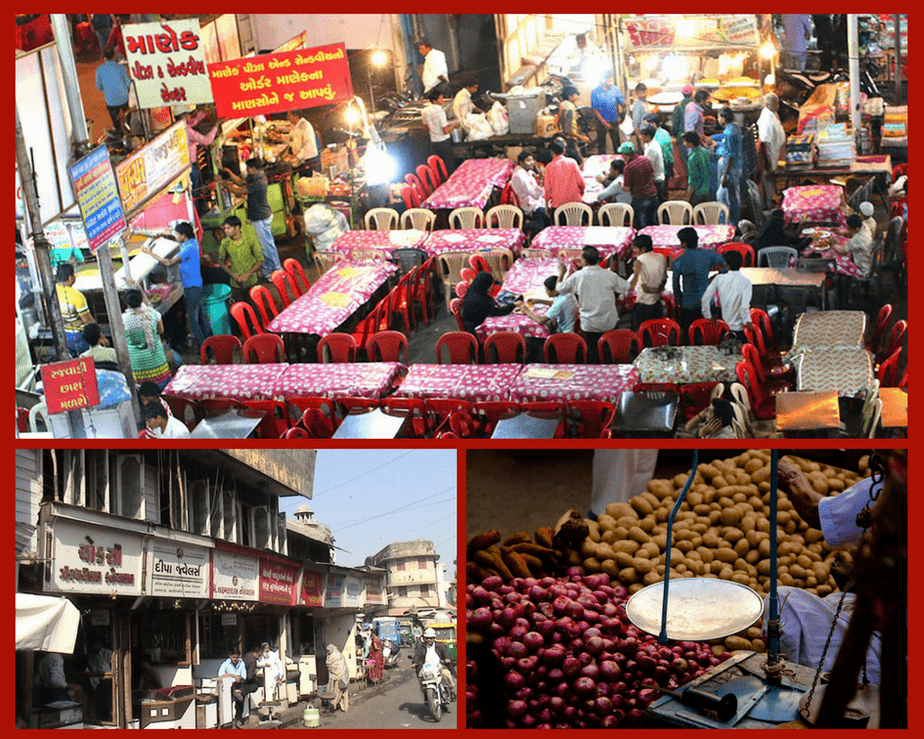 You will not find one good reason to miss delicious desserts at this place, but we happen to be walking a little to have yummy "Chocolate Icecream Sandwich and Kulfi", where Icecreams make our dinner better "Kulfi" are not the less known for its famous and ancient taste, it is clearly a delightment. Oldest of all Icecreams "Kulfi" chains in Ahmedabad, which started in the year 1945 has been leading Kulfi with a name "Asharfi", it is a well-known and a delicious Dessert, an absolute treat for Amdavadis.
So go and explore "Manek Chowk", and enjoy its tasty dishes at a minimal cost. You just need to keep your belly empty for the delightful treats coming your way.
History of Manek Chowk 
Apart from being world-renowned for its food, Manek Chowk is actually named after a saint, Baba Maneknath who was an advisor to Emperor Ahmed Shah 1. 
Historians claim that Baba Maneknath used to interrupt the construction of Bhadra Fort. Baba Maneknath used to weave a mat while the fort was being built during the day and used to unwoven at night, due to which the fort used crumbled down. 
When Ahmed Shah 1 became aware of this, he asked Baba Maneknath to showcase his magical powers by fitting himself inside a bottle. Doing so, Ahmed Shah sealed the jar and buried it. 
Baba Maneknath Temple near Manek Chowk is where the saint Maneknath is said to have taken samadhi.
About Manek Chowk 
Manek Chowk oozes a charm of its own. Manek Chowk is a bustling market right in the heart of the old city. Manek Chowk is surrounded by heritage and historical structures, jewellery and fabric market, vegetable market and street food. You name it and you will find that at Manek Chowk. Manek Chowk was the only place for Amdavadis to enjoy the nightlife for a very long time. 
This place is where you will see the smoothest transitions, from a vegetable market in the morning, to a jewellery and textile market in the afternoon and a street food market in the night. 
Manek Chowk apart from fulfilling all your needs is also a place with historic value. 
Places to see near Manekchowk
Rani no Hajiro 
Apart from being a shopper's paradise, Rani no Hajiro holds a historic value as well. Rani no Hajiro is on the east side of the tomb of Ahmed Shah. In an open courtyard and on a slightly raised platform lies the tombs of the female members of the royal family. The word 'Rani no' means 'Queen' and 'Hajiro' means tomb. 
At the Rani no Hajiro market, you will find a myriad of traditional wear and oxidized jewellery which is jam-packed during festivals and otherwise too. This is every girl's dream street shopping destination in Ahmedabad. Don't forget to hone your bargaining skills while shopping at Rani no Hajiro. 
Badshah no Hajiro 
Badshah no Hajiro is on the west side of Manek Chowk which is a burial ground of Ahmed Shah 1 and other male heirs of the royal family. Women are not permitted to enter here while men are allowed but with their heads covered.
Mahurat Pol 
Mahurat pol is believed to be the first-ever pol of Ahmedabad which is located near Manek Chowk. It is said that people from the Jain community settled there in the second half of the 15th century. The maiden pol came into existence during Mehmud Begda's reign. However, the stone for the pol is claimed to be laid in 1411 according to AMC's website. 
You will also find Shitalnath Derasar and Shri Dholeshwar Mahadev temple inside Mahurat Pol. 
Jama Masjid
The Jama Masjid was built by Ahmed Shah 1 was built in 1424. The yellow sandstone marvel showcases Indo-Islamic architecture. The central dome of the Jama Masjid is carved like a lotus with symmetrical 300 pillars. The construction of Jama Masjid took 13 years to build. 
The mosque has a few impressions of Jainism and Hinduism faiths. The carved 'Om' symbol can also be spotted at Jama Masjid. 
Ahmedabad Stock Exchange Building 
Dhandho and Ahmedabad go hand-in-hand, that too since years.  
The Ahmedabad Stock Exchange Building (Old) is almost a 100-year old which was the second-oldest stock exchanges in India, after Bombay which was started in 1894.