Meet another human of Ahmedabad, Himali Parikh, who tells us her life journey of how a premature baby struggling between life and death turned out to be a student of microbiology, a campaign manager with the US govt and now a blogger.
"I was born a premature baby in Surat in 1982. I weighed only 600 grams then just like a big rat. Doctors had given up on me. According to them I just had 24 hours of life. But as soon as my mother took me in her arms, I held her finger and smiled. It was a miracle, wasn't it? I had survived. My mother nicknamed me 'lucky' and I feel I really am lucky. For a child born premature, I went through a lot of problems at the young age. I went through a lot of sicknesses every now and then, but survived through all of it. But not everything is always fine. Life has lot of hardships in line for you.
A nightmare caught me and my family on the day we met an accident. All of us were saved without any injuries. But beyond our imagination, I was injured internally in the lungs. This has led me to a breathing problem. My dad had a touring job and one night when he went on a tour along with my brother, it so happened that my lungs stopped functioning. I just could not breathe. My mom did not know how to drive. It was the hour of the night when she stood in between the road to stop any car passing by and somehow we reached the hospital. The doctor said they had no time to give me anaesthesia. I would not have survived for more than 5-7 minutes in that condition. They cut me open without anaesthesia, my mom had held my legs." 
She further adds that she is not able to recall her pain back then but thinking of her she says "the pain my mother had gone through while holding my legs was a very difficult situation for her. sometimes I think, what worse could have happened to us! Though doctors did not believe that I could live, it was my mother's positive approach and belief which helped me to survive."
Talking about her life goal of studying microbiology Himali says "I carried a picture of becoming a scientist in my heart. I wanted to pursue my carrier in the microbiology and I did! Studying the micro-organisms and getting locked in the college labs for hours was all the best part of my college days. After my graduation, my dream for higher studies in the US turned out to be true when I got admission at Yale University, in the USA for my masters. I stayed with my brother there who was just like a mother to me since my childhood. He looked after me like a baby and bared all my expenses of studies and accommodation.
While I was studying, I knew the ways of getting my work done without any effort. I would bribe the staff boy or sleep in the train so that the conductor does not ask for tickets. The struggle while working as a waitress has all turned worthful with gaining the achievements of working as a campaign manager with the US govt & heading a successful microbiology conference."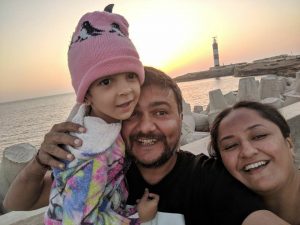 Himali who is now a wife and a mother says " My life becomes more wonderful when I got married to the man of my dreams and even more when my daughter was born. I am enjoying motherhood and left my job to grow up my daughter. I have now started a blog named "momabc" where I am trying to teach young mothers to leave behind the myths of parenting and look after their children properly. When I wander back to my hardship days, I get a shiver while thinking how close I was to death!
In this startup, I try to bring a sea of change in the development of mothers. Those mothers who are blindly following the instruction of their elders. I am using all the exposure, training and my experience of US for this startup. Every child has a different requirement & should be treated according to their body. I am surely going to take my blog on a much-bigger platform."
This was Himali Parikh inspiring us with her life journey, with the moral that life is just about having a dream and making your best efforts to fulfil it.
Meet some other humans of Ahmedabad with their inspiring and motivating stories here