It's 3 a.m. in the night, and you might be wondering where to grab a bite at this hour. This is Ahmedabad, where people look out for food even at odd hours. No wonder there are many many 24 hour cafes now in the city.
This is a list of 24×7 open cafes where you can go whenever you feel like & have a great time. 
List of 24 Hour Cafes in Ahmedabad 
American Food House
As the name goes, American Food House serves one of the best pizzas and burgers in the town. The menu of this place is probably the most detailed and thoughtfully crafted menus that I would have come across. Keeping justice to its name "American food house" the food served here captures the essence of the American culture.
Must try dishes: Road King's trail pizza, Freewheelers Stuffed Crust pizza, and Thor's hammer burger.
Average cost for two: 900 Rs.
Address: Ground Floor, Shop No – 14, Dev Preet Complex, Next to Perfect Mothers showroom, Bodakdev, Bodakdev
Ratings: 4.1/5
The Square – Hotel Novotel
The Square is certainly one of the nicest dining places in Ahmedabad. Though it's a bit a heavy on the pockets is a great place for dining out. The staffs are very cooperative and the lightings and the decor adds to the beauty of the ambience. The starter served here is a must try as they are amazingly delicious.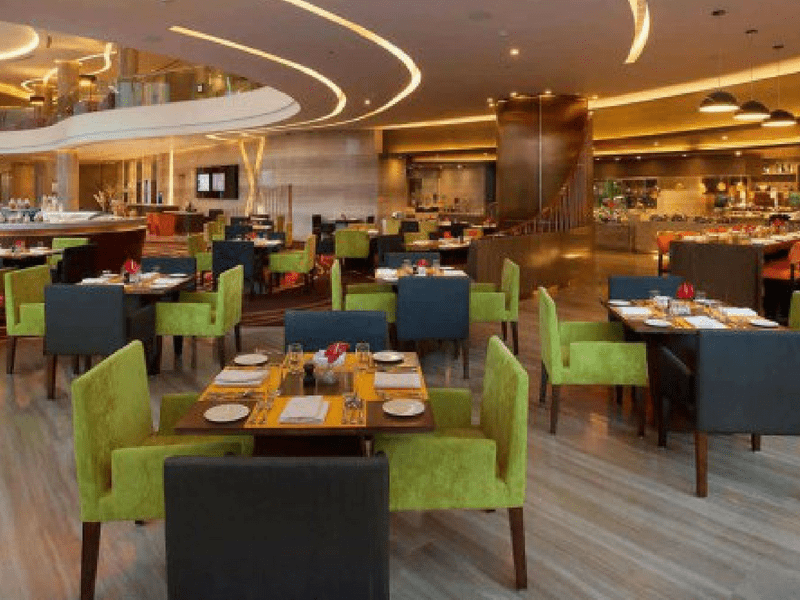 Must try dishes for Vegetarian: Novotel Caesar Salad, Novotel Chessy Burgers, Masala Aloo with cheese and pepper Sandwich, Masala Paneer.
Must try dishes for Non-Vegetarians: Blackened Chicken Breast, Novotel Chessy Burger, Shredded BBQ Chicken, Double Egg and Chicken.
An average cost for two: 1500 Rs.
Address: Sarkhej – Gandhinagar Highway, Satellite
Ratings: 3.9/5
Java+
Java+ is one of the most visited cafes in Ahmedabad for late night hangout. The place has both indoor and outdoor seating arrangement. The hygiene of the place and the seating arrangement especially the outdoor one is just perfect. The cafe is open for 24 hours expect only one day. On Tuesday its working hours remains from 10 A.M to 11:30 P.M.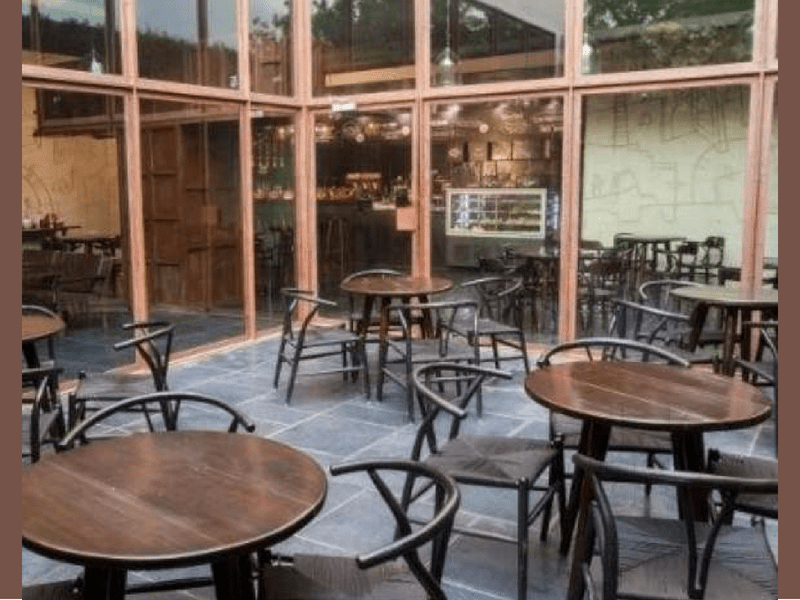 Must try dishes: Penne Arrabiata, Baked Nachos, Paneer Chilli Rolls.
An average cost for two: 1000 Rs.
Address: Satellite Road, Courtyard Marriott, Ramdev Nagar
Ratings: 4.3/5
Collage – Hyatt
A wonderful 24-hour open cafe that has captured the hearts of Ahmedabadi foodies for years now has come up with a new menu. The executive head chef has put in his heart and soul to bring to you the very essence of dhaba style cuisine that you can enjoy sitting at their restaurant. The staff very well trained and the seating arrangement is made very comfortable. The view you get at this place and interior gives you a peaceful vibe.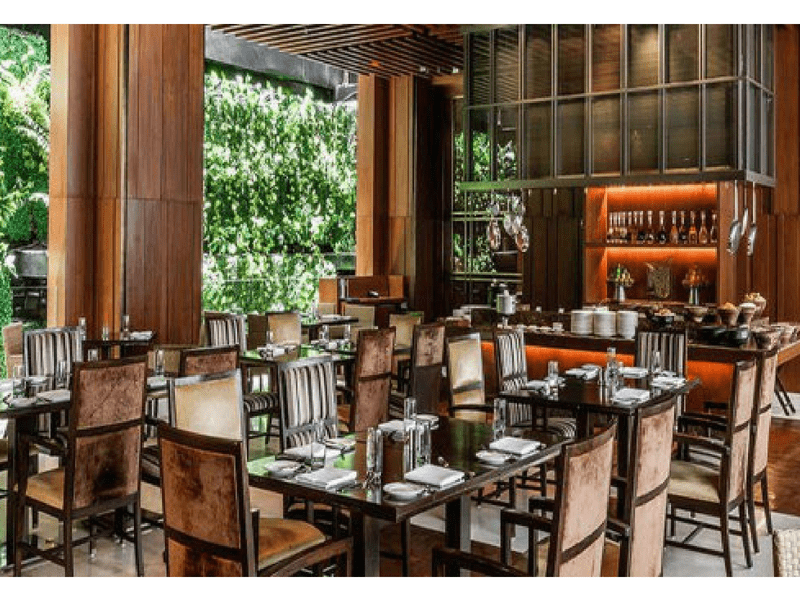 Must try dishes: Pizza Quarto De Formaggio, Paneer Wrap, Crunchy Garden Greens
An average cost for two: 2000 Rs.
Address: Hyatt, Plot 216, Town Plan Scheme 1, Near Vastrapur Lake, Vastrapur
Ratings: 4.2/5
Chai Shop – Hyatt Regency
If you have important things to discuss with your clients or want a quiet place to sit at night than Chai Shop is the best place to go. The ambience in Chai Shop is soothing and the staff in there is well-mannered. If you are not too hungry and want to eat something light then this place has some snacky food to serve you.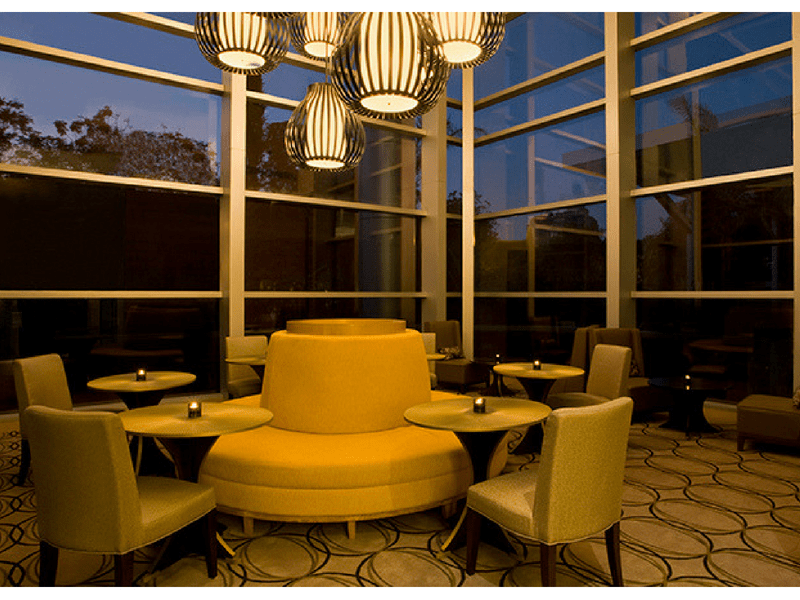 Must try dishes: You'll have to go there and ask as they don't keep a fix menu
An average cost for two: 1000 Rs.
Address: Hyatt Regency Ahmedabad 17/A, Ashram Road
Ratings: 4.3/5
Kaffee – Mast Hai
Kaffee-Mast is a lively as well as a cosy place and it is just perfect to go with your friends and chill. It has everything to make you feel relaxed the comfortable seating arrangements, songs and a big screen to watch live matches. They also have refreshing mocktails which are a must try when you visit this place and also the service is pretty good they take your order on time and food is served quick and hot to you.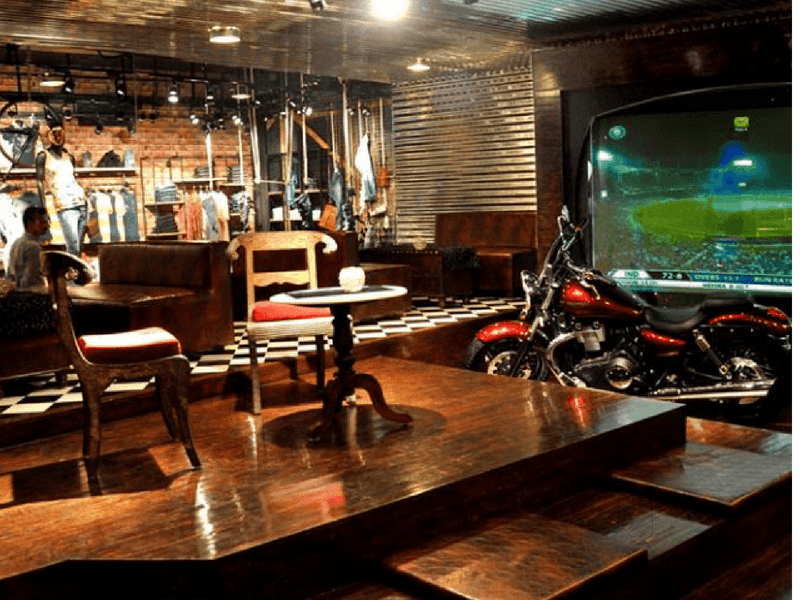 Must try dishes: Veggie Panini, Greek Salad Wrap, Arrabiata Pasta, Mexican Focaccia
Average cost for two: 650 Rs.
Address: Ground Floor, Shree Balaji Agora Mall, Chandkheda
Ratings: 3.9/5
The Eatery
The Eatery offers a splendid buffet spread both for Vegetarians as well as Non-Vegetarians foodies. The interiors of the place are pretty fine and mellow with simple ambience. The service and staff are very welcoming. They have a huge space spread for the buffet. The desserts itself has over 15 varieties and if it were up to me, that'd be my main course.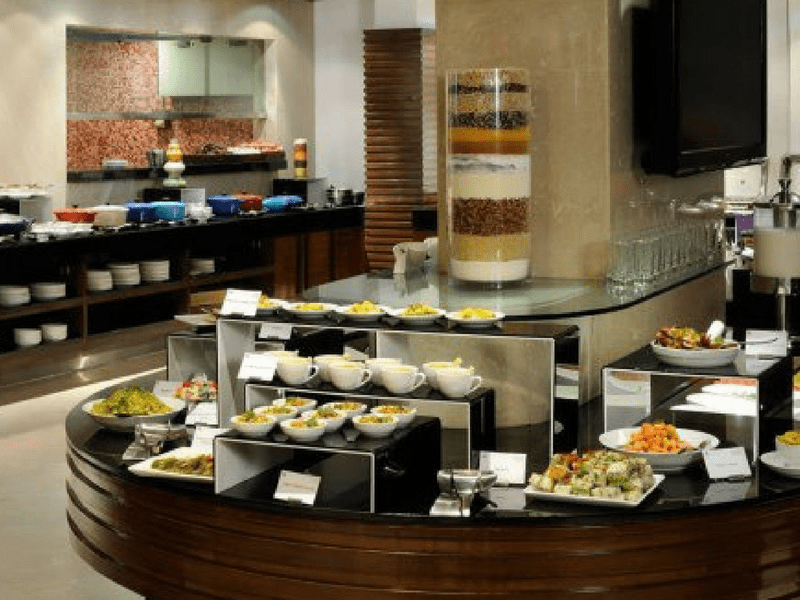 Must try dishes: Signature Grill Club Sandwich, Paneer Tikka Pizza, Mezze Platter, Samosa Chat
An average cost for two: 2100 Rs.
Address: Four Points by Sheraton, Ellisbridge, Opposite Gujarat College
Ratings: 4.0/5
Zodiac – Fortune Landmark

When it is Fortune, ambience is always classy and Food is always delicious. The staff is always friendly. Zodiac is famous for the continental food it even serves delicious, multi-cuisine buffet consisting wide range of starters, main course and desserts. This is a nice place to visit with family where members of all ages have their favourite food.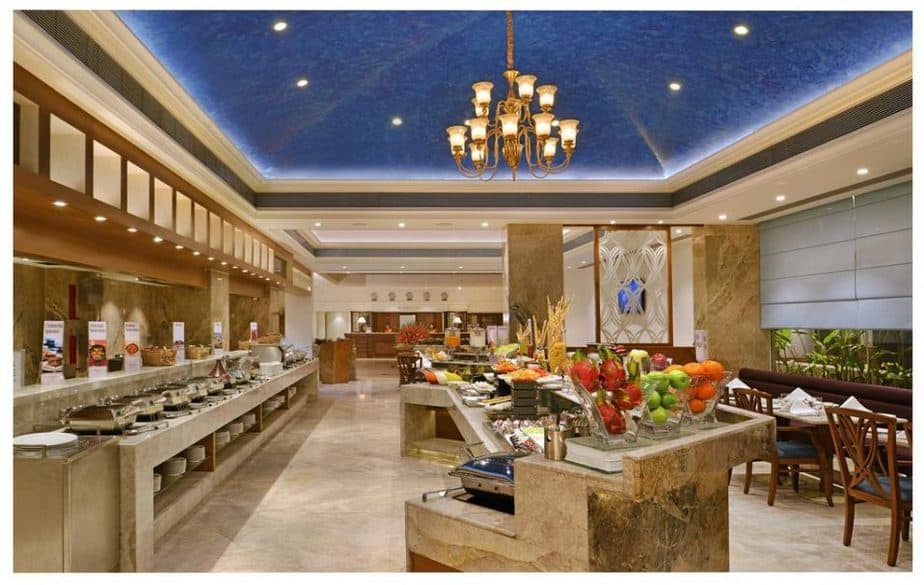 Must try dishes: Paneer Combo, Dal Combo, Egg Curry
An average cost for two: 800 Rs.
Address: Fortune Landmark, Usmanpura, Ashram Road
Ratings:
4.2/5
These are the cafes which are open 24*7 and serves varieties of cuisines. Hangout whenever you like with no time barrier and enjoy your favourite dish. If you have any more suggestions for cafes which are open 24*7, you can share them in the comment section below.
Also, if you are looking for some more nice cafes with great food, we have a list of cafes which are one of its kind and still remains unexplored. You can check them out here