Hello everyone, today I am in the grounds of Shela Primary School, Ahmedabad. And what do I see around, a play area builds up of tyres. Wow!!!! What a great idea of building a  recycled play station. You might have visited lot of gardens and parks, but, have you ever seen a play station build up of tyres. No, right? Well, here we will talk about the young lady whose brains are behind it.
In today's modern world, we feel that there is a dearth of compassion towards fellow human beings. Forget being compassionate towards the less privileged people and children. Almost each and every person thinks about his own self and about his family. People do not think about anyone else. Either say that they do not have enough time and money to think about anyone else and help them or they feel that what will they get in return if they help someone else. It seems that the humans have forgotten their humanity. But, not all people are like that. Today we will meet one such loving and caring human of Ahmedabad.
Meet Anuya Trivedi Bhargava The loving anD compassionate lady
Let us meet Anuya Trivedi Bhargava, who is totally opposite to most of the people of the world. She is really loving and compassionate. After completing a decade of fabulous career in the pharma field she left her job to pursue her dream of helping underprivileged kids. She creates recycled play station from old tyres for Primary Government Schools of Ahmedabad. Anuya says that she always wanted to do something for the underprivileged kids. She was not satisfied with the treatment underprivileged kids received from our society, as a result decided to take matters in her own hand and started thinking about it.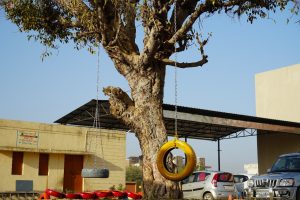 There is a saying that "Where there is a will there is a way". The same statement became true for Anuya also. One day she had visited Anganwadi at Bopal on her sons birthday and she came to know that they are in need of a swing for children over there. She decided to provide one to them. But, there again came the dilemma of whether purchasing a swing and giving it to them or do something more better and on solid ground for them. At that time she got the idea of using old tyre and recycle it into a swing for Anganwadi. She had shared the photo of this swing to her son's teacher. The teacher also got really interested in it and asked her to make some more swings for their school, which she happily did.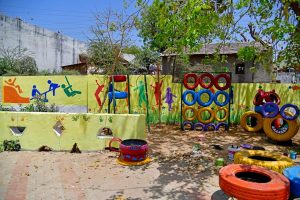 Anuya says that she has never thought of converting her idea into a business opportunity. She is all into helping Government schools buildup recycled play stations and creating attraction among kids to go to school. The word about Anuya's work got spread and soon she got an opportunity to work with Navrachit Primary School, Prahladnagar. Here she had to create an entire playstation, so she started crowdfunding and raised money and created the playstation. This marked the beginning of Green buddies.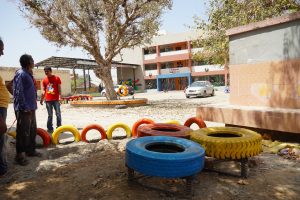 She has previously worked with seven other schools and Shela primary school is her 8th project, which she completed with the help of Gandhi fellows run by Piramal foundation group. WEE foundation at SINE IIT, Bombay mentored 25 women entrepreneurs recently and she was one of them. When asked how does she manage her personal and professional life together. She says that she has got great support from her family in following her passion.
You should definitely go through www.greenbuddies.in and know more about the work that she is doing.