Everyone walks the path of life, only a few climb the mountain of destiny. This is the journey of Madhish Parikh, an ideal inspiration for today's youth. The 30-year old computer engineering graduate turned to social service which he considers as a life-changing experience.
Madhish was just 25-years-old when he represented India internationally. Madhish didn't have to convince his family much about the career change. "For the first time, my family asked me to focus on my ongoing studies and pursue a career in the same. When they saw my dedication and happiness, they eventually accepted it."
Life-altering experience
"I encountered a life-altering experience while pursuing Computer Engineering at LD Engineering College. One of my college professors introduced me to National Social Services (NSS). From that point, I kick-started my journey with social service. I realized I was not just meant to solve coding problems but also capable of solving real-life problems."
"With time, I eventually got the opportunity to work with the youth. I strongly believe that youngsters are not just the future, but equally the present. As a student, I worked at the grassroots level and hence the urge for serving the society got strongly imbibed in me."
The Need for a Youth Policy
The 30-year old National Youth award winner emphasises on the need of a Youth Policy in Gujarat. "No Youth Policy exists in Gujarat. I started advocating for the same years ago when Anandiben Patel was the CM. Currently, a draft about the policy is already in the pipeline. This policy will be beneficial for youth with certain schemes provided by the government."
Madhish sees a lot of potential in today's youth but feels that they are not provided with enough opportunities. "Youngsters are filled with diverse ideas. But unfortunately, they are compelled to take up medical, engineering or other professional degrees. However, I believe they should focus on their ideas and work in their area of interest which is close to their heart."
"When I had first got the opportunity to represent India internationally, I had approached the government to support or sponsor it. To my surprise, there was no such policy, although several other states in the country have it, Kerala is one of them."
"Youth policy will be encouraging for the young blood. It will provide them with the right platform. Inputs of young people must be considered in any administrative or policy change. A lot is expected from youngsters without putting an equal amount of faith in them. We need to converse them through a convex lens. Currently, things are scattered. Give them the freedom to choose and the youth will build a more confident country."
Narrating about one of his international representations, Parikh said, "I had no degree in heritage but I learnt about it and represented India at an international level. I keep on pushing my limits and try to learn something new every day."
Birth of Elixir foundation
Madhish Parikh, also the founding President of Elixir Foundation reminisced about the night before the award ceremony way back in 2014 that gave rise to the foundation. "There were 31 other awardees from different parts of the country. We were discussing how all of us will go back to their respective cities after receiving the award. In-depth discussions led to the formation of Elixir foundation with a motive to engage youngsters in community services. The aim was not to confine them in a particular service like education or the environment. It was crafted in a way that youngsters were free to choose their area of interest. The foundation that started with a normal conversation has turned five-years-old with more than 15,000 youth participation."
For Madhish, receiving an award was not just an honour but also a responsibility.
COVID Soldier
While we all were cooped up in our house during the lockdown, Madhish ensured no needy slept hungry. Madhish and his team raised over Rs 70 lakh for COVID relief. Distributed more than 10,000 ration kits, served 5 lakh meals, distributed as many as 2000 face shields, 10,000 PPE kits, gloves and masks to frontline workers. Apart from that, he arranged training programmes with UNICEF Gujarat for around 100 volunteers and helped at least 100 labourers to reach home.
Everlasting memory
Receiving an award from the former President Pranab Mukherjee in 2014 is an irreplaceable experience. Seeing him close and listening to him had its charm.
His statue cleaning initiative was also taken note of by Prime Minister Narendra Modi back in 2016.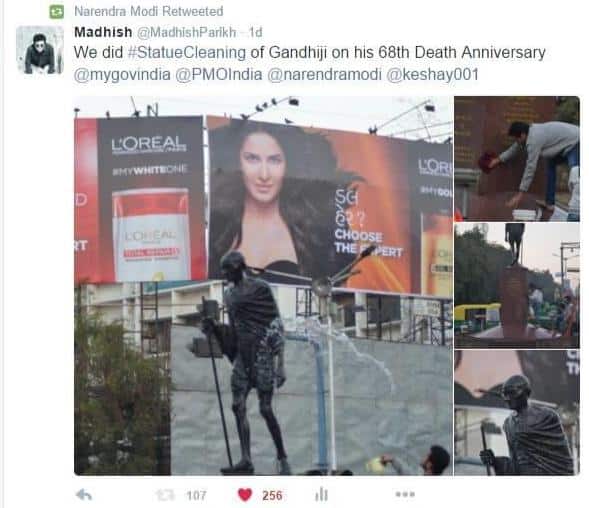 Awards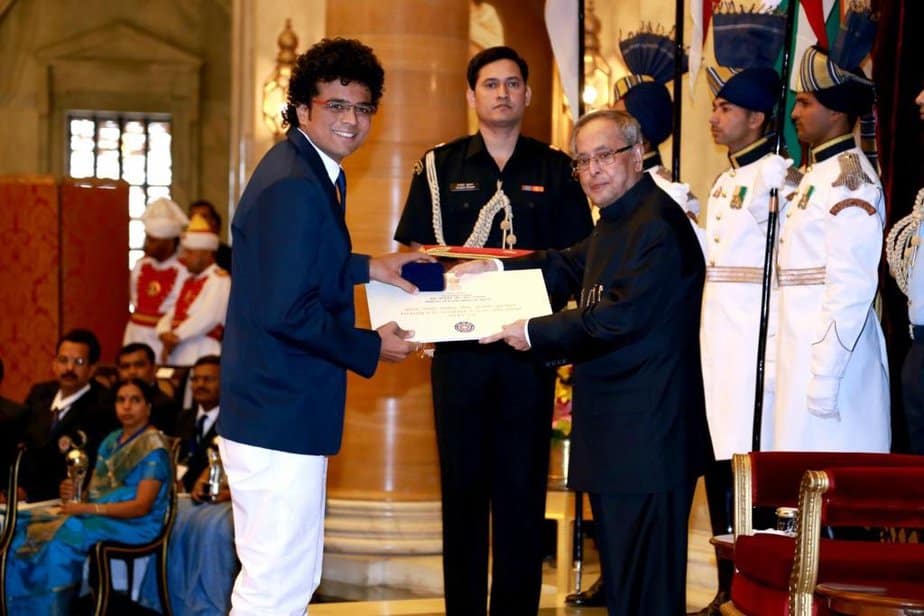 Madhish Parikh was honoured with 'Indira Gandhi NSS Award' in 2014. He received the award from former President Pranab Mukherjee at Rashtrapati Bhavan in New Delhi along with 31 others from across the country.
Madhish is also a recipient of the National Youth Award by Government of India (2016).
Representing India internationally
Indian Youth Delegate to Bahrain by Government of India
Indian Delegate to UN HQ in Vienna for Women Higher Education for Peace and Disarmament.
Participation in Shape Asia Pacific as a Global Shaper in Philippines.
Top 14 Startups of India invited by Singapore High Commission in Singapore to present the startup to PM Modi
Special Invite to attend the workshop on capacity building by UNESCO HQ in Paris for World Heritage Volunteers. Presented the initiatives taken in the Historic City of Ahmedabad
Participated in Annual Curator's Meet at World Economic Forum HQ in Geneva by Global Shapers Community.
Indian Delegate to the World Youth Forum in Egypt
Few activities worth a mention
Elixir Foundation is one of the global 55 organisations selected by UNESCO for World Heritage Volunteers initiative working at four World Heritage sites in India for heritage conservation and preservation with the active engagement of young people.
To end the stigma and discrimination towards COVID infected people, we launched a 'Voices against COVID stigma' campaign with UNICEF. The focus here is to fight the virus and not the victim.
Gujarat Youth Forum is a platform for young people to design, discuss and deliver ideas for a better world. This platform aims to engage and empower youth across Gujarat.
Madhish Parikh's relentless efforts for the young generation and the country are indeed applaudable.