About Aatapi Wonderland
It is said that all work and no play make Jack a dull boy! And what better way to bring back the zest in life than visiting one of Gujarat's most extensive amusement parks? As the sultry Indian summers approach and the much-awaited vacation season is about to commence, it's high time we shake off the pandemic blues and embrace the joy of spending quality time with our family once again. Aatapi Wonderland, situated near Vadodara, offers the perfect getaway for you and your loved ones. It allows you to unleash your inner child, marvel at the picturesque gardens and fountains, and indulge in a wide array of rides and attractions catering to all age groups.
Sprawled across a massive 70-acre plot, Aatapi Wonderland is a one-of-a-kind amusement park in Gujarat, conveniently located just 30 km away from Vadodara. With over 40 exhilarating and adrenaline-pumping rides and attractions, there's something for everyone in the family – from the little ones and adventure-seeking adults to the evergreen elderly.
As you explore Gujarat's wonderland, you may also consider visiting nearby attractions such as the awe-inspiring Statue of Unity, the pristine Shivrajpur Beach, or the magnificent Shri Joraver Vilas. These natural additions to your itinerary will undoubtedly make your trip all the more memorable.
Upon entering Wonderland, you will be warmly welcomed with a traditional dance performance, followed by a meet-and-greet with a lively mascot. The fun continues as you groove to the catchy beats of Bollywood songs, enjoy a mesmerizing juggling show, and witness a spectacular evening carnival parade.
Aatapi Wonderland also pays tribute to the rich history and cultural heritage of Vadodara through a captivating Water Laser Show. The park houses a vast array of attractions that can rival some of the most renowned amusement parks around the globe.
Don't forget to charge your smartphone, as Wonderland provides countless opportunities to capture extraordinary selfies at unique spots throughout the park. There's even a designated selfie point within the premises! A full day should suffice to explore the many delights Aatapi Wonderland has to offer, but why not seize the moment and extend your adventure to explore the wondrous Statue of Unity, unwind at the serene Shivrajpur Beach, or delve into the opulence of Shri Joraver Vilas? After all, life is too short to not indulge in a bit of spontaneity and whimsy.
Additionally, the park serves as an excellent venue for hosting parties, family gatherings, corporate events, and picnics. Special packages are available for groups, ensuring a memorable experience for all visitors.
So, gather your family and friends, and embark on a fun-filled escapade to Aatapi Wonderland near Vadodara. Your unforgettable journey to the park and beyond, encompassing the majestic Statue of Unity, the soothing Shivrajpur Beach, and the splendid Shri Joraver Vilas, promises to create cherished memories that will last a lifetime!
Distance between Ahmedabad and Aatapi Wonderland
Aatapi Wonderland is located near Vadodara, Gujarat. The distance between Ahmedabad and Aatapi Wonderland is approximately 150 km. The travel time by road is around 2.5 to 3 hours, depending on traffic conditions.
Aatapi Wonderland, a captivating amusement park near Vadodara, is comfortably accessible from Ahmedabad. If you choose to travel via NE1, the journey covers a distance of approximately 126.7 km and takes around 2 hours and 20 minutes, allowing you to swiftly reach your destination.
Alternatively, for those who prefer a more scenic route, you can opt for the NH64 highway. This path spans 135.2 km and typically takes around 2 hours and 31 minutes to traverse, offering a slightly different perspective of the picturesque landscape as you make your way to the exhilarating Aatapi Wonderland.
How to Reach Aatapi Wonderland from Ahmedabad 
Reaching Aatapi Wonderland from Ahmedabad is a breeze, with multiple transportation options available to suit your preferences and budget.
By Road:
If you prefer the flexibility and comfort of a road trip, you can either drive or hire a taxi. The faster route is via NE1, which covers approximately 126.7 km and takes around 2 hours and 20 minutes. This path allows you to reach your destination swiftly, ensuring ample time to enjoy the attractions at Aatapi Wonderland. Alternatively, for a more picturesque journey, you can opt for the NH64 route, which spans about 135.2 km and typically takes 2 hours and 31 minutes. This scenic pathway showcases the charming landscape of Gujarat as you make your way to the exhilarating amusement park.
By Train:
For those who'd like to experience the journey by train, you can board a train from Ahmedabad to Vadodara, which connects these two cities with frequent services throughout the day. Upon arriving in Vadodara, you'll find yourself just 30 km away from Aatapi Wonderland. From the railway station, you can easily hire a taxi or take a local bus to reach the amusement park. Travelling by train offers a relaxed and enjoyable journey, allowing you to admire the diverse scenery that unfolds along the way.
By Bus:
There are also direct bus services available from Ahmedabad to Vadodara, with both government-operated and private buses to choose from. These buses cater to different budgets and comfort levels, ranging from non-AC-seater buses to luxurious AC sleeper coaches. Upon reaching Vadodara, you can easily find a taxi or a local bus that will take you to Aatapi Wonderland, located about 30 km away. Opting for a bus journey provides a budget-friendly and convenient means to travel, allowing you to sit back, relax, and enjoy the ride to your fun-filled destination.
Choose the mode of transport that best suits your preferences, and embark on a delightful journey to Aatapi Wonderland from Ahmedabad. 
Rides and Attractions at Aatapi Wonderland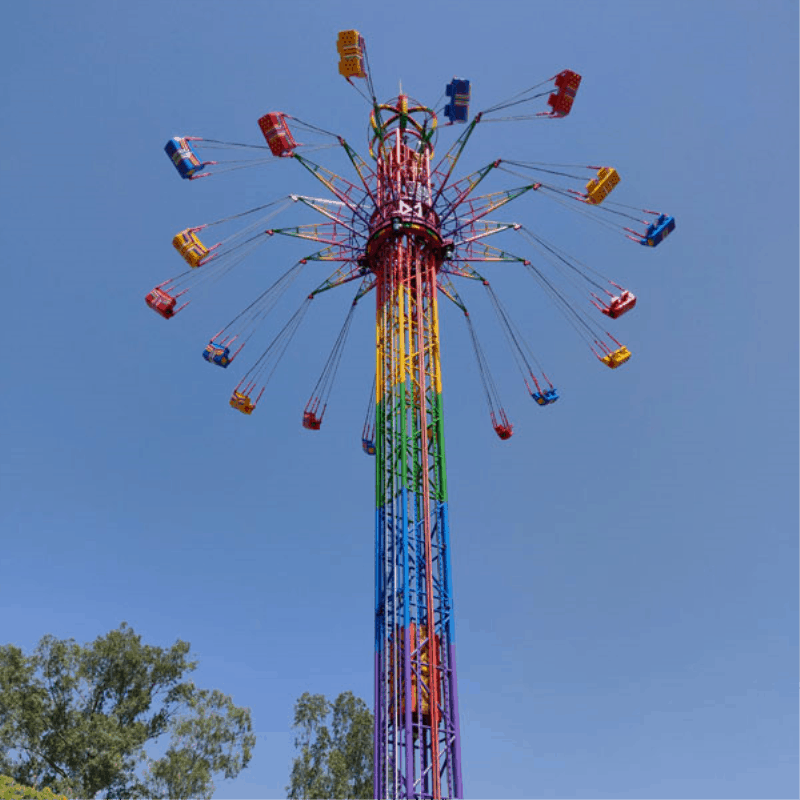 Aatapi Wonderland, a vast and enthralling amusement park, boasts an impressive array of over 40 rides and attractions, thoughtfully divided into two exhilarating zones, including a refreshing water park. This destination offers something for everyone, catering to all ages and interests.
Car racing enthusiasts will be thrilled to take on Racer's Edge, where they can put their driving skills to the test and experience high-speed excitement. For those who crave the adrenaline rush of freefall, options like Reverse Bungee, Sky Paddle, Swap Super Swing, Dragon's Wing, and Feeling Flight offer unforgettable experiences that will leave hearts pounding.
Thrill-seekers won't be disappointed, as Aatapi Wonderland features an assortment of adrenaline-pumping rides such as Sky Drop, Thrilling Engine, and Flying Carousel, among others. The park also caters to younger visitors with a variety of special rides designed specifically for children.
Beyond the rides, visitors can engage in a range of sports activities, including archery, badminton, golf, net cricket, and volleyball, offering a perfect blend of excitement and leisure. And, for a truly unforgettable experience, visitors should not miss the opportunity to indulge in the rain dance fun at the wonderland, creating lasting memories with family and friends.
If adrenaline-pumping rides aren't your cup of tea, fret not, as Aatapi Wonderland offers a plethora of other attractions to keep you entertained. Visitors can spend their time exploring the picturesque gardens, taking in the beautiful fountains, or participating in various interactive activities that cater to all ages and interests. The wonderland ensures that every guest, regardless of their preferences, can enjoy a memorable experience filled with fun and excitement.
Lost Valley of Dinosaurs at Aatapi Wonderland
Although dinosaurs have long been extinct, visitors to Aatapi Wonderland can still experience the awe of encountering these larger-than-life creatures on a thrilling boat ride through the 'Lost Valley of Dinosaurs'. As they embark on this exciting adventure, guests will be immersed in a prehistoric world filled with magnificent replicas of these majestic beasts.
The journey culminates with a dramatic steep splash at the end of the ride, ensuring that everyone gets a little wet and wild. It's advisable for visitors to come prepared with an extra pair of clothes, as they will undoubtedly want to continue exploring the rest of Aatapi Wonderland after their unforgettable dinosaur escapade.
Aapnu Gam at Aatapi Wonderland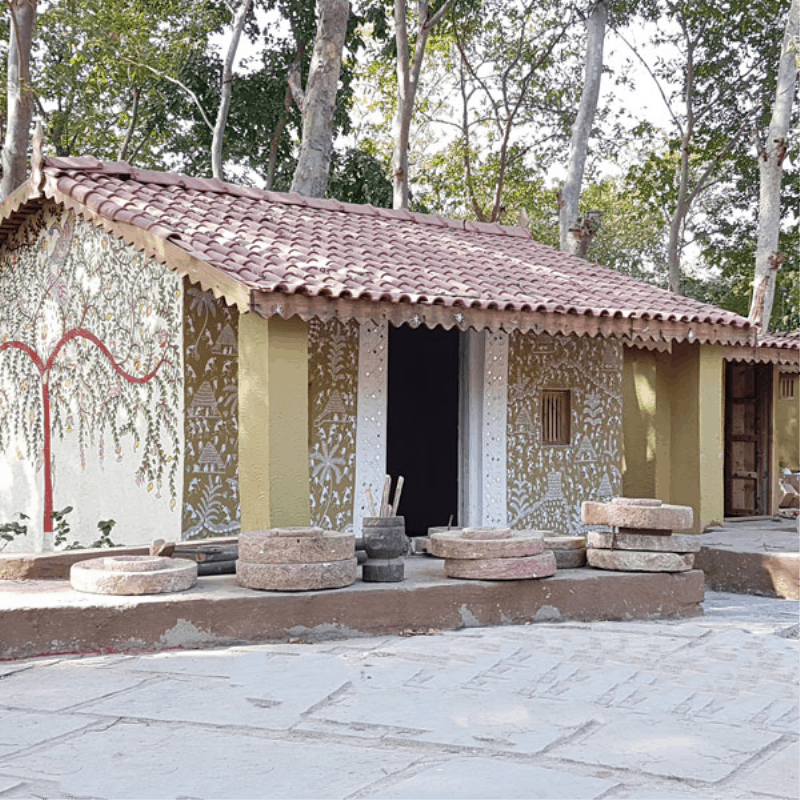 Nostalgic for the childhood games that preceded the era of mobile phones? Aapnu Gam is the perfect spot to relive those joyful memories and even introduce your children to these age-old pastimes. Designed with a charming village theme, Aapnu Gam transports visitors back in time, allowing them to indulge in a variety of classic games such as Gilli Danda, Tyre Race, Marbles, Spinning Top, and Hop Scotch.
In addition to these captivating games, guests can also engage in traditional activities like fetching water from a well, providing a truly authentic experience. A visit to Aapnu Gam at Aatapi Wonderland is a delightful opportunity to reconnect with simpler times and create lasting memories with family and friends.
Vrundavan Garden at Aatapi Wonderland
Be sure not to miss the enchanting Vrundavan Garden during your visit to Aatapi Wonderland. This beautifully landscaped garden invites guests to take a leisurely stroll amid its colourful fountains, providing ample photo opportunities at every turn. Visitors can capture memories alongside various sculptures, vibrant natural landscapes, blooming flowers, and uniquely hued mountains.
A visit to Vrundavan Garden offers a serene and delightful respite from the excitement of the amusement park, allowing guests to unwind, soak in the scenic beauty, and create lasting memories with their loved ones.
Packages & Tickets at Aatapi Wonderland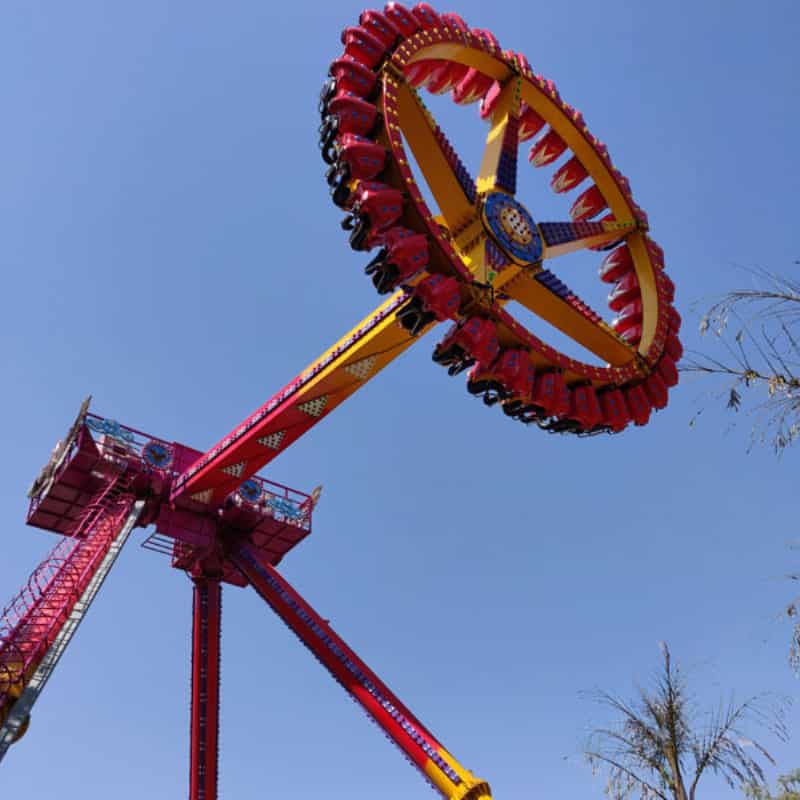 At Aatapi Wonderland, an assortment of packages and tickets cater to different preferences and budgets, ensuring that every visitor can enjoy the full experience of this captivating amusement park. These options range from daily admission passes for individuals and families to special group rates, as well as tailored packages for corporate events.
Aatapi Wonderland's ticket offerings are designed to provide the best possible value, making it easy to plan an unforgettable visit for everyone, whether they are thrill-seekers or simply looking for a leisurely day out with loved ones. With a variety of packages to choose from, guests can select the one that best suits their needs and immerse themselves in the magic of Aatapi Wonderland.
Aatapi Wonderland provides a selection of packages tailored to meet the diverse needs and preferences of its visitors. The available options include:
Fast Track Package
Adult: Rs 1,800
Kids: Rs 1,200
This package offers guests an all-access experience at Aatapi Wonderland. Visitors can enjoy unlimited rides and attractions throughout their visit, ensuring a day full of excitement and fun. Moreover, the package also includes express queue line entry, allowing guests to skip the wait and make the most of their time at the park.
Gold Crown Package
Adult: Rs 900
Kids: Rs 600
This package grants visitors one-time access to all the rides and attractions at Aatapi Wonderland, providing a comprehensive experience of the park. Additionally, it includes admission to the mesmerizing Water Laser Show and the enchanting Vrundavan Garden, ensuring a memorable day of entertainment and relaxation for guests of all ages.
Gold Package 
Adult: Rs 855
Kids: Rs 530
The Gold Package offers visitors one-time access to all the rides and attractions at Aatapi Wonderland, allowing guests to explore the park's various offerings at their own pace. However, it is important to note that this package does not include admission to the water laser show, as stated on the website.
Silver Crown Package 
Adult: Rs 350
Kids: Rs 305
This budget-friendly package provides visitors with access to a curated selection of any 4 rides or activities at Aatapi Wonderland. Guests can choose from Aapnu Gam, Water Laser Show, Vrundavan Garden, and the Selfie Zone, allowing for a tailored experience that still captures the essence of the park's diverse offerings.
Silver Package
Adult: Rs 147
Kids: Rs 105
This particular package caters to visitors looking to sample a limited selection of 4 rides, activities, or attractions at Aatapi Wonderland. Offering a budget-friendly alternative, this option allows guests to explore a few of the park's diverse attractions while concentrating on their personal favorites, ensuring a satisfying and customized experience.
Timings of Aatapi Wonderland: 11 am to 7 pm
Closed on Wednesdays.
Disclaimer: Please cross verify the prices and timings before visiting. We don't take any responsibility for the price details mentioned.
How many rides does Aatapi Wonderland have?
Aatapi Wonderland is Gujarat's colossal playground, stretching across a whopping 70 acres in Vadodara. With over 40 thrilling rides and attractions, this park is an irresistible magnet for roughly 7,000 visitors every day. Whether you're a thrill-seeker or a laid-back adventurer, Aatapi Wonderland has something for you. So, pack your bags and get ready for a day of non-stop fun and excitement!
Who owns Aatapi Wonderland?
Aatapi Wonderland is a popular theme park located in Ajwa, Vadodara. It is a massive project spread over 70 acres of land and created in collaboration with Cube Construction Engineering Limited, Vadodara Municipal Corporation, and Gujarat Tourism.