Alcohol and Gujarat are two parallel lines that never meet. Jokes apart! On a serious note, The consumption of alcohol has been banned in the state since 1960. It is the same year when the state of Gujarat & Maharashtra were formed, but only Gujarat adopted the alcohol ban law. There is key to every lock, in the same manner, there is a way to savour the taste of fresh beer even in Gujarat, but for that, you must have a liquor license.
Now, if you're thinking why such a ban? Well, the answer to this question lies in the principles of Mr Mohandas Karamchand Gandhi (Father of our nation). He never supported the idea of alcohol consumption and considered it to be one of the biggest problems in society.
There's a famous advertisement for Gujarat Tourism that says, "Kuch din to Guzaariye Gujarat mein." Interestingly, Gujarat caters to a lot of tourists every year from all around the world and takes the utmost care of all their needs. But one thing that tourists miss the most while staying here is the feeling of sipping their favoured drink.
The liquor ban in the state gave birth to the illegal sale of liquor. Well, the law regarding such activity has become more strict after an incident where people lost their lives due to the consumption of Methyl alcohol. It was in 2009 when the Bombay Prohibition (Gujarat Amendment) Act was passed with an additional section 65A. The law states a death penalty for illegal selling of liquor.
Liquor License Categories
Keeping in mind these stringent laws, only people of certain criteria are eligible to apply for legal liquor license issued by the state government. There are majorly four permits consisting of a Tourist permit, Visitor permit, Health permit, and Group permit.
The Tourist permits are specifically for residents settled outside India. In contrast, the Visitor permit is for citizens of India residing outside the state of Gujarat, and the Health permit is issued to people with specific health problems that need regular alcohol consumption.
Ways of Acquiring Liquor License Permit
There are two ways of obtaining a liquor license; one is through choosing the online platform and visiting the official website by the Government of Gujarat 'e-permit'. Whereas the other one is an offline platform in which one has to go through the process and obtain the liquor license physically.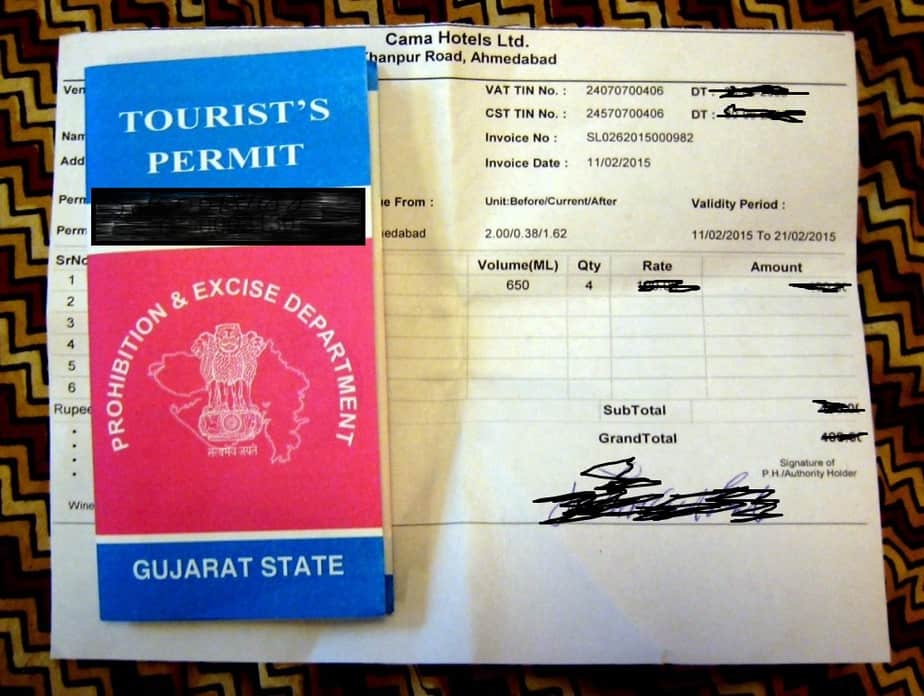 The facility of online permit is available only for Tourist permit, and Visitor permit, whereas the Health and Group permit, can be acquired only through the offline process.
Online Process for Acquiring a Liquor License
In the online process of acquiring a liquor license, all you've gotta do is visit the official website by the Government of Gujarat 'e-permit' and put in your basic information. Further, you'll have to upload documents consisting of four images: a picture of your passport, a picture of your passport's photo page, a picture of your flight or train ticket while travelling to Gujarat, last but not least, a picture of the receipt to confirm your stay in the hotel. In cases where you're staying at a friend's or relative's place, provide a picture of local resident's address proof. Once you get the licence you can get liquor in Ahmedabad from these shops.
FAQ's
Can I get a liquor permit at Ahmedabad airport?

Yes, tourists and visitors can avail of a liquor permit from the Ahmedabad airport. 
Can you carry alcohol in Gujarat by train?

No, apart from the fact that consumption of alcohol is illegal in Gujarat, carrying liquor in the train is not allowed due to safety purpose. The Indian Railways does not allow anyone to carry any 'inflammable material', even if you are a permit holder, as it is against the law. 
How can I get liquor permit in Gujarat?

There are two ways of acquiring a liquor license in Gujarat. One is online, by applying online on the Government of Gujarat's official website 'E-Permit' and the offline process requires you to submit necessary documents and avail the permit in person.