About Madhavpur Beach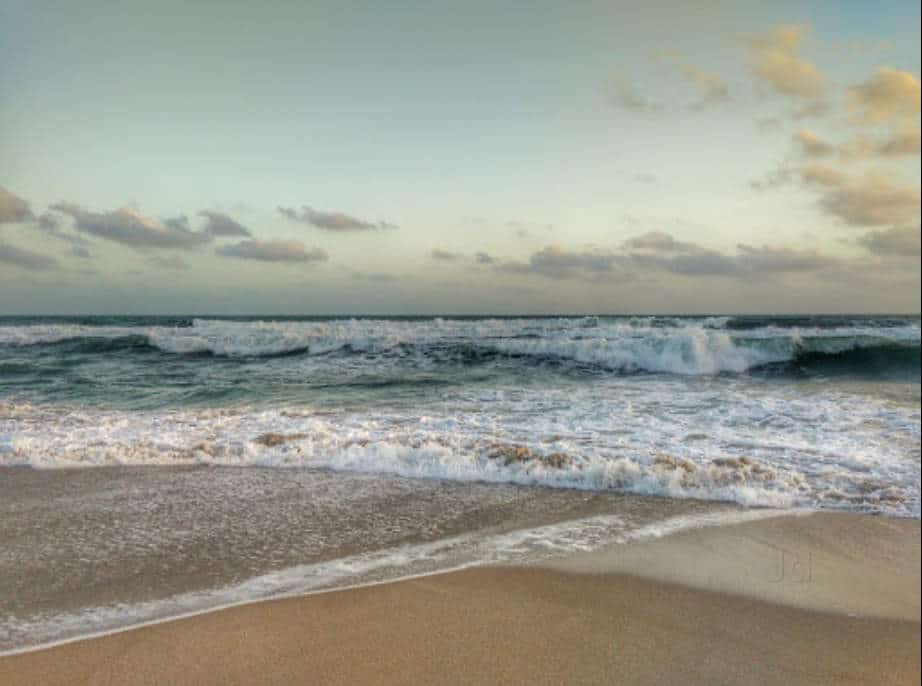 Located on a sandy coastline with coconut treeline, the stunning Madhavpur beach will transport you to another world where there are peace and tranquillity. The azure blue water is a treat to the eyes and sea breezes to the soul. Madhavpur beach is an hour's drive away from Porbandar and located on the Porbandar-Veraval Highway.
However, unlike Shivrajpur beach, this beach is sloppy and is not safe for swimming but without any doubt an ideal place to relish the sea breeze. Sip from the natural coolers; coconut water and enjoy a camel ride at the shoreline on beautifully adorned camels. At the shoreline, you'll also find a huge Shivlinga.
This scenic beach is also a host to the enthralling Madhavraiji Haveli Temple and the not-to-miss Rukmini no choro. Rukmini no choro is where an annual fair is held by the Mer community. Everyday year around 1.5 lakh people gather to witness the re-enactment of the marriage ceremony of Lord Krishna and Rukmini by the locals.
As per the traditional beliefs, Lord Krishna married Rukmini in Madhvapur village. To celebrate Lord Krishna's marriage, every year an annual fair is organized. It is said that the beach is named after Madhav Rao, who ruled the region once upon a time. Folklores also believe that Madhavpur got its name when Lord Krishna defeated a rakshasa named Madhu who also lived there.
One of the best features of this beach is that even if you don't have enough time to enjoy the beach view or breeze, just open your car windows and you'll feel like you're standing on the beach. It is because the main road passes through the path of the beach. You can also enjoy the spectacular view of several windmills while on your way to Madhavpur. You'll also find unique and antique structures in and around the beach.
Less commercial activities on the beach make it all the more appealing and a must-visit place. A day or a few hours would be apt to spend time at this pristine beach.
There are two ongoing projects at Madhvapur beach, the project of Green Sea and Olive Ridley turtles. Both are endangered marine species that fall in Schedule-1 of the Wildlife (Protection) Act, 1972. Green Sea Turtle and Olive-Ridley turtle frequently visit the coast.
You'll find turtles-turtles everywhere.
Since the place is not much commercialized, you'll find fast food options from the stalls at the beach and nearby.
Best time to visit: November to March
Beach Timings: 6 am to 8 pm
Distance between Ahmedabad and Madhavpur beach
The average distance between Ahmedabad and Madhavpur beach in hours is 7 hours 45 minutes and in km, it is 402.8 km via NH47.
If you're coming via GH SH1, with a 396.3 km distance it will take around 8 hours and 6 minutes to reach Madhavpur beach.
Taking the route via GJ SH 17 with a distance of 414.7 km will take around 8 hours and 16 minutes.
How to reach Madhavpur beach from Ahmedabad
By Train
The nearest railway station to the beach is the Veraval railway station. Two express trains run on the Ahmedabad-Veraval line, one at night and one during the day. The train journey takes around 7.5 hours.
By Road
You can book a private bus ticket or take a state transport bus and reach the Porbandar bus station. If you're travelling by your own car or a rental cab, you can directly reach the destination.
By Air
The best possible way by air would be Ahmedabad to Porbandar flight since the nearest airport to Madhavpur beach is Porbandar airport.
Places to visit near Madhavpur beach
Osho Ashram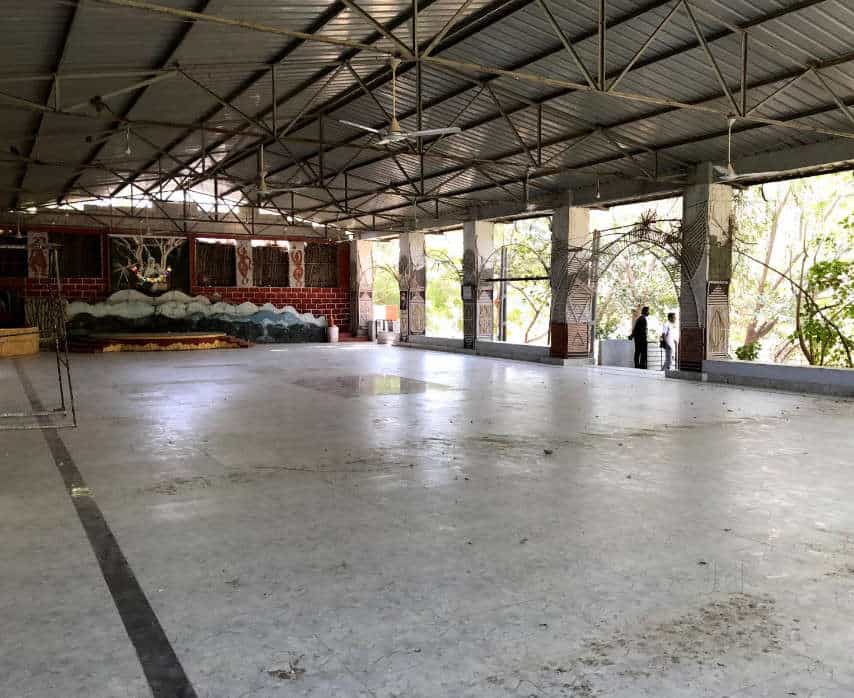 While you gain peace at the serene 10 km coastline of Madhavpur beach, before you hit the humdrum of the city, you can calm your mind further through meditation at Osho Ashram which is just 15 minutes away from the beach. Here prominent Osho Sanyasi's give daily lectures. 
Porbandar Bird Sanctuary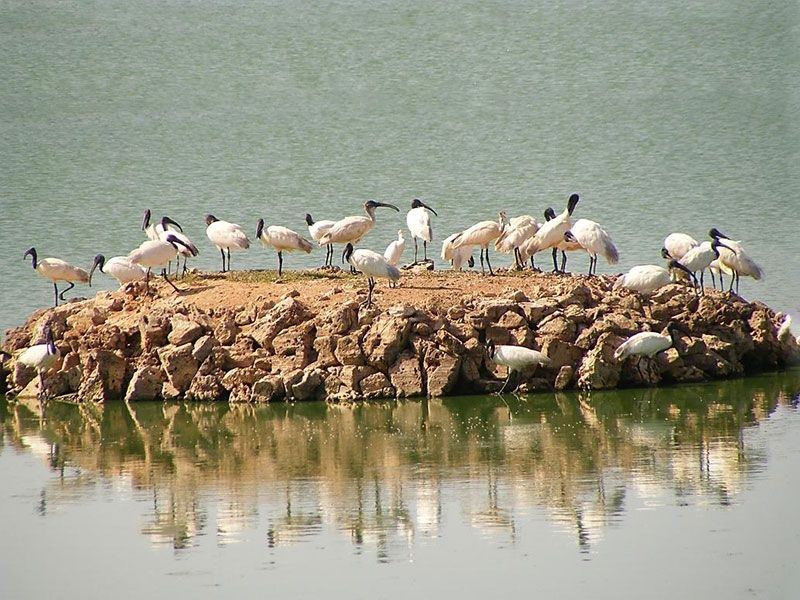 The smallest bird sanctuary in Gujarat, Porbandar Bird Sanctuary is spread over an area of 1 square km. The sanctuary attracts several migratory birds since it falls on the migratory route of birds. It is a bird lover's paradise especially during winters, where apart from migratory birds, you will find birds like flamingoes, grebes, pelicans, ducks, geese, avocet, herons, egrets, spoonbill, whistling teals and 150 different species of birds.
Madhavpur Beach Fair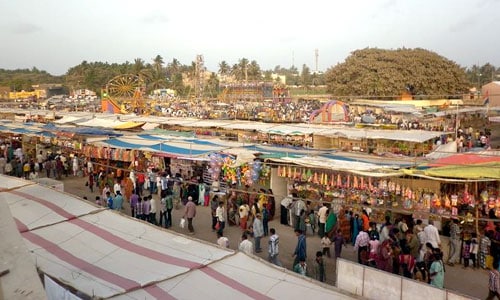 A generally sleepy town, Madhavpur wakes up from deep slumber during the Mahavpur fair. The fair is held on Chaitra Sud 12 (Hindu Calendar) every year. Several activities and cultural programmes are organized during the Madhavpur beach fair. Madhavour fair is a colourful fair and is the best place to get an insight into the lifestyle and culture of the Mer Tribals. Artists from this community re-enact their marriages with their life partners to celebrate that of Lord Krishna and Rukmini.
Madhavraiji Haveli Temple
At walking distance from the beach, Madhvaraiji Temple is a must-visit. It is a 15th-century temple of Madhavraiji that is said to be a form of Lord Krishna. However, the original temple was destroyed by Muslim invaders but the remnants can still be found. A new temple was constructed adjacent to the old one.
Krishna Rukmini Temple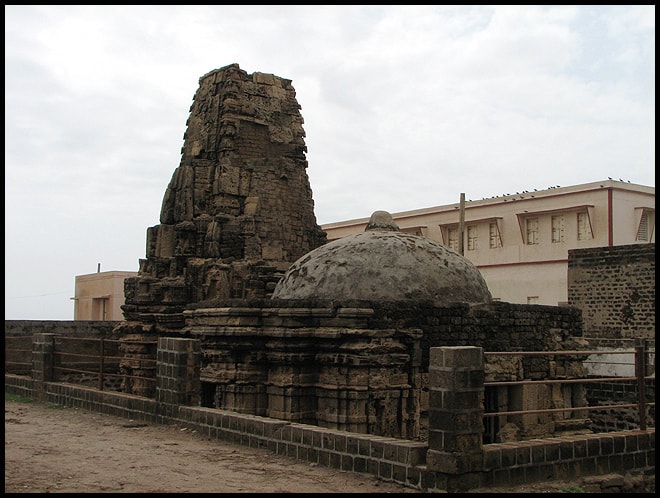 You'll also find a dedicated temple of Rukmini, Lord Krishna's wife near the beach. This is also one of the places you shouldn't skip visiting if you're at Madhavpur beach. 
Madhavpur Turtle Hatchery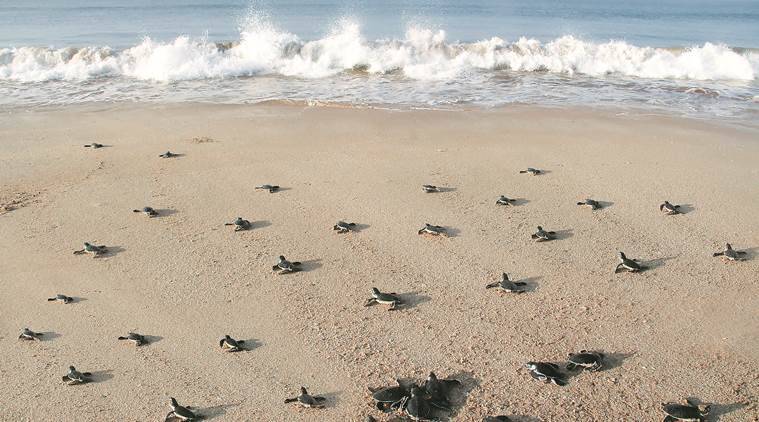 You may have a hard time finding turtles where you stay, but at Madhavpur it will be a delight to watch turtles at the Madhavpur Turtle Hatchery. You'll find the hatchery on the Porbandar-Veraval Highway quite close to the beach where turtles are bred and hatched as part of the conservation project going on for two decades. It is a part of the state government's efforts to conserve marine species.
Porbandar Beach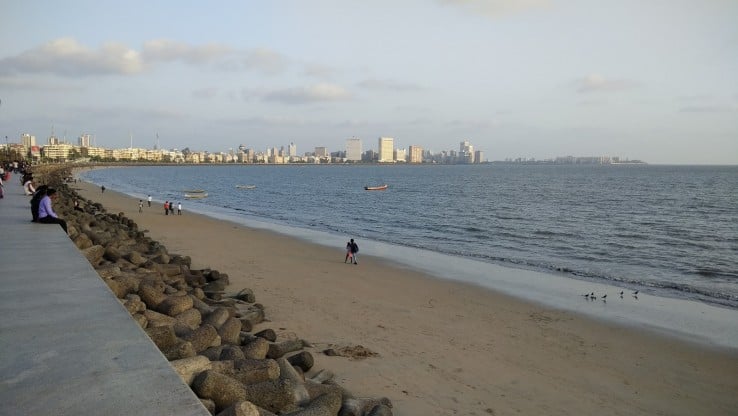 Porbandar beach is commonly known as 'Chowpatty beach' is yet another tourist attraction an hour's distance from Madhavpur beach. The beach where it is in Porbandar is also the birthplace of Mahatma Gandhi, the father of the nation. At this sandy Porbandar beach, you'll find a skating rink for children, a walkway where you can comfortably take a stroll and seating for tourists. Janmashtami fair is also organised here. 
Mocha Hanuman Mandir
One place you definitely shouldn't miss visiting is Mocha Hanuman Mandir which is at a 15-minutes distance from the beach. Here, a middle-aged French Lady, also known as Mataji is the caretaker of the mandir. She is well-versed in Gujarati and has been living in Gujarati for the past 18 years or more.
Activities at Madhavpur Beach
The beach has several water sports and adventure facilities which is light on the pocket. The activities with their average costs are as follows: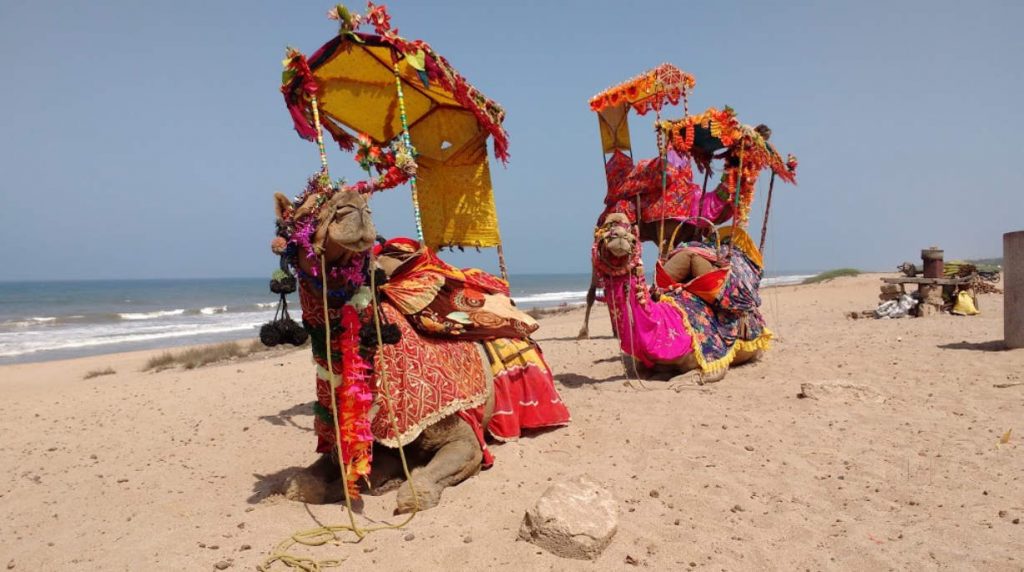 Camel Ride – Rs 100
Desert Bike – Rs 300
Parasailing (By Jeep and Powerboat)  – Rs 1,000 and Rs 1,500 respectively 
Speed Boat – Rs 300
Banana Boat – Rs 700
Bumper Boat – Rs 500
Jet Ski ride – Rs 500
Water skiing ride – Rs 500
Dolfin Safari – Rs 6,000
Hotels nearby Madhavpur Beach
The Fern Leo Beach Resort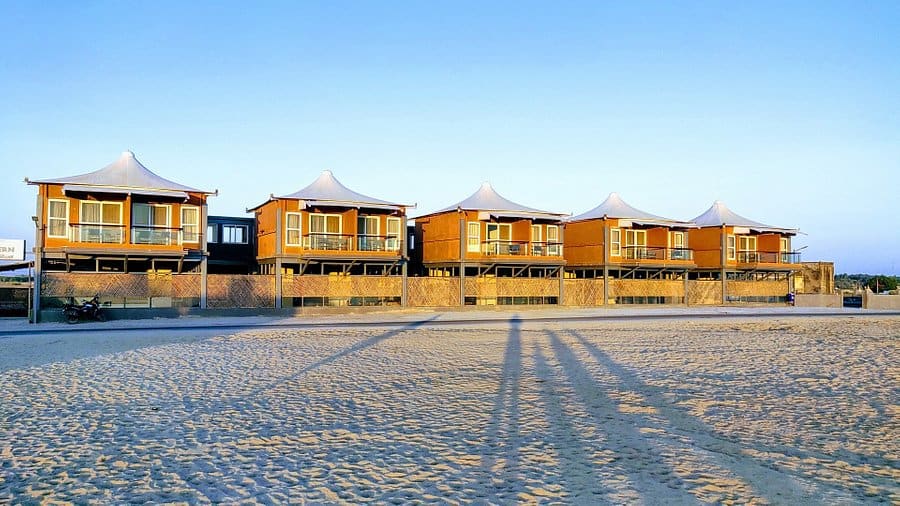 Enjoy the most epic view of the Madhavpur beach from the sea-facing cottages of the resort. There are 10 sea-facing cottages with an open balcony providing the best view possible right at the beach. It also has a multi-cuisine restaurant and a live food court.
There are other resorts but are 50 km away from the Madhavpur beach.
Hotel Madhuvan
Disclaimer: The rates and activities mentioned in the blog may vary. Kindly confirm before booking.
Is swimming or bathing allowed at Madhavpur beach?
No, due to high tides and strong currents, swimming or bathing is not allowed at the beach.
Are there any hotels at Madhavpur beach?
You'll find Fern Leo Beach Resorts on the beach and another hotel that is 5 km away from the beach named Hotel Madhuvan.