The summer time has already started and exams are over. Vacation time has started and kids are enjoying the summers at home. After the initial enjoyment of vacation period, the kids start feeling bored in the vacation time and want to learn something new. The parents also want their kids to learn something new and remain ahead in today's competitive world. Parents are always on the lookout for various classes and extracurricular activities for kids in summer season.  A lot of pre-schools also arrange summer camps for kids in their schools. Here is the list of summer camp activities in Ahmedabad for kids.
Various summer camp activities in Ahmedabad for kids
Ahmedabad is a city full of activities and has a long lasting heritage of art and culture. Here kids and even the adults learn a lot about various art, craft, sports and other activities through workshops, classes, sports coaching classes and lot more. The list of summer camp activities for kids in Ahmedabad
Here is the list of summer camp activities in Ahmedabad
Summer camp 2019 by Decathlon & Sundarvan

Summer Camp Gir Forest

Let's play with the Sun Summer Camp

Watercolor painting Workshop by Varnkriti and Pepperfry

Summer Workshop by Maulik Goswami

Summer chess camp by R K Choksi School of chess

Art and craft classes by Advance art group

CEE's Summer workshop

Calligraphy workshop
Summer Camp 2019 by Decathlon & Sundarvan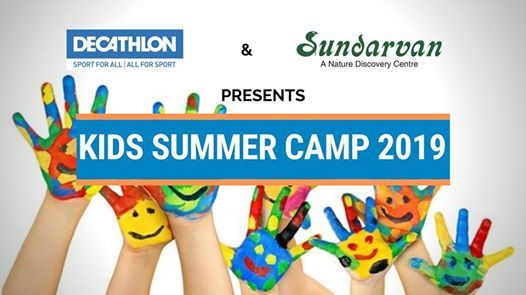 It's time for the kids to beat the heat by taking part in lot of summer sports and other activities. The Decathlon Apple woods and Sundarvan have come together to arrange a summer camp for kids.
Activities included
Yoga

Basic fitness

Individual and team sports activities

Various team games like cricket, basketball, football etc

Swimming and pool parties

Adventure camps and various other activities
Age Group:
N/A
Time
Each batch is of 8 days. The timings will be from morning 6:00AM to 8:30 AM.
Date
6th May to 13th May
13th May to 20th May
20th May to 27th May
27th May to 3rd June
Price
INR 1500
Registration
You can register online here
Or Offline at Decathlon Sports India, Apple woods or Sundarvan, Ahmedabad
Summer Camp Gir Forest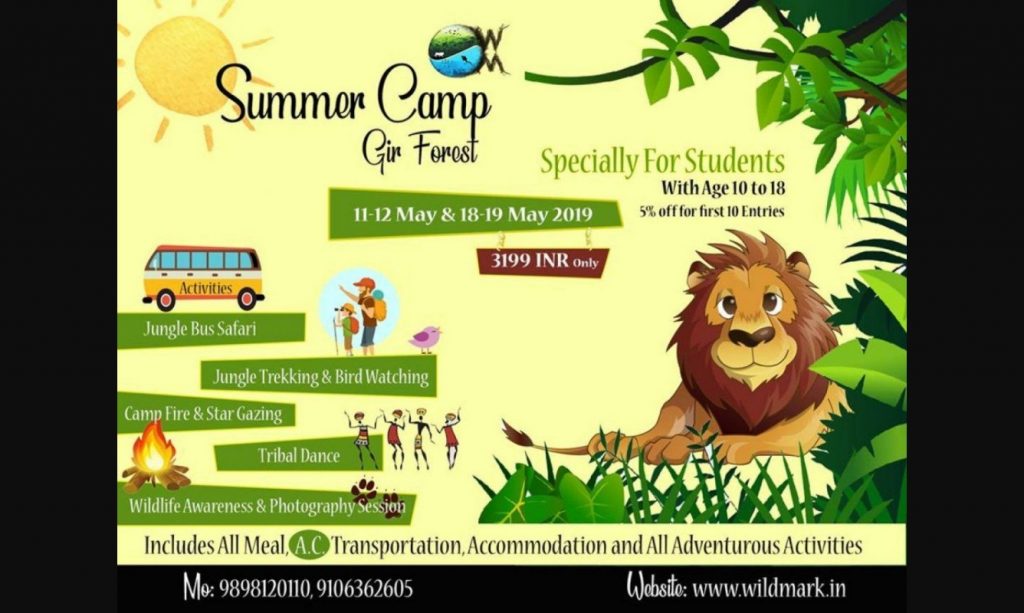 This summer camp is specially organized by wildmark for the students between the age group of 10 to 18 years. Here the kids will get to feel the glory and the beauty of jungle of Sasan Gir, the home of the king of animals. The majestic Asiatic lions have made this land their home from centuries.
Activities included
Jungle bus safari

Jungle trekking and bird watching

Tribal dance

Wildlife awareness and photography sessions

Campfire and stargazing

Jungle trekking

Bird watching
Age Group:
10 to 18 years
Date:
11th-12th May & 18th-19th May
Time:
N/A
Price:
INR 3199 including meals, A/C transportation, Accomodation and all adventure activities.
Let's Play with the Sum Summer camp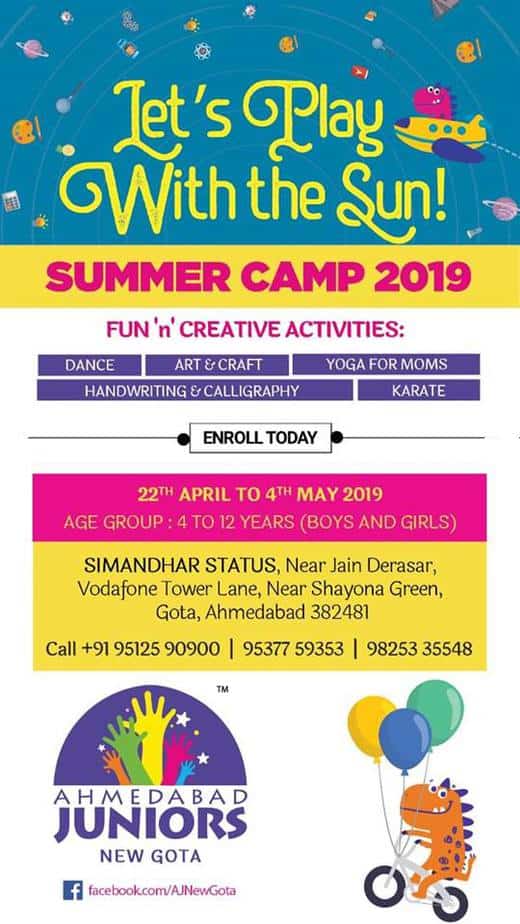 Urvi Pandit, the art director having 9 years of experience will be handling this summer camp. There are lot of activities that kids can learn over here. The activities involved are as follows
Activities Included
Painting

Card Making

Yoga for kids

Diya Decoration

Story telling

Party

Best out of waste

Non Fire cooking
Age Group:
4 to 12 years
Date 
22nd April to 4th May 
Time
N/A
Registration:
You can get more information on Ahmedabad Juniors site or call on +919512590900, 9537759353, 9825335548
Address
Simandhar status, Near Jain Derasar, Vodafone Tower Lane, Near Shayona Green, Gota, Ahmedabad: 382481
Watercolor painting workshop by Varnkriti and Studio Pepperfry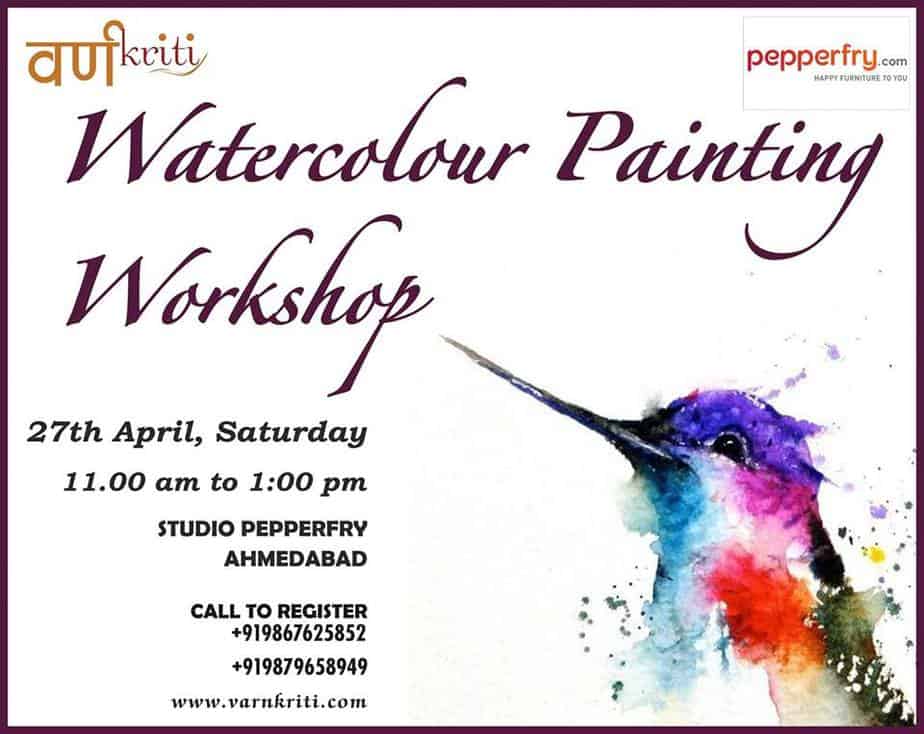 In this workshop you get to know the wonders water creates with colors. You can observe the beauty of colors and water. It is a very good opportunity for artists. The beginners can also start learning how to control their strokes and create a masterpiece from their imagination.
Age Group:
Children above 13 years of age
Date:
27th April
Time:
11:00 AM to 1:00 PM
Price:
INR 1000
Registration:
For registration call on 9867625852 or 9879658949
Address:
Studio Pepperfry, S. G. Road, Titanium One, Shop No. 5, Ground Floor, Next to RajPath Club, S.G. Highway, Bodakdev, Ahmedabad, Gujarat: 380054.
Summer Workshop 2019 by Maulik Goswami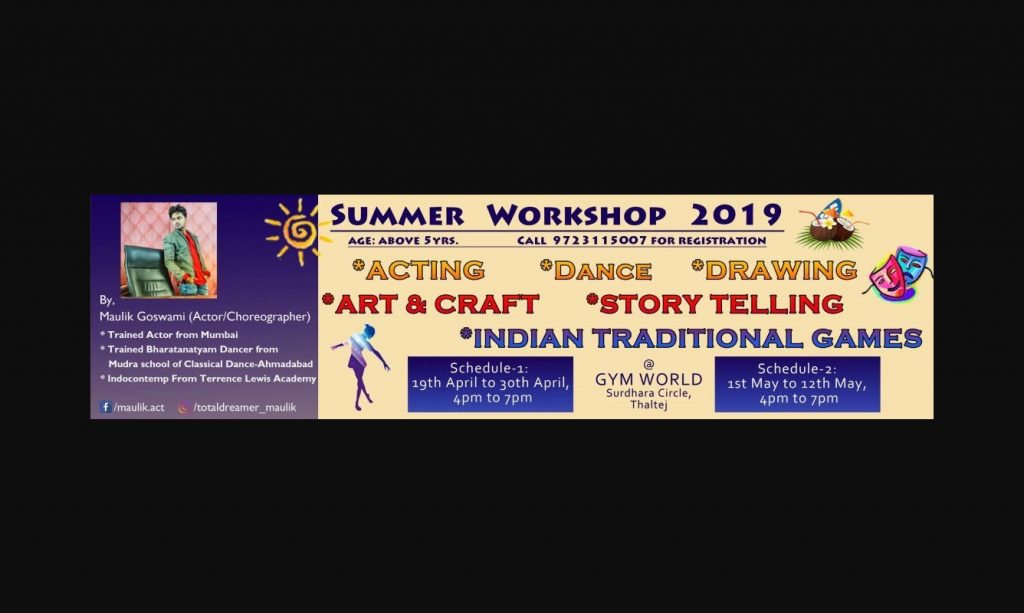 Do you want to get your kid trained in extracurricular activities under professionals, then you should definitely think of this workshop. Maulik Goswami, the organizer himself is a trained actor from Mumbai, trained Bharatnatyam dancer from Mudra School of Classical dance and an Indocontemp from Terence Lewis Academy
Activities included are
Acting

Dance

Drawing

Art and Craft

Story telling

Indian Traditional Games
Age Group:
N/A
Date 
1st May to 15th May
Time
5:00 PM to 7:00 PM
Price:
Rs. 2000 for 1st 10 entries and Rs. 2500 for all others
Registration:
For registration call or Whatsapp on 9723115007
Summer Chess camp by R. K. Choksi School of Chess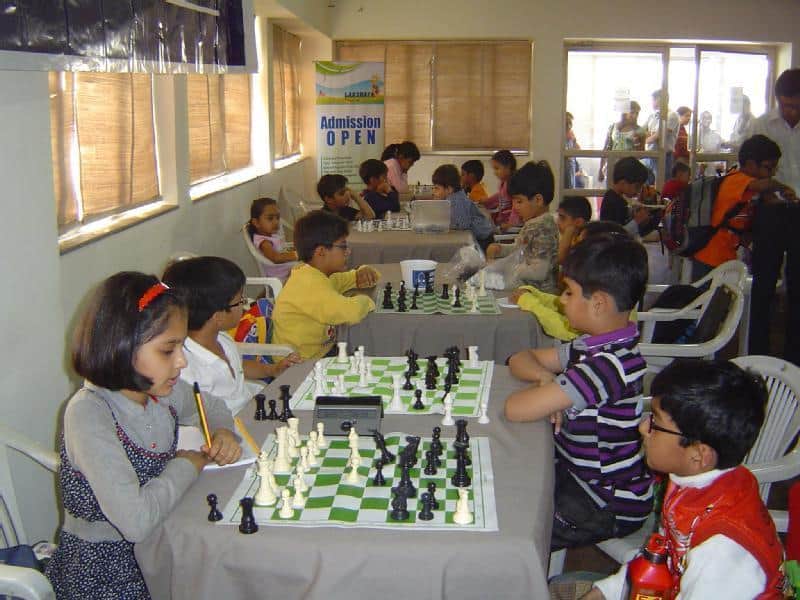 The R. K. Choksi school of chess was founded by Manan Choksi, the international chess player from Gujarat. Chess is a game that can develop your kids intellectual abilities. It also help you develop strategic planning skills. Every year as the summer vacation starts, the school runs a special summer chess camp to educate the kids.
Age Group:
4 years and above
Date:
1st April to 18th April (Monday to Saturday)
19th April to 5th May (Monday to Saturday)
 6th May to 23rd May (Monday to Saturday)
Time:
4 to 5 pm, 5 to 6 pm, 6 to 7 pm
Price
N/A
Registration:
For inquiry call on 9327002877
Address:
R. K. School of Chess, Shyam Kutir bungalows, Near Law Garden,
Behind Pantaloons, Mithakhali six roads, Ahmedabad
Address 2:
Lakshya Pre-school, Near Rajpath Club, S. G. Highway
Art and craft classes by Advance Art group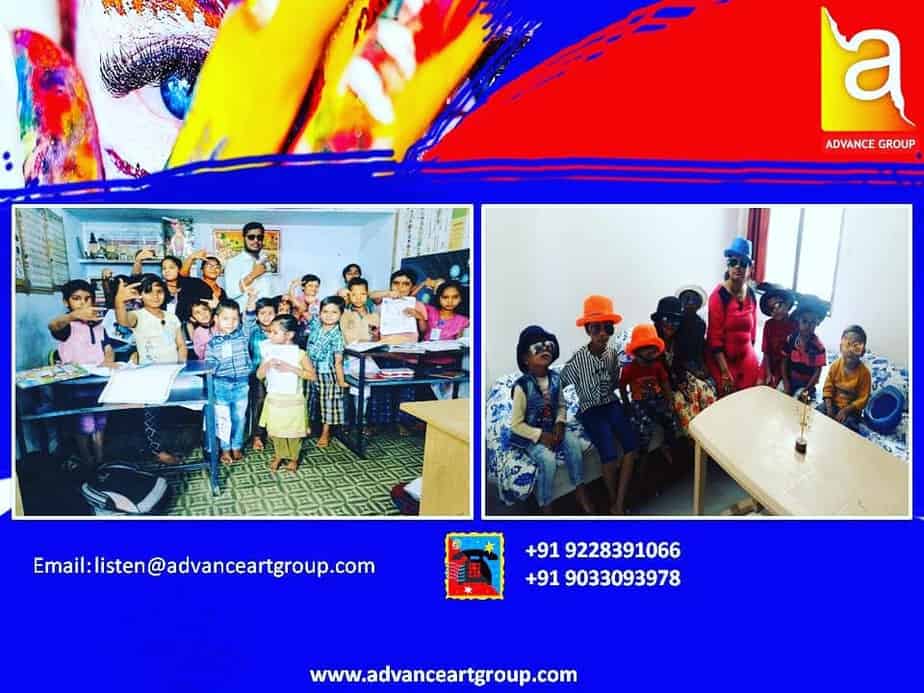 The summer vacations have already started and parents are looking for art and craft classes. Advance Art group offers a variety of options according to the feasibility of the parents. They also offer services at home.
Activities included
Dance

Music

Acting

Anchoring

Dialogues

Computer

Chess

Drawing

Painting

Arts & Crafts

Games

Yoga

Sewing

Creative Arts
And many more
No. of Days
15, 30, 45 and 60
Time Duration :
45 min to 60 min per session
Basic Fee structure
15 days 1000Rs. /candidate

30 days 2000 Rs./ candidate

45 days 3000 Rs./ candidate

60 days 4000 Rs./ candidate
Registration 
For queries feel free to contact on 9228391066, 9033093978
You can also go through their site 
CEE's Summer workshop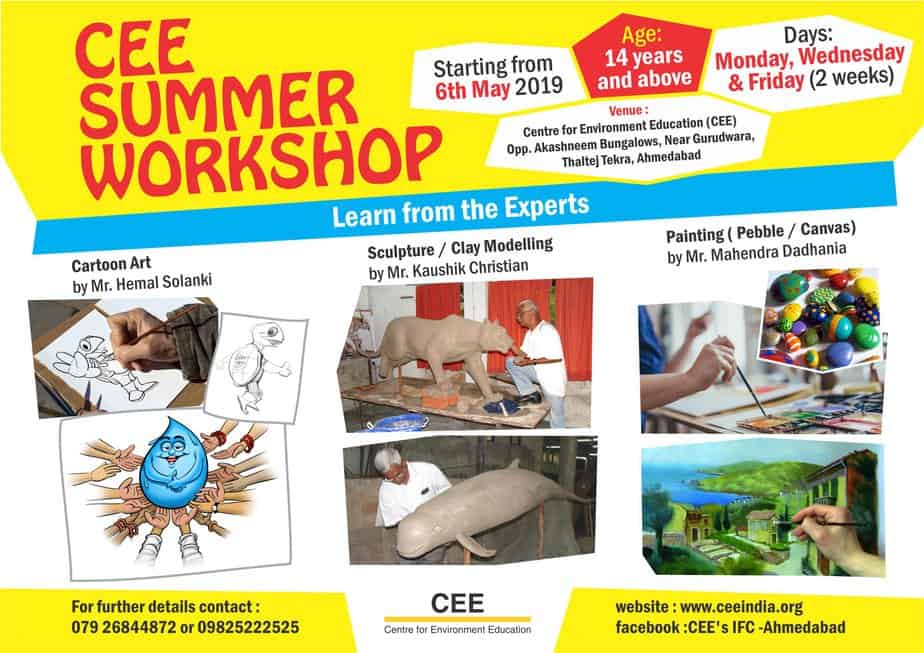 A Unique workshop is organized for the first time by CEE. The mentors in this workshop have more than 20 years of experience. It is a 2 week course. Limited seats are available.
Activities included
Cartoon art

Sculpture, clay modelling

Painting
Age Group:
Adult
Date 
It begins from 6th May 2019.
Time
The timings are from 10:00 AM to 12:30 PM Monday, Wednesday and Friday.
Price
N/A
Registration :
For registration call on 9825222525
Calligraphy workshop by Dhuweel Al Freewhale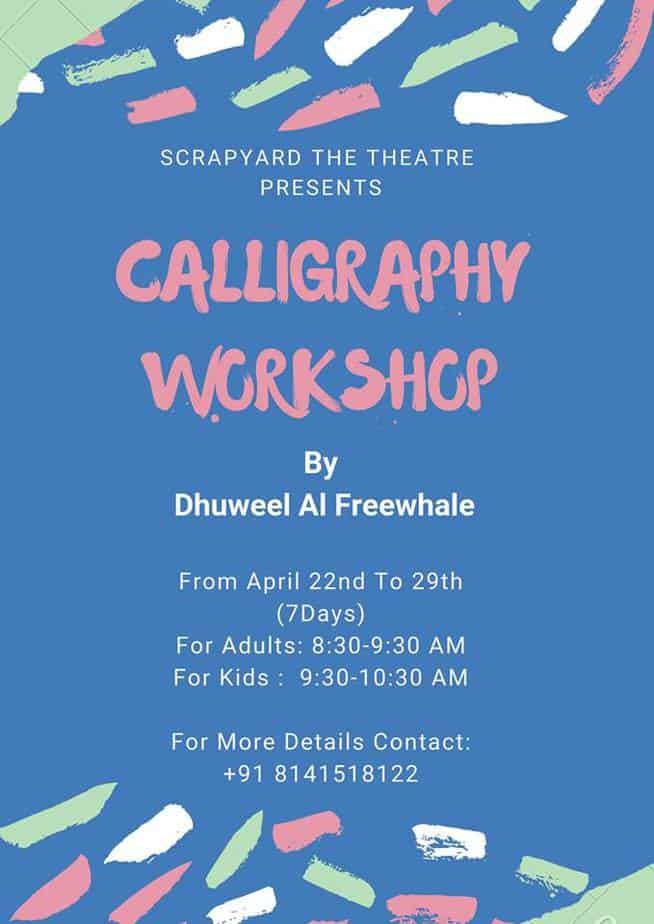 Expressing yourself through calligraphy by paintbrush is really fun. It also helps develop your personality. While learning calligraphy with paint brush you do not need to be perfect and within no time, you will be creating perfect artistic handwriting.
Date
It is a 7 Days calligraphy workshop starting from 22nd April to 29th April.
Time
Adults: 8:30 AM to 9:30 AM
Kids: 9:30 AM to 10:30 AM
Fee
1200 INR (including all materials and refreshments)
Registration :
For registration please log on to the following site
For more information call on
Dhuweel: 8141518122
Savan: 9978001005
So, these are a few summer camp activities in Ahmedabad, where you can enroll your kids and you can also go. These will help in the overall development of the kids and some of these workshops will also help you a lot.