The summer season has just begun, and so does the season of colourful "Golas"(ice-crushed ice-creams). There could not be anything more soothing like 'gola' during summers. Ice- creams may fail you sometime, but Golas don't in the race of summer refreshments. Gola gives you the best foodgasm especially for the sweltering weather like Ahmedabad. A bowl of crushed ice dipped with delicious flavoured syrup is alluring and energising and the same time.
Tempted yet, If not you will be as we have listed down some super- delicious Gola Places in your Ahmedabad city. All these Gola stalls have some unique varieties of gola dishes, made using fab ingredients like exotic fruits, dry fruits, wondrous syrups.
So don't stop your temptation for Gola and check out this six best Gola Places which should be in your list this summer season.
Best Gola Places in Ahmedabad
Someshwar RO Ice Center, Satellite

Someshwar RO ice centre keeps in check with customers hygiene concerns by using only RO water to make ice. He also manages to keep the stall neat and clean. They have many options in Gola dishes.
One of their fancy dishes is ice-cream Gola in which they put in Ice-cream scoops. The ice-cream gola has different flavours and is very soothing. If you are visiting this place should not miss the 'Fruit Gola'. Topped with all seasonal fruits like watermelon, kiwi, pomegranate, mangoes, orange etc. A healthy and delicious Gola dish.
Where to find them: Someshwar RO Ice Center, Below Raksha Hospital, Judges Bungalow Road, Bodakdev, Ahmedabad
Mewad Gola, Law Garden
The famous shopping place of Ahmedabad Law garden is also renowned for its fabulous Gola. The Must have Golas at Law Garden's Mewad stall are Mewad Rajwadi, Cadbury special.
Mewad Rajwadi Special Gola dish served with the traditional flavours like Rabdi, Kesar and Mawa. Later garnished with dry fruits, tooty fruity, cherry. It is as delicious to taste as it sounds. You can also ask them to add your favourite flavoured syrup. Another dish which you should try it's Cadbury Special- it is more than a chocolate covered gola. A bowl filled with crushed ice topped with chocolate, dry fruits, milkmaid and sprinkled chips will make your day.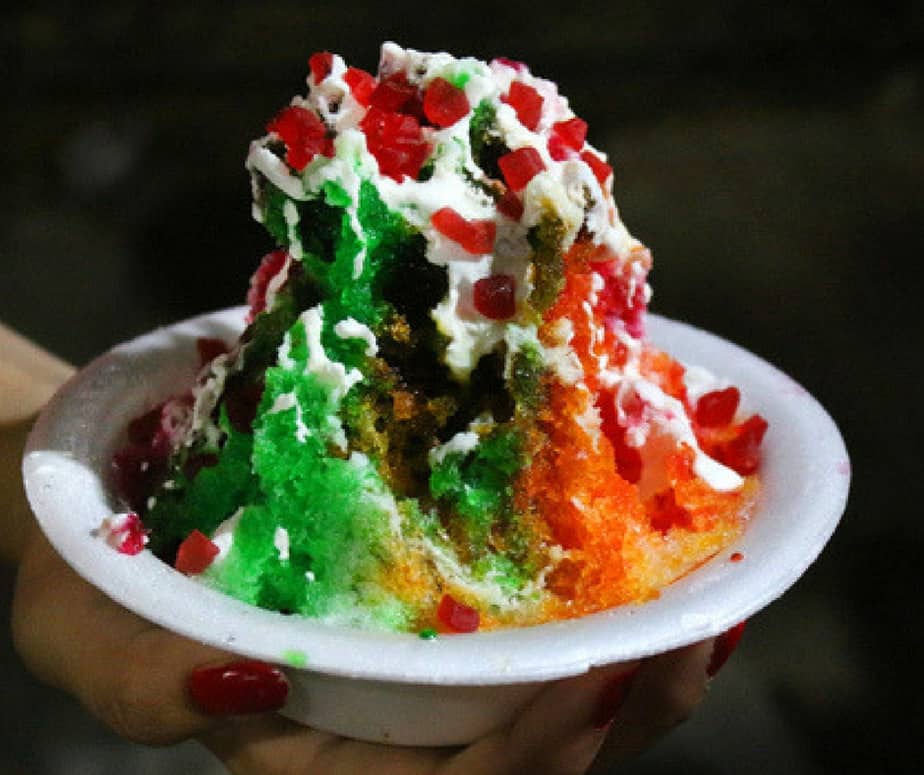 Where to find them: Mewad Gola, Samartheshwar Mahadev, Law Garden, Ahmedabad
Gulab Golawala, Usmanpura
Busiest place during summer in Ahmedabad is Gowalla's. You can see a long queue of customers waiting for their turns to come, Gulab Golawala at Usmanpura is one such place.

At Gulab Golawala they have Falsa Gola, exotic Falsa fruit filled with their secret masalas make this dish superlicious.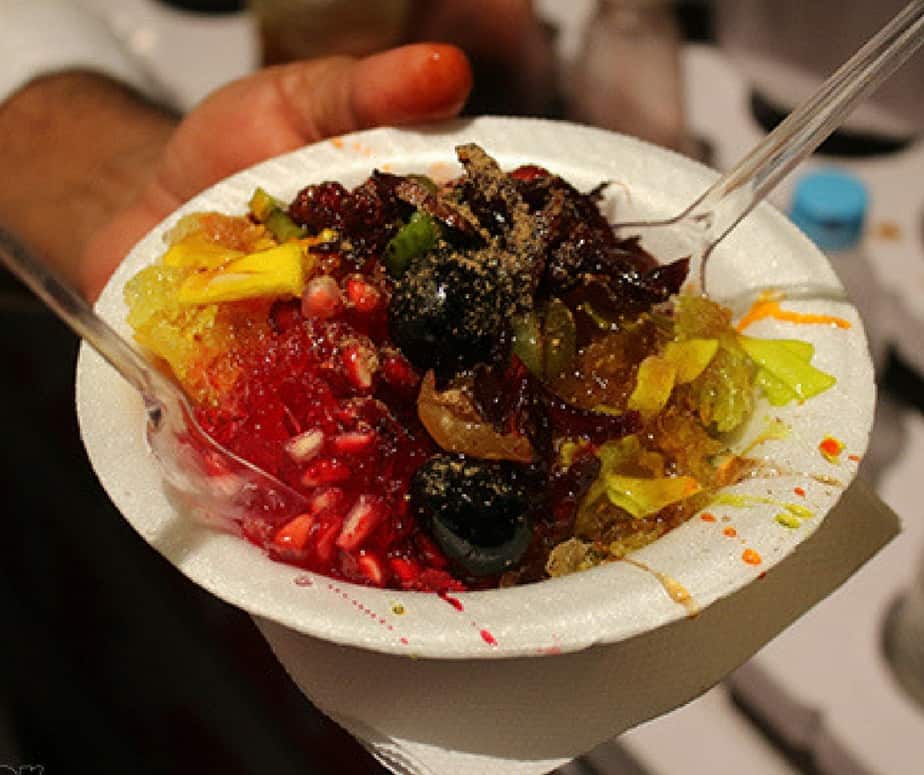 Where to find them: 46 Maneklal Marg, Shantinagar, Sharda Colony, Usmanpura, Ahmedabad
Tropical SNO – Bodakdev
Tropical Sno is the newbie Gola place in Ahmedabad city; It is a newer version of Gola flavours. The unique flavoured gola of Tropical SNO are U.S based. They serve the deadly combination of fruit flavours like sunrise corn which had tastes of Cherry, lemons and orange, volcano consists of black cheery and Mango.

The best thing about them is they use the best quality of snow and serve gola with cute packaging, so it doesn't get messier while you are sipping the yum golas.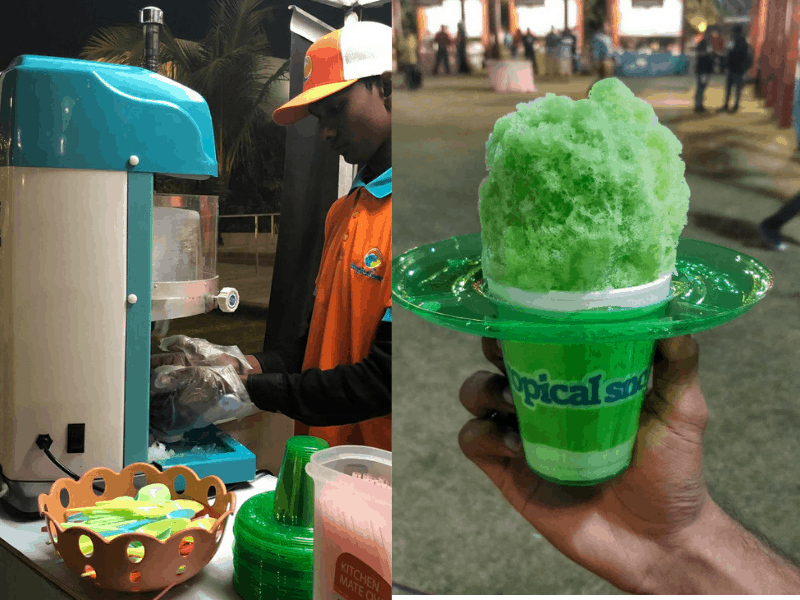 Where to find them: SBR Social, Beside Sattva Vikas School, Sindhu Bhavan Road, Bodakdev, Ahmedabad
Swati – Law Garden

Swati Gola have the authentic flavours in their gola. The taste of these golas feels supernatural and delightful. The best gola you get Swati's is the orange and lichy gola. The combination of these fruits is nice to taste.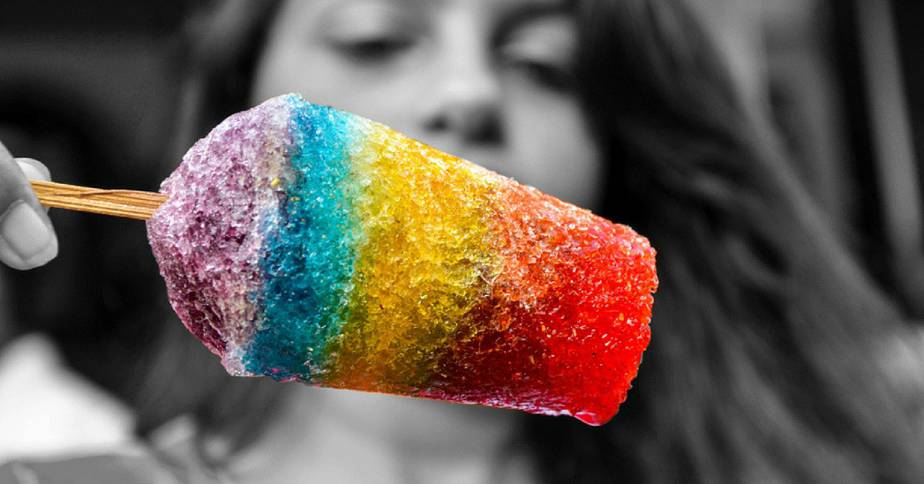 Where to find them: Swati Snacks, Law Garden, Ahmedabad
Ram Aur Shyam Golawala, Bopal
Ram aur Shyam Golawala is widely known for one of the most delicious golas. Their speciality lies in  dry-fruit flavors. Apart from that they have a wide range of golas like badam pista, cadbury, butterscotch, and kaju-draksh. 
If you're about to visit this place, then you must try the these gola dishes such as Kaju Draksh Butterscotch, Kaju Badam Cadbury, Special Ram and Shyam Cadbury, Special Ram and Shyam Mango.
Candy Crush Gola – Judges Bungalow
Candy Crush Gola consists of almost all varieties of basic Gola. They also have unique gola dishes like Ice-cream Gola, Mousse Gola. The unique thing at the stall is they make the flavoured syrups themselves rather than using the market one. The must-have gola at this stall is named as Candy Crush Special topped with vanilla ice-cream, chocolate sauce, and gems.

Where to find them: Candy Crush Gola, Ratna Palace, Opp. Mother Milk press, near Sambhav Press, Judges Bungalow Road, Ahmedabad
Ice Gola Wala – Gandhinagar


Where you can find them: Shop 3, The Spicy Street, Opposite Nagraj Party Plot, Kudasan, Airport Gandhinagar Highway, Gandhinagar
Patel Dry Fruit Dish Gola – Satellite


Where you can find them: Shop No-14/B, Vraj Vihar-5, Prernatirth Derasar Road, Satellite Road, Ahmedabad – 380015, B/h Rahul Tower

Pranam Gola Parlour – Jodhpur Village Road


Where you can find them: Jodhpur Village Road, Nr Gokulam Restaurant Jodhpur Tekra, Satellite, Ahmedabad – 380015, Gujarat
Tumpy Ice Gola – Vastrapur


Where you can find them: 3, Neel Deep Apartment, Opposite Super Plaza, Sandesh Press Road, Vastrapur, Near  Karnavati Dental Care & Implant Centre, Ahmedabad-380015
Amdavadis get summer-ready by putting these gola dishes on your eat list. Keep having the best summer refreshments.