About Shivrajpur Beach
Nestled just 10 km away from the enchanting city of Dwarka, Shivrajpur Beach captivates visitors with its stunning vistas, crystal-clear azure waters, and pristine white sands. This idyllic retreat is not only visually breathtaking but also boasts the prestigious 'Blue Flag Beach' accreditation, a distinction it shares with Diu's Ghoghla Beach since October 2020. The perfect getaway for travellers seeking serenity and natural beauty, Shivrajpur Beach promises a truly memorable coastal experience.
As a traveller exploring the enchanting Shivrajpur Beach, you'll be delighted to discover its thoughtful, disabled-friendly features, such as smooth pathways and helpful staff who assist those with mobility challenges in reaching the shore. One day is plenty to immerse yourself in the beach's serene atmosphere and create lasting memories.
Shivrajpur's calm, shallow waters make it an ideal spot for those looking to take a refreshing dip or cross sea bathing off their bucket list. Feel free to swim and splash around in the designated areas, but don't forget your swimwear! If you've left yours behind, worry not—you can rent one from a nearby store for a nominal fee of Rs 50 for adults, plus a refundable deposit.
Once you've enjoyed the water, take advantage of the convenient changing rooms available for a minimal charge. To ensure a pleasant and safe experience for all, be sure to read the Beach Information Board for guidelines and adhere to the waste management system by using separate bins for wet and dry waste.
While you unwind and soak in the picturesque views, your children can play to their heart's content in the dedicated kids' area. Fitness enthusiasts can also find a separate fitness center to maintain their routine during their beach getaway.
Keep an eye out for the variety of crabs scuttling along the shore, and with a little luck, you may even spot dolphins! For a more luxurious experience, consider staying in one of the private resorts offering paid tent facilities on the beach.
And of course, no beach adventure would be complete without satisfying your cravings. Though you won't find gourmet cuisine, you can certainly indulge in fast food and snacks to curb your hunger pangs as you revel in the beauty of Shivrajpur Beach.
Basic facilities at Shivrajpur beach
As you embark on your unforgettable adventure to Shivrajpur Beach, rest assured that the beach offers a range of essential facilities to cater to your needs and ensure a comfortable experience. From keeping you hydrated to providing recreational spaces, Shivrajpur Beach has you covered. Here's a closer look at the basic amenities available to enhance your beach escapade:
Drinking water: Stay refreshed and hydrated throughout your visit with the provision of clean drinking water at designated spots on the beach.
First-aid Station: In case of minor injuries or medical needs, a first-aid station is available on-site, ensuring prompt attention and care.
Showers/Changing room: After a rejuvenating swim, take advantage of the shower facilities to rinse off the sand and saltwater. Changing rooms are also provided for your convenience, allowing you to switch into dry clothes with ease.
Toilets: Well-maintained public toilets are available at the beach, ensuring a comfortable and clean environment for all visitors.
Children Park: The dedicated children's park offers a safe and engaging space for young ones to have fun and enjoy their time at the beach.
Fitness Centre: Fitness enthusiasts can continue their workout routines even on vacation, thanks to the on-site fitness center.
Recliner: Unwind in comfort with the availability of recliners, perfect for sunbathing or simply relaxing as you take in the breathtaking beach views.
In conclusion, Shivrajpur Beach has thoughtfully considered the needs of its visitors by providing a range of essential facilities to enhance your experience. From keeping you hydrated and comfortable to offering recreational spaces for children and fitness enthusiasts, you can expect a fulfilling and enjoyable time at this picturesque beach.
Distance between Ahmedabad and Shivrajpur Beach
The journey from Ahmedabad to the picturesque Shivrajpur Beach offers a variety of routes to choose from, each providing unique landscapes and travel times to suit your preferences.
Via NH47 and NH947: Covering a distance of approximately 451.3 km, this route allows you to reach Shivrajpur Beach in around 8 hours and 39 minutes. As you travel along the scenic highways, enjoy the changing landscapes and vibrant local sights that add to the overall experience of your adventure.
Via NH947: Opting for this route, you will traverse approximately 445.8 km, arriving at Shivrajpur Beach in about 9 hours and 17 minutes. This alternative path presents a slightly different view of the countryside, offering glimpses of the region's unique beauty and charm.
Via NH27 and NH947: For those who prefer a more leisurely drive, this route spans a distance of 445.8 km and takes about 11 hours and 59 minutes to reach Shivrajpur Beach. The longer journey provides ample opportunity to soak in the diverse scenery and perhaps even stop at local attractions or eateries along the way.
Each route presents its own distinctive journey, allowing you to immerse yourself in the beautiful landscapes and captivating sights of the region. Regardless of the path you choose, ensure you plan your trip wisely to maximize your time at the stunning Shivrajpur Beach, where crystal-clear waters and pristine white sands await your arrival.
How to Reach Shivrajpur Beach from Ahmedabad
By Air
In order to travel by air, you can book a ticket from Ahmedabad to Jamnagar. Since the nearest airport to Shivrajpur beach is only Jamnagar airport (137 km).
By Train
You can opt for a train journey from Ahmedabad station to Dwarka station which is on the Ahmedabad-Okha broad gauge railway line. The trains connecting it to Ahmedabad (471 km), Jamnagar (137 km) and Rajkot (217 km).
By Road
You can travel on direct buses/car from Ahmedabad to Dwarka. You can either book a state transport bus or private travel buses. You can drive your own car or book a rental cab for your travel journey from Ahmedabad to Shivrajpur beach.
If you're using public transport, you'll either have to hitchhike or travel in a shuttle tempo (chhakda) to reach Shivrajpur beach that will charge you anywhere between Rs 200 to Rs 300. As all the public transport will drop you off at Dwarka.
Shivrajpur Beach timings: 8 am to 7 pm
Entrance fees: Rs 30 (per adult)
A nominal parking fee is also charged if you are travelling in a private car.
The best time to visit Shivrajpur beach
The ideal time to visit the enchanting Shivrajpur Beach is between October and April, when the region experiences its most pleasant and comfortable weather. This period is marked by clear skies, gentle sea breezes, and a refreshing atmosphere that makes exploring the beach and its surroundings an absolute delight.
During these months, the daytime temperatures are moderate and perfect for basking in the sun, taking leisurely strolls along the shoreline, or engaging in various water sports and activities. As the sun sets, the evenings become cooler, offering a soothing respite from the day's warmth and creating a romantic ambiance for watching the vibrant sunsets that paint the sky with hues of orange and pink.
Visiting Shivrajpur Beach between October and April also allows you to avoid the more intense heat and humidity of the summer months, as well as the monsoon season, when unpredictable weather and heavy rainfall can disrupt travel plans and outdoor activities.
In summary, the best time to immerse yourself in the captivating beauty of Shivrajpur Beach is from October to April, when the weather is at its finest and the pristine sands, azure waters, and mesmerizing sunsets can be enjoyed to the fullest.
What is a 'Blue Flag' beach?
Did you know? As many as 33 criteria are to be met to receive the 'Blue Flag' certification. A few of the most important criteria include safety, security and water quality. Every fortnight, lab test of the water is conducted and the quality has to be consistent in order to maintain the tag. A 'Blue Flag' beach is also a no-plastic zone and no transport, camping or dumping is allowed till 3 km area. Blue Flag beaches are considered to be the cleanest in the world.
Gujarat Government to spend Rs 100 crore to develop Shivrajpur beach. After receiving the 'Blue Tag' certificate, Shivrajpur beach has attracted enough eyeballs and the footfalls have drastically increased since last year. Thus, the Gujarat government has decided to turn Shivrajpur beach into an international level beach to give a boost to tourism.
As reported by TOI, in the first phase, tourist amenities like arrival plaza, intervention centre, tourist facility centre, cycle track, promenade, locker room, path-way, signage and so on.
Things you should carry with you. (suggestion)
Activities at Shivrajpur Beach
Scuba Diving
Rs 2,500 per person
You might have come across countless amazing scuba diving places in the world, but did you know Gujarat has one of its own? You can have the once-in-a-lifetime Scuba Diving experience at Shivrajpur Beach. There are several private scuba diving packages available and the price differs for each, however, the average price is Rs 2,500 per person. Make sure you search about these packages online before you reach the destination. The cost generally includes the equipment required for Scuba Diving, including the photos and videos of your dive. Yay!
Scuba Diving is a one-hour session where you'll have a chance to go to a depth of up to 25 feet. We may not be able to describe in words the kind of experience you'll have seeing marine life and coral in deep water.
Snorkelling 
Rs 700 per person
Just like Scuba Diving, there are packages for Snokerling too. The average cost of Snorkeling at Shivrajpur beach is around Rs 700 per person. The 30-minute activity also includes the provision of snorkelling gear, masks, wet suits and a training guide.
Boating
Rs 1,500 per person
Enjoy a ride on the speed boat at Shivrajpur beach at the cost of Rs 1,500 per person. The maximum capacity per boat is 6 persons. Life jackets are compulsory for all riders.
Island Tour
Rs 2,350 per person
This exquisite Island tour takes you on a tour of 7 islands. The tour takes you on a stroll of around 100 km in the sea where you will have the opportunity to watch Dolphins and you'll also get a chance to one of the islands to explore it further. Interestingly, three meals are included in the tour: Breakfast, Lunch and Hi-tea. So you will not have to wander for food amidst water. However, a minimum of 15 people is required to avail of this tour.
Other minor activities along the shoreline include ATV Motorcycle while other water sports will be developed in the coming years.
Things you shouldn't miss while at Shivrajpur beach
Sunset
Sea bath
Scuba Diving
Don't miss reading about yet another beautiful beach in Gujarat: Madhavpur Beach
Places to visit near Shivrajpur beach
Dwarkadhish Temple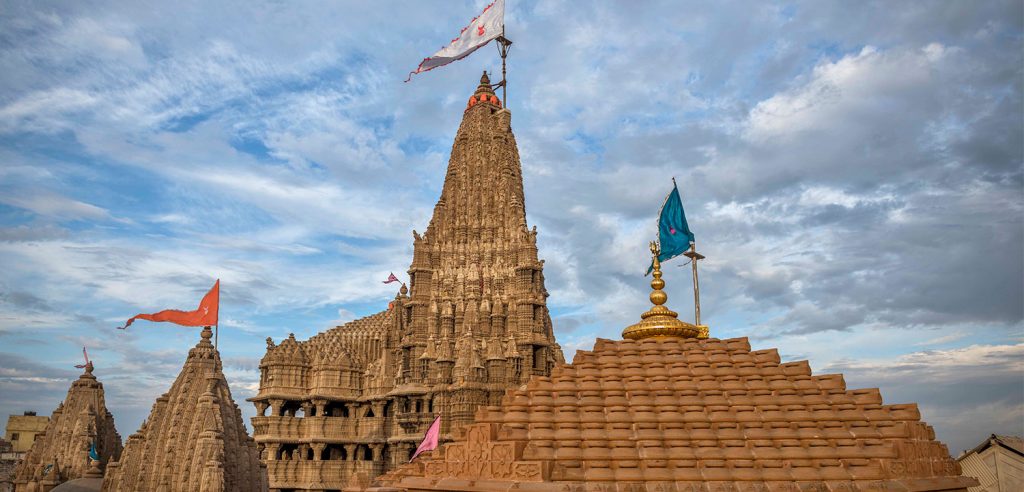 Dwarkadhish Temple also commonly known as Jagat Mandir, located 12 km away from the Shivrajpur beach is just a 30-minute drive from the beach. It is a Hindu temple dedicated to Lord Krishna and the temple is located in Dwarka, Gujarat. It is one of the Chardham destinations. It is believed to have been established 2500 years ago by Vajranabh, Lord Krishna's great-grandson. Another attraction is a bridge called Sudama Setu. The Arabian Sea provides a scenic backdrop to the temple site.
Beyt Dwarka
A one-hour drive (26 km) from Shivrajpur beach, Beyt Dwarka is a small island off the coast of Dwarka and can be reached via Okha. It is said to be the home of Lord Krishna when he arrived here. Also known as Shankhodhar, boat connectivity will help to enjoy the beauty of Beyt Dwarka.
Nageshwar Jyotirlinga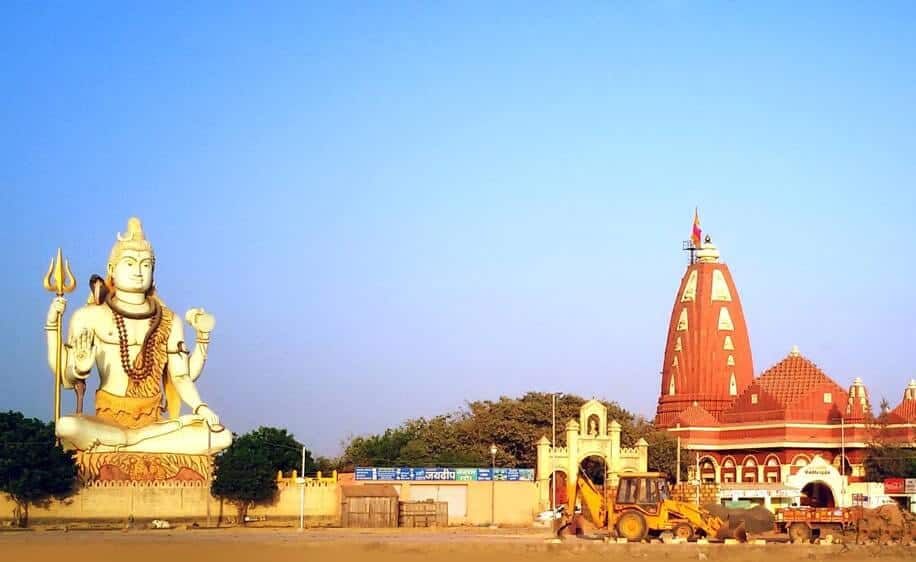 Home to one of the 12 jyotirlingas in India, Nageshwar Jyotirlinga is 40 minutes (20 km) away from the beach. You'll also find Gopi Talav Tirth nearby which is a spiritual spot.
Rukmini Devi Temple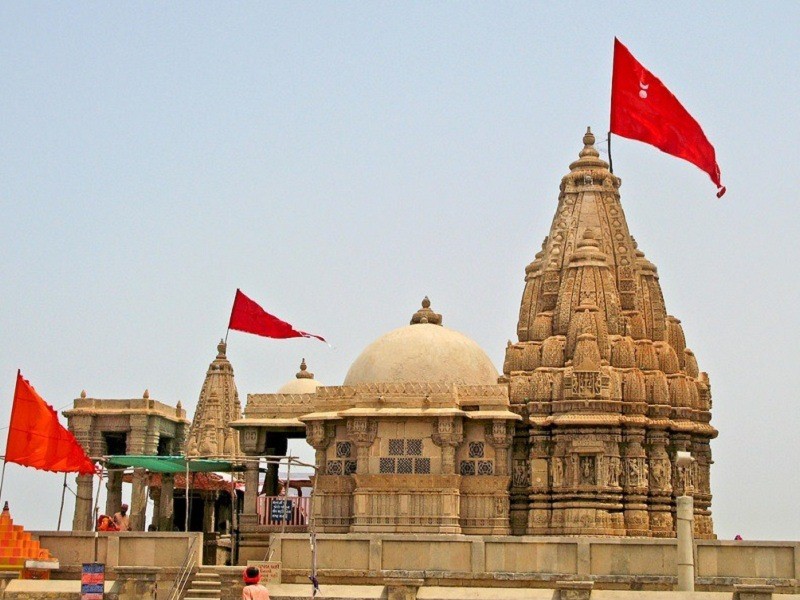 Rukmini Devi Temple is just 10.5 km away which is a 20-minute drive from Shivrajpur bridge and is also only 5 km away from Dwarka Railway station. The temple said to be 2500 years old is dedicated to Devi Rukmini, wife of Lord Krishna. It is also in close proximity to Dwarkadhish temple (3 km).
Sunset Point Dwarka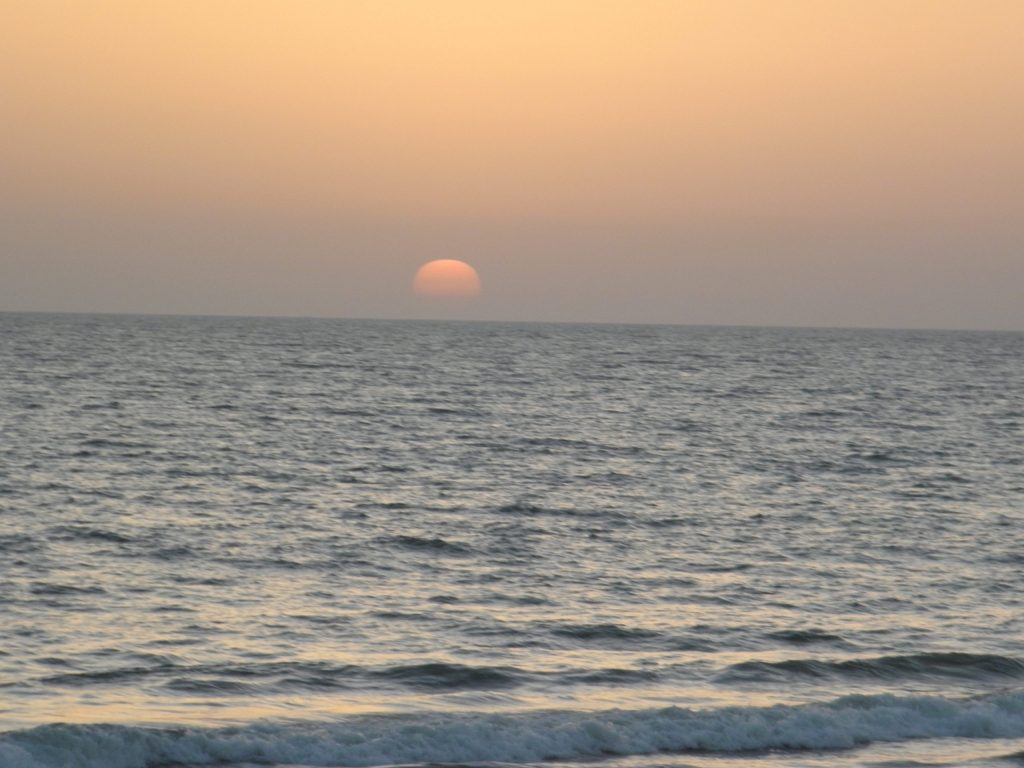 Around 12 km away with a 25-minute drive from Shivrajpur beach, this is one site that you mustn't miss visiting. It is one of the must-visit places in Dwarka and is located near Bhadkeshwar Temple. It will be worthy of relishing the enthralling view of the sunset at Sunset Point Dwarka.
Disclaimer: The price and facilities mentioned in the blog may vary. Please confirm prior to any bookings.
Frequently Asked Questions (FAQ's)
How do I get to Shivrajpur beach?

You can reach Shivrajpur beach by Air, Train, Bus and Car. If you're travelling from Ahmedabad, you can take a train to Dwarka. If you're travelling from other states, since Dwarka is a station on the Ahmedabad-Okha broad gauge railway line that connects trains to Jamnagar, Rajkot along with Ahmedabad. 
Is there any beach in Ahmedabad? 

No, there are no beaches in Ahmedabad. However, at an 8-hour distance from Ahmedabad, there is Shivrajpur beach that was accorded the 'Blue Flag' certificate in October 2020.
What is the price of scuba diving at Shivrajpur beach?

The per-person average cost of scuba diving at the beach is around Rs 2,500. Boating and snorkelling are also carried out at Shivrajpur beach. 
How can we reach Shivrajpur beach from Dwarka?

So far there is no public transport facility from Dwarka to Shivrajpur beach. You can hire a local 'chhakda' (rickshaw) for Rs 250-300 for a distance of 12 km. If you travelling in your own car, there is a parking facility available at the beach.
Is there any accommodation available at the beach?
No, currently there are no hotels or resorts nearby. If you wish to stay overnight, you'll have to go to Dwarka that has accommodation options available.