About Shivrajpur Beach
Located at a distance of around 10 km from Dwarka, Shivrajpur beach makes an ideal holiday destination for travellers with its picturesque view, blue water and fine white sands. Shivrajpur beach was accorded the 'Blue Flag Beach' status along with Diu's Ghoghla beach in October 2020.
One of the finest features which are applaudable is that the Shivrajpur beach is disabled-friendly. There is a smooth pathway and the men stationed there help the handicapped person reach the shore. One day is enough to spend quality time at the beach.
The waters are shallow and calm as compared to several other beaches. If you have a wish to sea bath then you can tick that off from your bucket list and head straight to Shivrajpur beach. Here, people are allowed to bath, swim and play with the water in the marked area. So, don't forget to take swimwear along. If you have forgotten to carry your swimsuit, you can rent one from one of the stores at the beach with a nominal charge of Rs 50 for adults and some deposit money which will be returned after you handover the swimsuits.
You're entirely soaked in water and are now worried about changing your clothes? This has been taken care of at the beach with Changing rooms charging you a minimal rate to use the room.
Before you enter the beach, make sure you go through the Beach Information Board that has all the dos and don'ts. There are separate dustbins for wet and dry waste placed at different spots on the beach.
You can enjoy the scenic view of the beach at ease while your children can have their own gala time at the dedicated play area for kids. There is a separate Fitness Centre for fitness freaks too.
You'll also find a diversity of crabs at the beach and if you're lucky enough you may spot Dolphins too!
A few private resorts also provide paid private tents facilities at the beach. How can we forget the food!!!! You may not find anything fancy, but you'll definitely find fast food and junk food to fill your hunger pangs.
Basic facilities at the beach:
Drinking water
First-aid Station
Showers/Changing room
Toilets
Children Park
Fitness Centre
Recliner
Distance between Ahmedabad and Shivrajpur beach
Distance between Ahmedabad to Shivrajpur beach is 8 hours 39 minutes (451.3 km) via NH47 and NH947.
If you reaching Shivrajpur beach via NH947 then the distance from Ahmedabad to the destination is 9 hours 17 minutes (445.8 km).
Whereas, you'll reach Shivrajpur beach in 11 hours and 59 minutes from Ahmedabad via NH27 and NH947.
How to Reach Shivrajpur Beach from Ahmedabad
By Air
In order to travel by air, you can book a ticket from Ahmedabad to Jamnagar. Since the nearest airport to Shivrajpur beach is only Jamnagar airport (137 km).
By Train
You can opt for a train journey from Ahmedabad station to Dwarka station which is on the Ahmedabad-Okha broad gauge railway line. The trains connecting it to Ahmedabad (471 km), Jamnagar (137 km) and Rajkot (217 km).
By Road
You can travel on direct buses/car from Ahmedabad to Dwarka. You can either book a state transport bus or private travel buses. You can drive your own car or book a rental cab for your travel journey from Ahmedabad to Shivrajpur beach.
If you're using public transport, you'll either have to hitchhike or travel in a shuttle tempo (chhakda) to reach Shivrajpur beach that will charge you anywhere between Rs 200 to Rs 300. As all the public transport will drop you off at Dwarka.
Shivrajpur Beach timings: 8 am to 7 pm
Entrance fees: Rs 30 (per adult)
A nominal parking fee is also charged if you are travelling in a private car.
Best Time to Visit: October to April
What is a 'Blue Flag' beach?
Did you know? As many as 33 criteria are to be met to receive the 'Blue Flag' certification. A few of the most important criteria include safety, security and water quality. Every fortnight, lab test of the water is conducted and the quality has to be consistent in order to maintain the tag. A 'Blue Flag' beach is also a no-plastic zone and no transport, camping or dumping is allowed till 3 km area. Blue Flag beaches are considered to be the cleanest in the world.
Gujarat Government to spend Rs 100 crore to develop Shivrajpur beach. After receiving the 'Blue Tag' certificate, Shivrajpur beach has attracted enough eyeballs and the footfalls have drastically increased since last year. Thus, the Gujarat government has decided to turn Shivrajpur beach into an international level beach to give a boost to tourism.
As reported by TOI, in the first phase, tourist amenities like arrival plaza, intervention centre, tourist facility centre, cycle track, promenade, locker room, path-way, signage and so on. 
Things you should carry with you. (suggestion)
Activities at Shivrajpur Beach
Scuba Diving
Rs 2,500 per person
You might have come across countless amazing scuba diving places in the world, but did you know Gujarat has one of its own? You can have the once-in-a-lifetime Scuba Diving experience at Shivrajpur Beach. There are several private scuba diving packages available and the price differs for each, however, the average price is Rs 2,500 per person. Make sure you search about these packages online before you reach the destination. The cost generally includes the equipment required for Scuba Diving, including the photos and videos of your dive. Yay!
Scuba Diving is a one-hour session where you'll have a chance to go to a depth of up to 25 feet. We may not be able to describe in words the kind of experience you'll have seeing marine life and coral in deep water.
Snorkeling
Rs 700 per person
Just like Scuba Diving, there are packages for Snokerling too. The average cost of Snorkeling at Shivrajpur beach is around Rs 700 per person. The 30-minute activity also includes the provision of snorkelling gear, masks, wet suits and a training guide. 
Boating
Rs 1,500 per person
Enjoy a ride on the speed boat at Shivrajpur beach at the cost of Rs 1,500 per person. The maximum capacity per boat is 6 persons. Life jackets are compulsory for all riders.
Island Tour
Rs 2,350 per person
This exquisite Island tour takes you on a tour of 7 islands. The tour takes you on a stroll of around 100 km in the sea where you will have the opportunity to watch Dolphins and you'll also get a chance to one of the islands to explore it further. Interestingly, three meals are included in the tour: Breakfast, Lunch and Hi-tea. So you will not have to wander for food amidst water. However, a minimum of 15 people is required to avail of this tour.
Other minor activities along the shoreline include ATV Motorcycle while other water sports will be developed in the coming years.
Things you shouldn't miss while at Shivrajpur beach
Sunset
Sea bath
Scuba Diving
Don't miss reading about yet another beautiful beach in Gujarat: Madhavpur Beach
Places to visit near Shivrajpur beach
Dwarkadhish Temple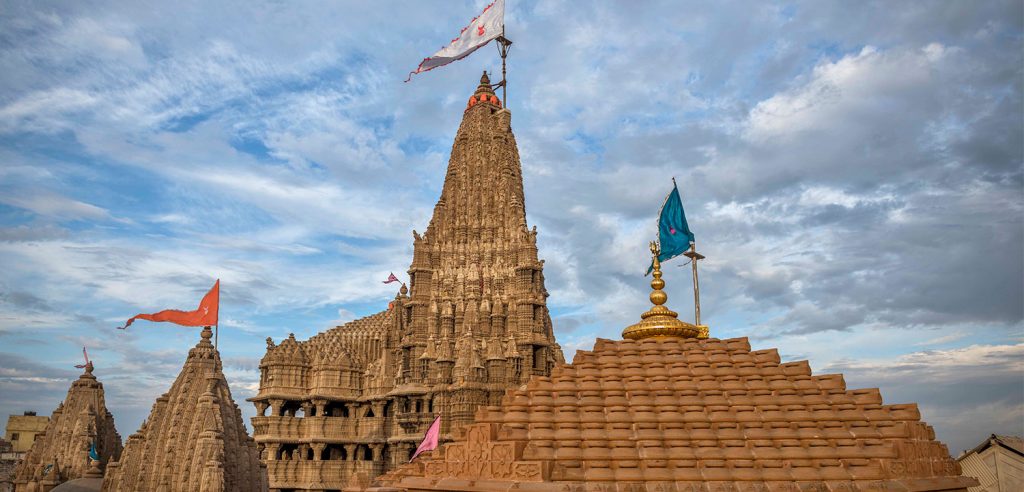 Dwarkadhish Temple also commonly known as Jagat Mandir, located 12 km away from the Shivrajpur beach is just a 30-minute drive from the beach. It is a Hindu temple dedicated to Lord Krishna and the temple is located in Dwarka, Gujarat. It is one of the Chardham destinations. It is believed to have been established 2500 years ago by Vajranabh, Lord Krishna's great-grandson. Another attraction is a bridge called Sudama Setu. The Arabian Sea provides a scenic backdrop to the temple site.
Beyt Dwarka
A one-hour drive (26 km) from Shivrajpur beach, Beyt Dwarka is a small island off the coast of Dwarka and can be reached via Okha. It is said to be the home of Lord Krishna when he arrived here. Also known as Shankhodhar, boat connectivity will help to enjoy the beauty of Beyt Dwarka.
Nageshwar Jyotirlinga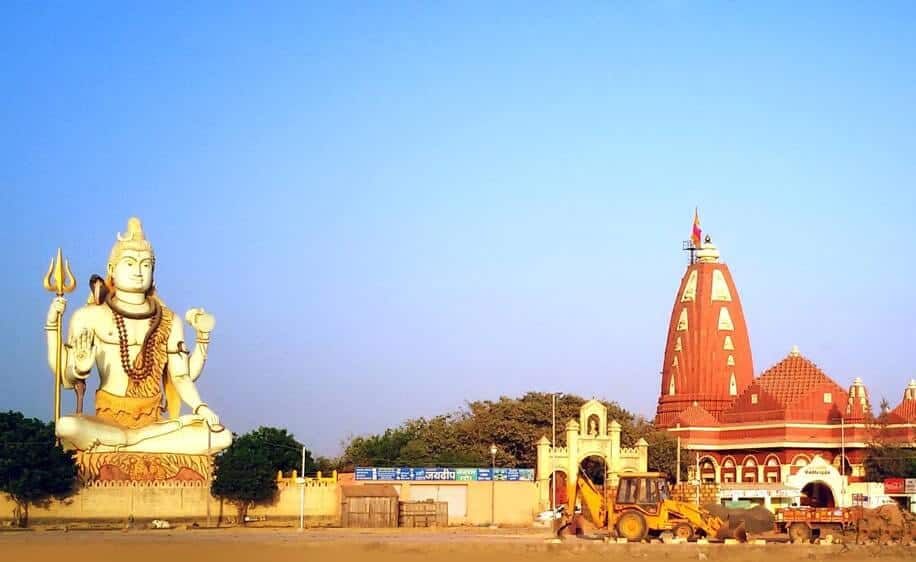 Home to one of the 12 jyotirlingas in India, Nageshwar Jyotirlinga is 40 minutes (20 km) away from the beach. You'll also find Gopi Talav Tirth nearby which is a spiritual spot.
Rukmini Devi Temple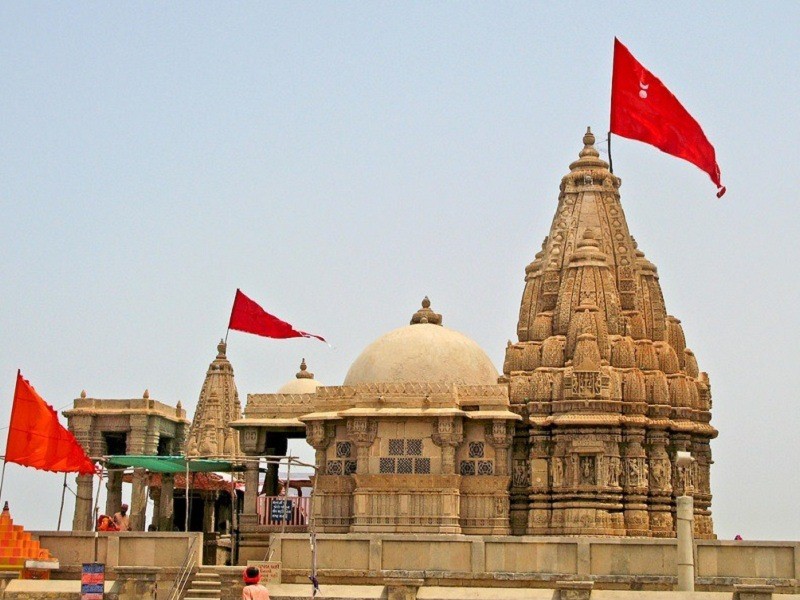 Rukmini Devi Temple is just 10.5 km away which is a 20-minute drive from Shivrajpur bridge and is also only 5 km away from Dwarka Railway station. The temple said to be 2500 years old is dedicated to Devi Rukmini, wife of Lord Krishna. It is also in close proximity to Dwarkadhish temple (3 km).
Sunset Point Dwarka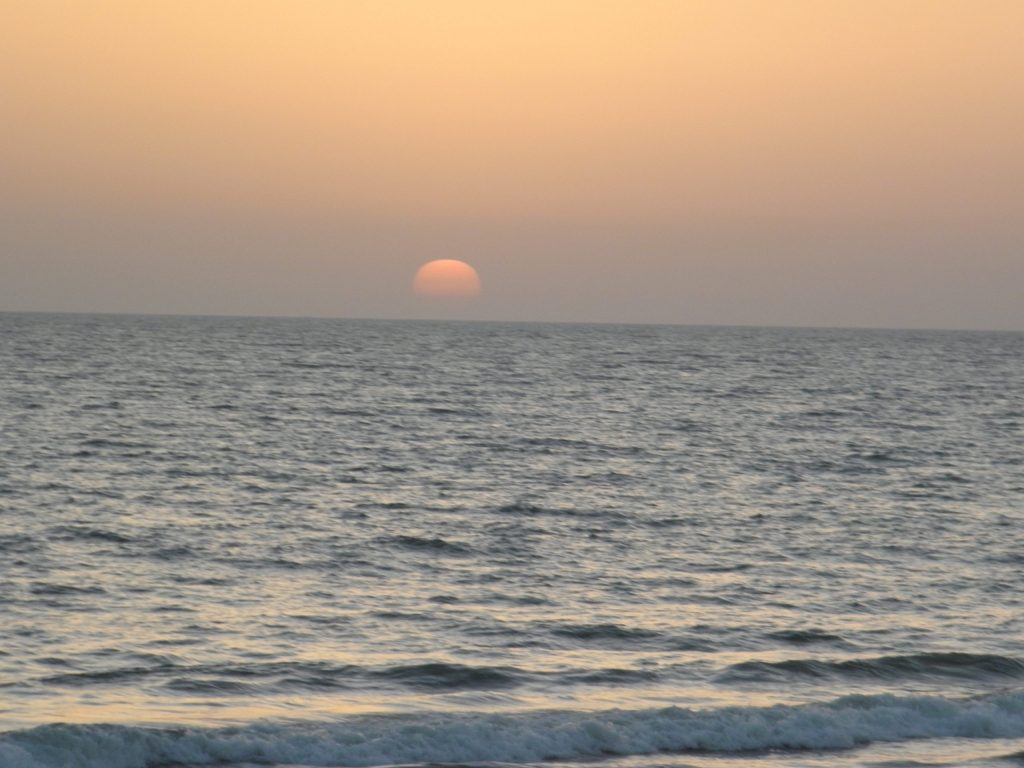 Around 12 km away with a 25-minute drive from Shivrajpur beach, this is one site that you mustn't miss visiting. It is one of the must-visit places in Dwarka and is located near Bhadkeshwar Temple. It will be worthy of relishing the enthralling view of the sunset at Sunset Point Dwarka.
Disclaimer: The price and facilities mentioned in the blog may vary. Please confirm prior to any bookings.
Frequently Asked Questions (FAQ's)
How do I get to Shivrajpur beach?
You can reach Shivrajpur beach by Air, Train, Bus and Car. If you're travelling from Ahmedabad, you can take a train to Dwarka. If you're travelling from other states, since Dwarka is a station on the Ahmedabad-Okha broad gauge railway line that connects trains to Jamnagar, Rajkot along with Ahmedabad. 

Is there any beach in Ahmedabad? 
No, there are no beaches in Ahmedabad. However, at an 8-hour distance from Ahmedabad, there is Shivrajpur beach that was accorded the 'Blue Flag' certificate in October 2020.

What is the price of scuba diving at Shivrajpur beach?
The per-person average cost of scuba diving at the beach is around Rs 2,500. Boating and snorkelling are also carried out at Shivrajpur beach. 

How can we reach Shivrajpur beach from Dwarka?
So far there is no public transport facility from Dwarka to Shivrajpur beach. You can hire a local 'chhakda' (rickshaw) for Rs 250-300 for a distance of 12 km. If you travelling in your own car, there is a parking facility available at the beach.
Is there any accommodation available at the beach?
No, currently there are no hotels or resorts nearby. If you wish to stay overnight, you'll have to go to Dwarka that has accommodation options available.