On the one hand, the state continues to grapple with the problem of fire safety in the already existing buildings and on the other hand, CM Vijay Rupani on August 18 permitted the construction of buildings of 70 storeys and more in five major cities – Ahmedabad, Gandhinagar, Vadodara, Surat and Rajkot. Till now, only 23 floors were permissible.
The decision has been taken in an attempt to place Gujarat on the global map. The New Indian Express quoted Vijay Rupani stating, "We want to create world-class infrastructure and skyscrapers in five megacities that include Ahmedabad, Gandhinagar, Vadodara, Surat and Rajkot. This decision will not only take Gujarat's skyline to a record high. It will also show the state's mettle in terms of its infrastructure capacity. Urban infrastructure will be able to accommodate the rising population and generate more employment for the dwellers."
A few years down the line, our heads will be high looking at the skyscrapers in the city. But before it becomes a common sight, let's read about the tallest buildings in Ahmedabad.
List of Tallest Buildings in Ahmedabad
Tallest Commercial Buildings in Ahmedabad
1. World Centre – 3
Height: 142 meters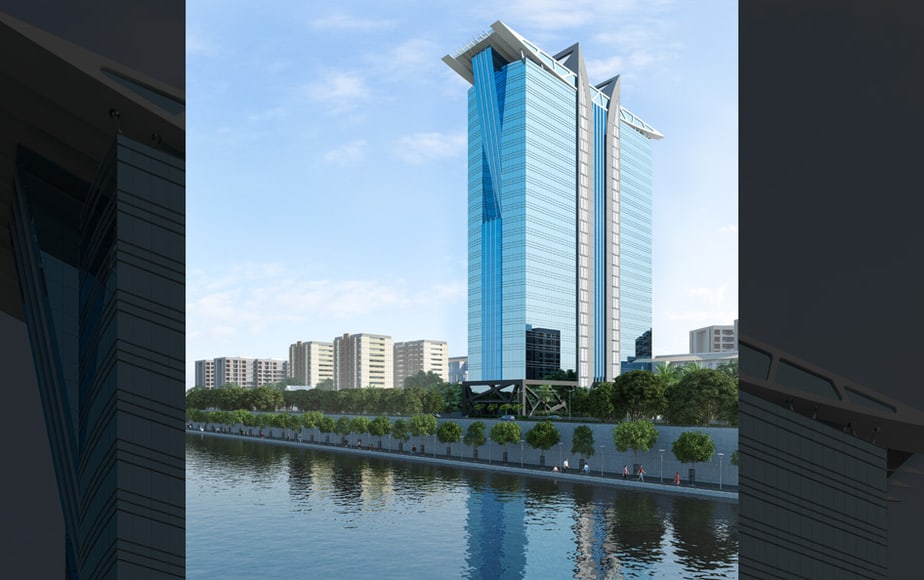 As per reports, World Centre – 3 is the tallest building in the entire Ahmedabad. It is 142 meters in height and is also a platinum-rated green building. World Centre – 3 has a steel structure and facades all around.
Location: Near Dinesh Hall, Sabarmati Riverfront, Ashram Road
Company: Savani Infrastructure
Price: NA
2. Mondeal Heights
Height: 70 meters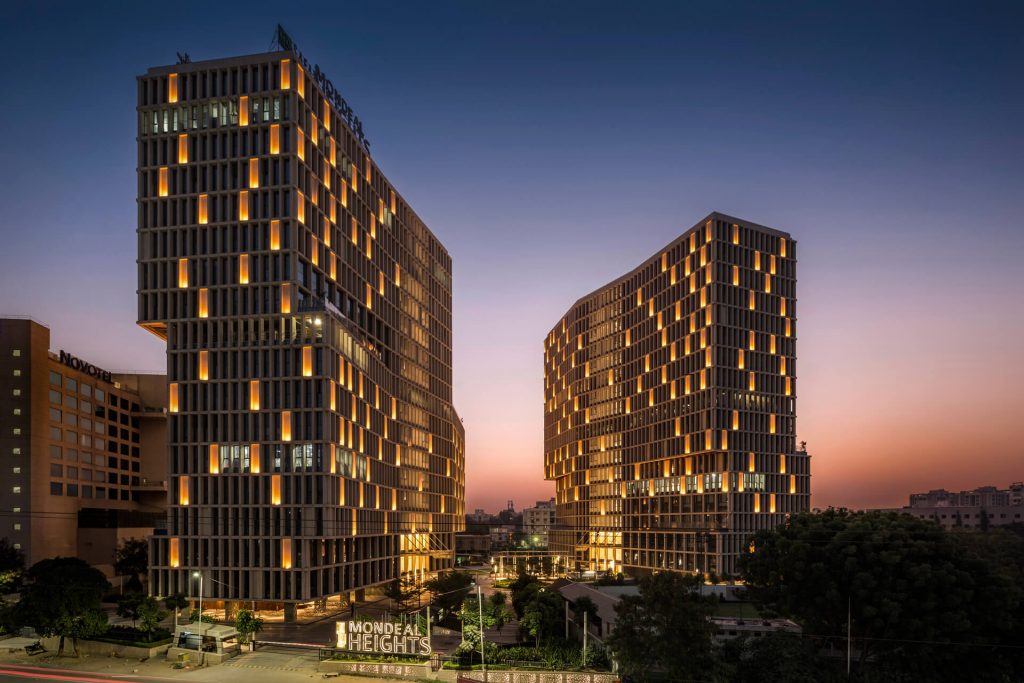 In what looks like an architectural marvel, you cannot miss looking at this lit-up building on SG Highway. There are over 200 units spread in the two aesthetic structures with commercial office spaces. The 17-storey must be one of the most photographed buildings on SG Highway.
Location: SG Highway
Company: HN Safal
Price starts: Rs 76 lakh onwards
3. West Gate – D Block
Height: 70 meters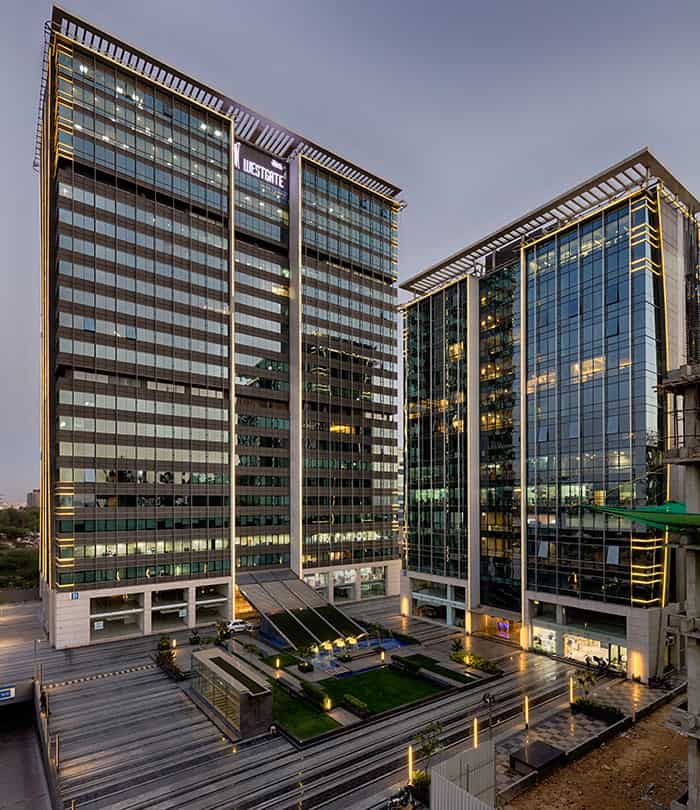 West Gate – D Block is one of the tallest corporate structures in town. The 20-story tall building has chilled concrete technology that helps reduce the company's electricity cost.
It has 273 commercial spaces. It is not the fancy cubicles that are of utmost importance, you also need places that help relieve work stress. Like several others, this commercial space is also equipped with a gym, outdoor cafe, gardens and indoor play area.
Location: Near YMCA Club, SG Highway
Company: True Value Nirman Pvt Ltd
Price: NA
4. Shapath V
Height: 70 meters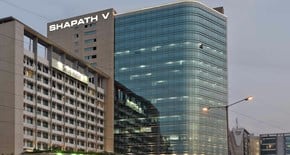 The commercial set up located on the prime location is 70 meters tall. The 19-story building is inclusive of retail area, office space, and a hotel. Green building norms have been taken into consideration for the construction of this building and have its sewage treatment plant.
Location: Prahlad Nagar
Company: Savvy Group
Price: Rs 1 crore onwards
5. World Trade Centre – GIFT city
Height: 122 metres
Gujarat's own World Trade Centre in GIFT city, Gandhinagar is 122 meters tall. With four different towers, WTC Tower A has six floors, WTC Tower B – 28 floors, WTC Tower C has 18 floors, and WTC Tower D, again 6 floors. These towers include conference rooms, commercial office space, and retail and service apartments.
Location: GIFT City, Gandhinagar
Company: Viridian Red/WTC Noida Development Company Pvt Ltd.
Price: NA
6. Privilon
Height: 70 meters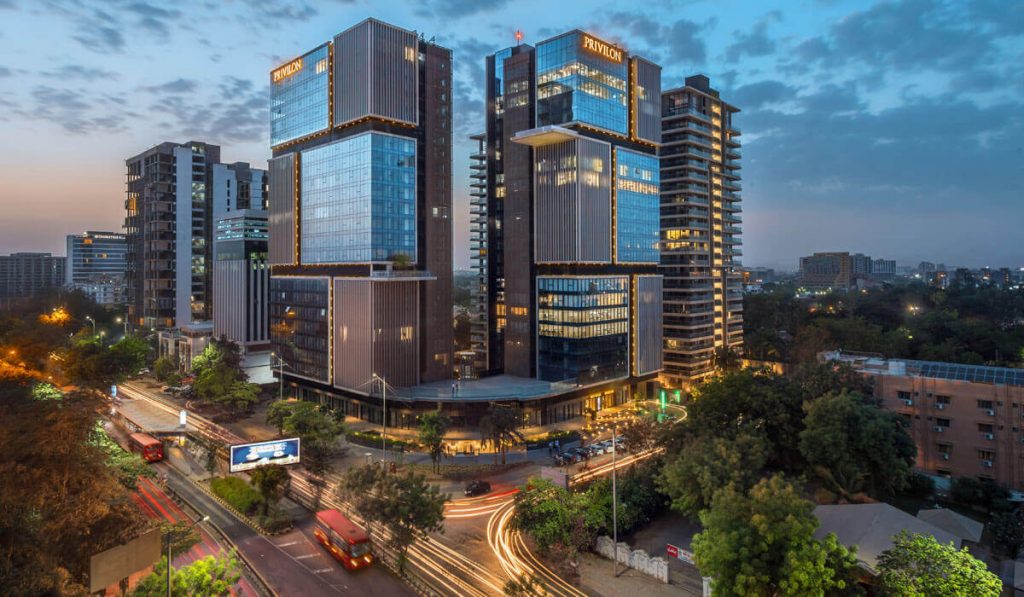 One of the most loved and awe-inspiring buildings in Ahmedabad is Privilon. Privilon, 22-storey glass facade building comprising 213 units is a premium retail and office space spread over 3-acre area. Be it during the day or when lit-up at night, this ultra-modern building is bound to catch the eye of commuters. The office space ranges from 850 sqft to 10,000 sqft.
Location: Old Gallops Mall, Ambli-BRTS Road
Company: B Safal Constructions India Pvt Ltd and Zaveri Realty
Price: Rs 38 lakh to 2 crore
7. GIFT One and Two Tower (GIFT City)
Height: 122 meters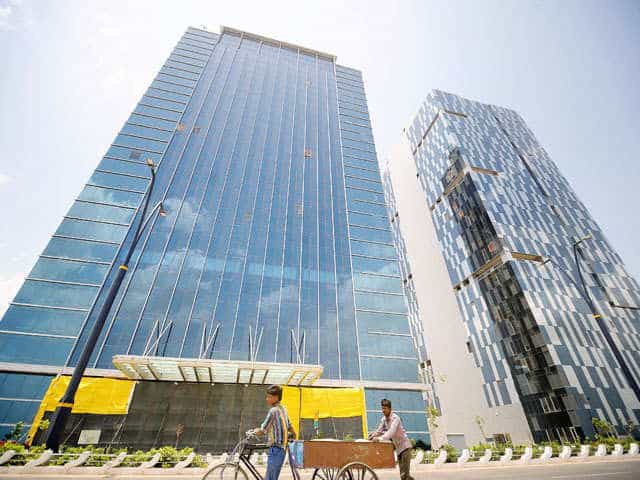 Former CM of Gujarat and current PM, Narendra Modi had inaugurated the then tallest tower of Gujarat – GIFT One in January 2013. GIFT One and Two were the first towers to be constructed in the GIFT city. The 28-storey structure has been developed using 2.15 lakh feet of the double-glazed glass facade.
A collapsible bridge has also been built between the first and the second tower.
Location: GIFT City Road, Gandhinagar
Company: Infrastructure Leasing & Financial Services Limited (IL&FS)
Price: NA
Tallest Residential Buildings in Ahmedabad
1. Takshashila AIR
Height: 79.48 meters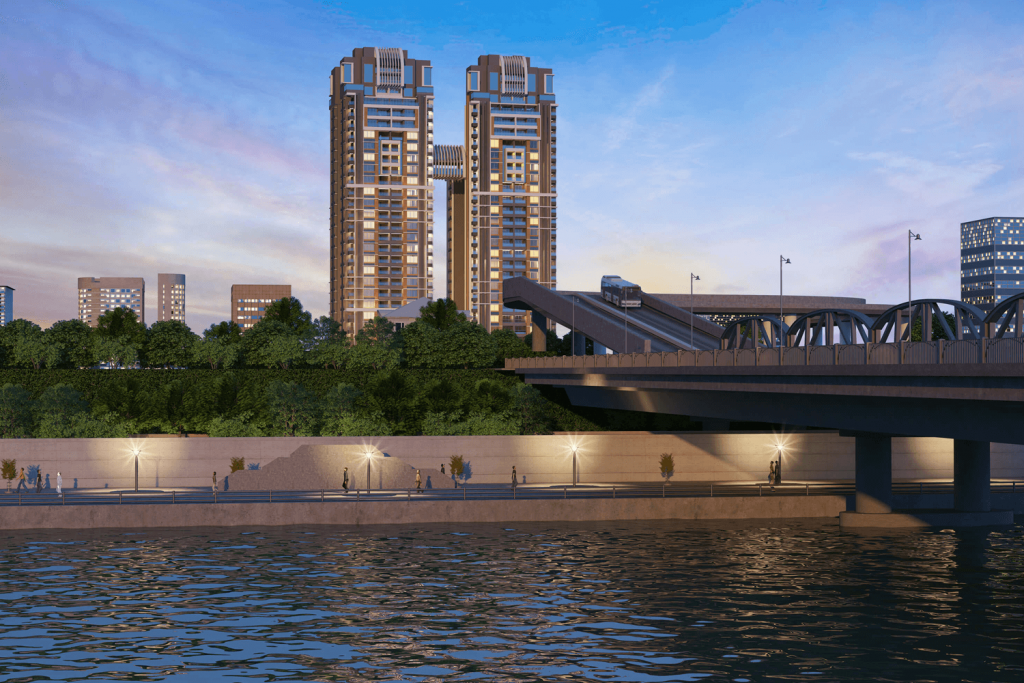 Takshashila AIR is one of its kind 22-story residential buildings overlooking the Sabarmati Riverfront. With a height of 79.48 m, it is the tallest residential building in Ahmedabad.
A sky bridge on the 18th and 19th floor connects the two towers. The 216 ft tall residential building has an infinity pool on the 19th floor along with a terrace cafe. You will find a gym and a banquet hall on the 18th floor and indoor games on the 21st floor.
Location: Ellisbridge
Company: Takshashila Group and Miraj Impex Pvt Ltd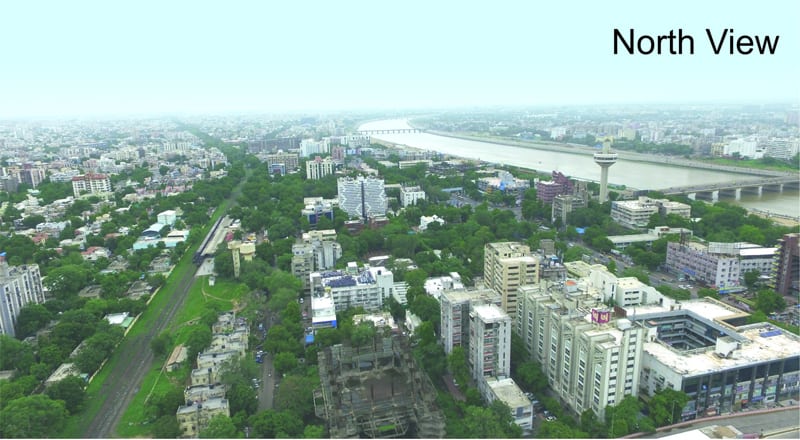 Apartment size: 1660 sq ft to 2310 sq ft (3 BHK)
3 BHK, 4 BHK apartments, and 4 BHK villas
Price: Rs 99.6 lakh to 2.04 crore
2. Sun Sky Park 1,2,3
Height: 70 meters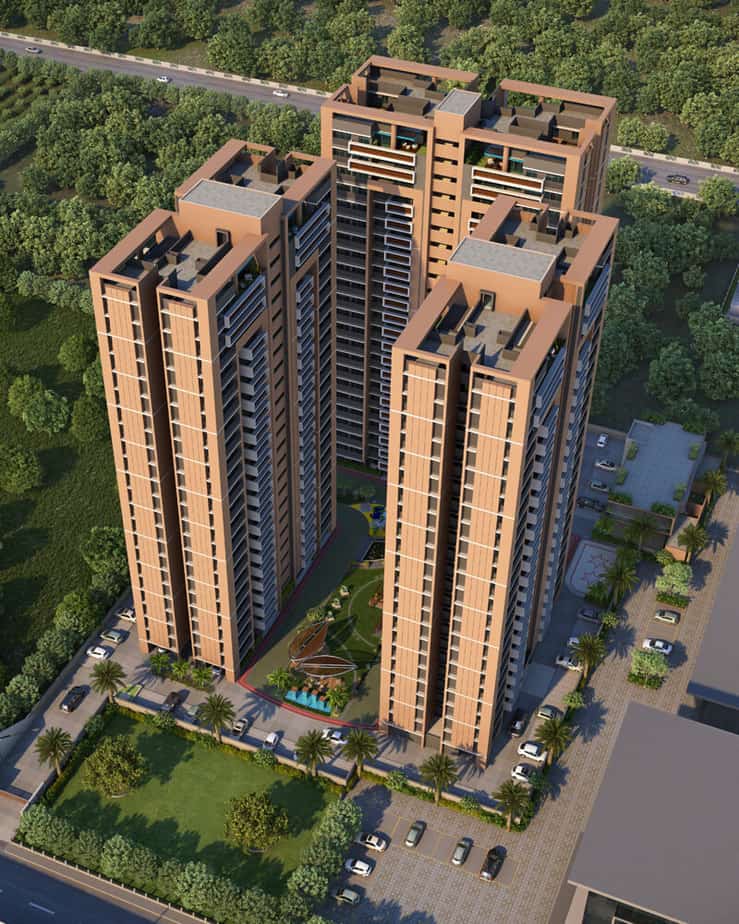 The luxuriously designed Sun Sky Park houses 258 residential units of 3, and 4 BHK apartments, and 4 BHK penthouses. The area for 3 BHK ranges from 1850 sq ft to 1975 sq ft, and the area for 4 BHK is 2425 sq ft to 2560 sq ft. There are three different towers with several amenities.
Location: Ambli, Bopal
Company: Sun Builders
Price: Rs 77 Lakh Onwards
3. Seventy 1 and 2
Height: 70 meters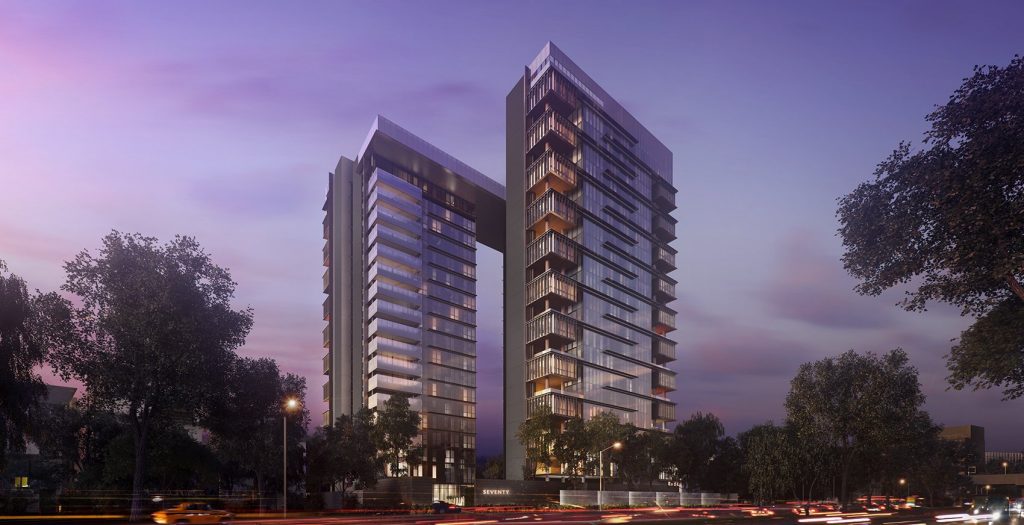 Seventy goes by its name, like literally. The 70-meter tower has 70 residential units. The building is still under construction. It seems to be a new trend in Ahmedabad with several towering blocks having infinity pools. This 19-story building also houses an infinity pool and other facilities.
Location: Ambli-Bopal Road
Company: B Safal
Price: Rs 3.95 crore onwards
4. Sobha Dream Heights
Height: 102.35 meters
The 33-storey towers are the tallest residential buildings in the whole of Gujarat. The 1 and 2 BHK apartments are between 457-630 sq ft (carpet size) with as many as 474 apartments. The peculiarity of this building is, it has a District Cooling system, automated waste collection system and water treatment system. Currently, under construction, it has a whopping 3-storey clubhouse.
Location: Shram Marg, GIFT city, Gandhinagar
Company: Sobha Limited
Price: Rs 40 lakh onwards
Tallest Hospitals in Ahmedabad
1. SVP Hospital
Height: 78 meters
Inaugurated by PM Narendra Modi on January 17, 2019, the 78-meter hospital is the only tallest hospital in the entire Gujarat. The 1500 bed multi-specialty hospital is built within 1.10 lakh sq m. The AMC-run hospital has two basements, 18 floors, and a helipad. The view of Ahmedabad from the top of the hospital is enthralling.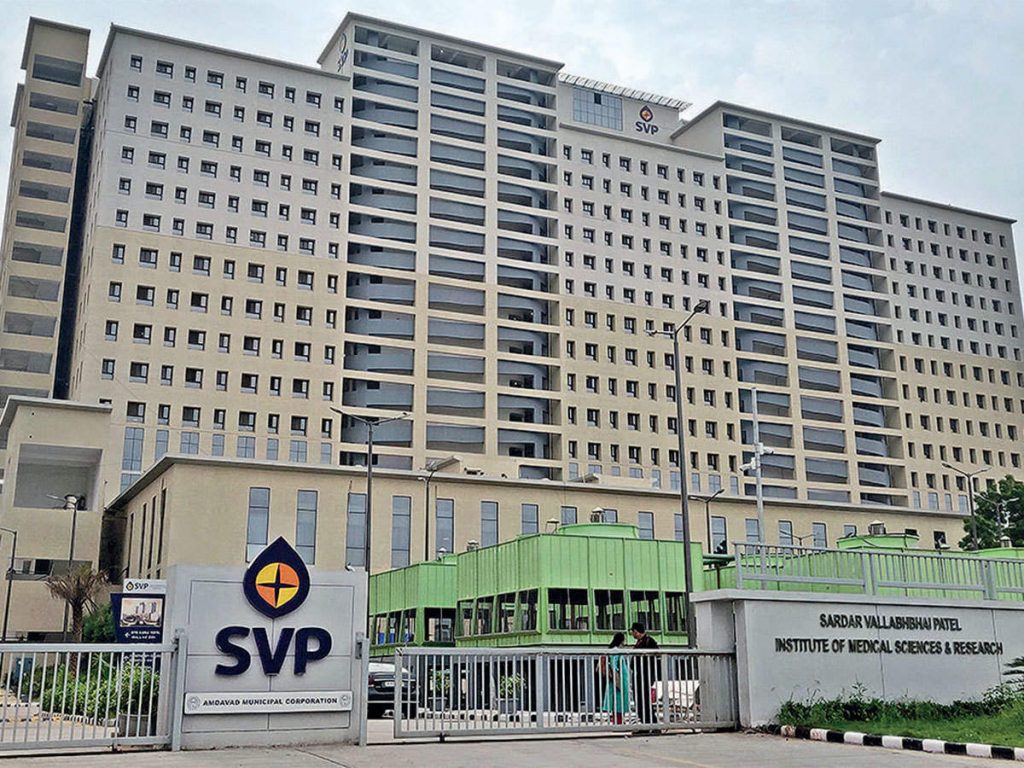 Location: Behind Old VS Hospital, Ellisbridge
Company: Ramboll Construction
2. Zydus Hospital
Height: 70 meters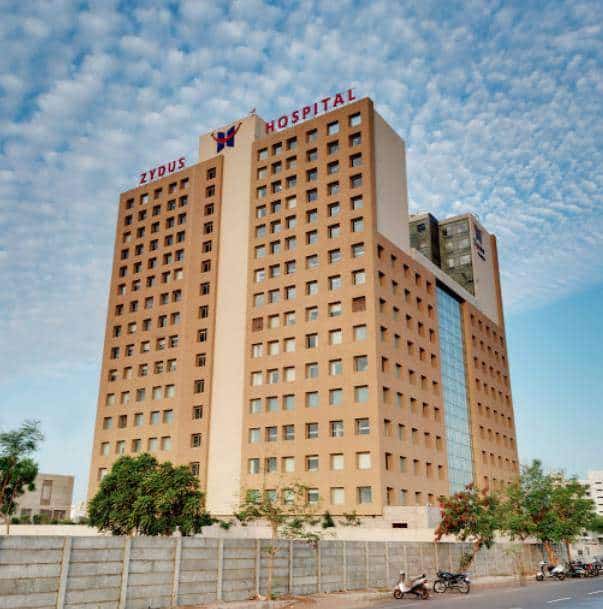 The 550-bed super speciality hospital is the second tallest hospital in Ahmedabad. With 16 floors and two basement floors, the hospital is 70 meters high. The chairman of Zydus Hospital is Pankaj Patel. The hospital which is spread over an area of 7.5 lakh square feet was constructed at a cost of Rs 550 crore. The 15-storey building also has a helipad.
Location: Sola Bridge, SG Highway
Company: PSP Projects Ltd
Tallest Restaurant in Ahmedabad
1. Patang Hotel
Height: 67.36 meters
The identity of Ahmedabad – Patang Hotel, standing tall since 1984, is the only revolving restaurant in Gujarat. The 221 ft high towering landmark of Ahmedabad offers a 360-degree view of the city in 90 minutes. Apart from mouth-watering food, the spectacular view of Sabarmati Riverfront and Ahmedabad is a feast for the eyes. Patang Hotel was the tallest building in Gujarat till 2011.
Location: Nehru bridge, Ellisbridge
Company: HCP
Extra information: AUDA Headquarter that will be 100 metres tall (31 storeys) is under construction.
Disclaimer:
The property listing information mentioned is subject to change. Please conduct your own investigation before finalizing.