To be praised is easy and to be criticized even easier. But to be admired by everyone equally is the real challenge. A feat achieved by Ahmedabad's Marine Drive, the Sabarmati Riverfront unequivocally.
With the solace of graceful water flowing with all its elegance on one side, lush green grass on the other, cool breeze wafting by and the night sky, you are bound to taste heaven for the precious moments that you stay there. A heaven for the young and old, rich and poor, the elated and the depressed alike.
History of Sabarmati Riverfront
In the 1960s, a French architect Bernard Kohn, was the first to propose the integrated planning and development of Sabarmati Riverfront, calling for reclamation of 30 hectares of land. The project was supposed to be a commercial, recreational and residential development from Gandhi bridge to Sardar bridge.
1961 – It was back in the year when citizens of the city proposed for riverfront project.
1966 – The Government of Gujarat thought this project to be workable
1976 – An incremental approach was proposed by the Riverfront Development Group
1992 – In order to reduce water pollution there was a National River Conservation Plan proposed that lead to the construction of sewers and pumping stations
1997 – For the Sabarmati Riverfront there was a development corporation set which was funded by the Government of India with a capital of ₹10 million (US$140,000) towards the development of the riverfront.
1998 – Environmental Planning Collaborative (EPC) led by Bimal Patel prepared the feasibility report

The Sabarmati River has been an integral part of life in the city of Ahmedabad since the city was established in 1411 along its banks. It became a cultural symbolism to the way of life in the city, but gradually the state of the river started reflecting the way it was being treated regularly.
Facts about Sabarmati Riverfront:
Architect: Bimal Patel-led HCP Design, Planning and Management Pvt. Ltd
Developer: Sabarmati River Front Development Corporation Limited
Technical details
Cost: ₹ 1,400 crore (till November 2019)
Size: 202.79 hectares (501.1 acres)
There had been a long-standing acknowledgement that the riverfront could be turned into a major urban asset from its undesirable state. It can be dated back to 1960 when proposals were made to achieve the same but it was in 1998 when this multi-dimensional project was visualized and undertaken by the city.
Talking further about the river, it has a channel of 382 metres with the narrowest cross-section of 330 metres. While it has been uniformly narrowed down to 263 metres without affecting its flood-carrying capacity.
Controversy
There were several times when this project faced issues with regards to the relocation and rehabilitation of more than 10000 slum dwellers who resided along with river banks. It was after a lot of petitions filed by the activists that Gujarat High Court intervened and put a stay on further construction and demolition of slums until there is any proper planning to do so.
One can have an 11.2 km walk along the river on the east and 11.3 km on the west side. It consists of 31 ghats that are constructed at a regular interim. There are several boating stations that have been created for recreational purposes and facilitating water-based public transport in future some of which are already functioning.
It has become a favourite spot for fitness enthusiasts. The best time to visit this serene place is during either the early morning hours where one can find hordes of joggers, walkers, runners, cyclists, skaters, yoga enthusiast, laughter club members and many more or after the sun has set for the day and the cool breeze starts flowing through the city.
Riverfront Major Events
Cycling
It is a major attraction with membership cards available and also nominal prices for an hour or half of the cycling within 30 rupees. One government-issued ID has to be deposited against the cycles taken which can be later collected back after the cycles are returned in the same state as before.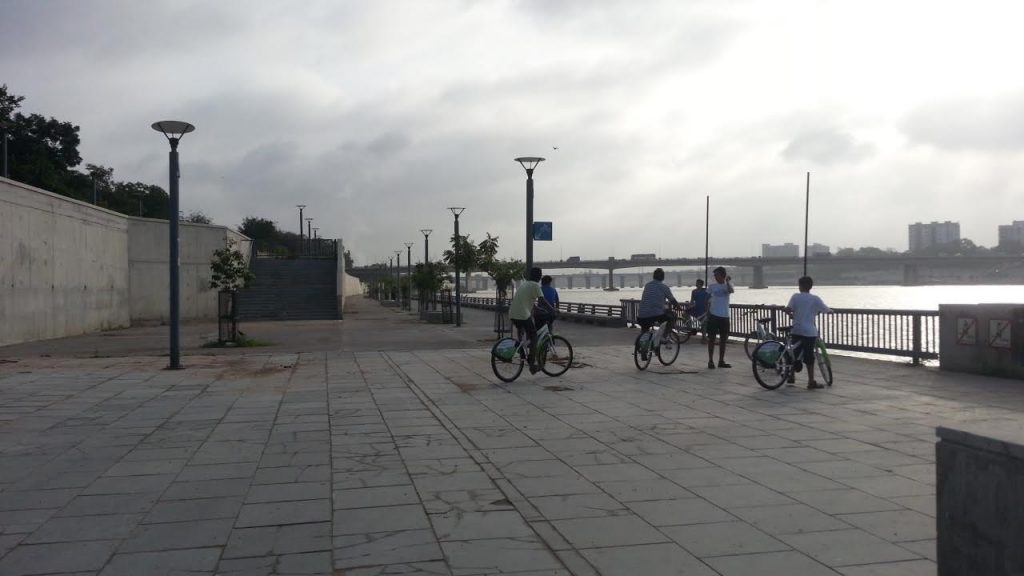 Zip Line
There is also a zip line for the children to enjoy which takes you from one side of the riverfront to the other and back over the water. A thrilling experience for the children with steadfast security and precautionary measures in place, it is a must-go because let's face it, where else would you get that within 5 km of your home.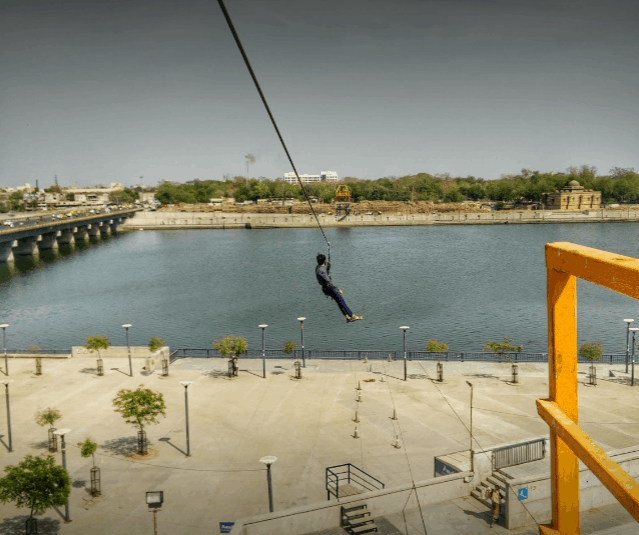 Sabarmati Marathon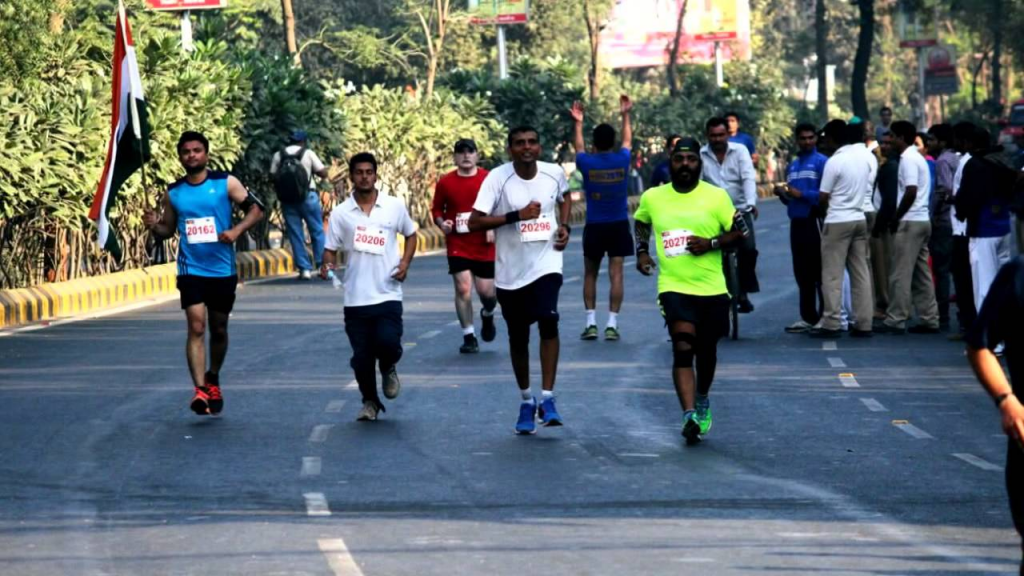 Sabarmati Marathon is an annual marathon foot-race held in Ahmedabad during January-February every year. Its establishment is dated in 2010.
Sabarmati Cyclothon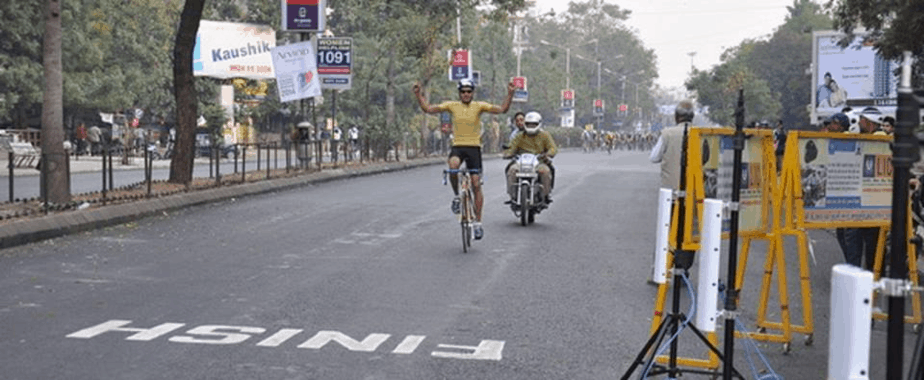 Cyclothon is subdivided into 3 categories, with three different routes between Sabarmati Riverfront and Science City – is one that suits all. There is a Century Race for people who excel in cycling on a route length of 105 km and a Half-Century Race for the trained and athletic ones for a length of 48.5 km. The third is a 'Dream Run' for amateurs, open for all age groups on a short route of 16 km only.
Markets at Riverfront
There is planning of constructing Several markets, vending areas, business and event grounds near the riverfront. The famous Sunday market of the city known as Ravivari or Gujari Bazar is moved to the new location near Gaekwad Haveli. This market started functioning in February 2014 and has an arrangement of zones with 1641 platforms for vendors.

Flower Shows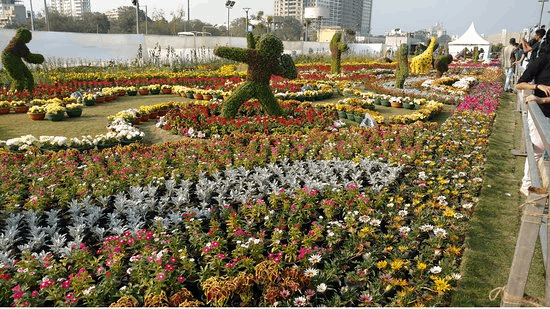 The 2018 edition of the show was spread over an area of one lakh sq mt. Moreover, the show will be a display space for more than 750 species of flowers, plants, bonsai, vegetable plants and trees — with more than 50 of these species marking a debut at the show.
International Kite Festival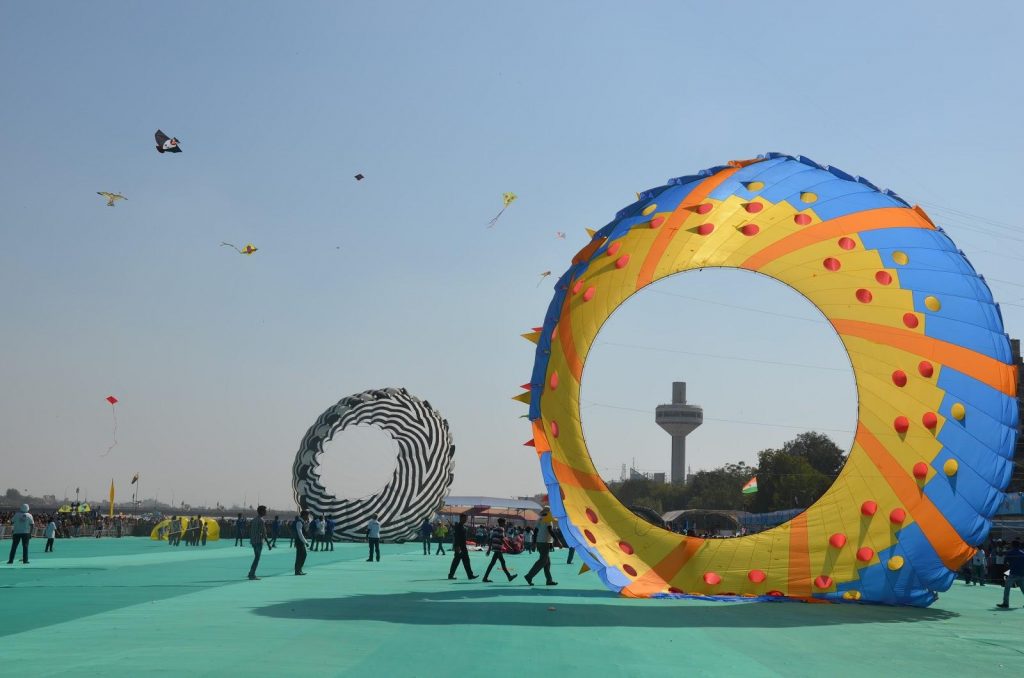 The kite festival of Ahmedabad is one of the most celebrated events of the city and organised at an international level with kite enthusiasts from all over the world coming over.
Things to do and see when at Sabarmati Riverfront
Riverfront Flower Park
The Flower Park is open round the year but it thronged by citizens the most during Flower Show that is held in January every year. The 45,000 sq meter garden houses more than 400 native and exotic flower species.
During the flower show, apart from sales of sapling and plants, it has state-of-the-art flower structures that grab everyone's attention for a selfie.
It becomes chaotic during the flower show especially at the Riverfront and thus AMC recently came up with an online booking system. To avoid the rush and long queues at the Sabarmati Riverfront Garden during the Flower show, AMC has come up with an online booking system. After booking the tickets online, people can show the QR code at the entrance.
The Sabarmati Riverfront also offers two Riverfront Gardens, one at Usmanpura and the other one at Subhash Bridge.
A paradise for bird lovers
The Sabarmati Riverfront does not just attract people, but it also attracts birds of different species that you may not find in the concrete jungle. As many as 120 species of birds have been spotted along the Sabarmati Riverfront.
If you are lucky enough or an expert bird watcher, you may find birds like booted eagle, flamingos, egrets, ibis, kingfisher, bronze winged jacana, Grey-headed swamphen and several others.
To find these unique species of birds, NID, Vasna barrage, Eastern and Western side of Subhash Bridge and behind Torrent Power Factory are your best bet.
Riverfront Biodiversity Park
You would not want to miss out on the recently inaugurated Riverfront Biodiversity Park. The biodiversity park has been set up on two acres of land below Ambedkar Bridge in Paldi.
The park has been developed in seven years for Rs 78 lakh. The trees here have been grown using the Miyawaki technique of plantation. Several fruit-bearing trees that include, pomegranate, cherry, chickoo, mausambi, drumsticks, rayan and several other trees have been planted along with ayurvedic plants.
The park is sure to give you a forest-like feel, while taking a stroll in the 1.5 km walkway of mini forest and wooden benches placed in the park.
The park will gradually be expanded to 6 acres of land with plantation of 60,000 trees.
After the delay in the inauguration due to COVID-19, the park was officially made open to the public on October 5, 2020. The park houses 120 different types of trees with endogenous varieties, as many as 7000 trees, over 50 species of spiders, reptiles and lizards and 34 species of birds.
Park Timings: 7 am to 5 pm
Seaplane at Riverfront
Reach Statue of Unity in 50 minutes! Yes, you read it right, with the inauguration of Sea Plane service at Sabarmati Riverfront, you will be able to reach Kevadia in just 50 minutes rather than the usual 3.5 hours.
The seaplane will be inaugurated by PM Narendra Modi on October 31, the birth anniversary of Sardar Vallabhbhai Patel.
Currently, the two-storey control room for the operation of the water aerodrome is in its final leg. This is India's first-ever seaplane project.
Ravivari Market
The years-old Ravivari Bazaar or Sunday Market or Gujari Bazaar is held at Riverfront Market every Sunday between Ellisbridge and Sardar bridge.
The market which majorly sells second-hand items is spread across 32,000 sq. meter area. Here you will find antiques, furniture, books, utensils, second-hand saris and shirts, domestic animals.
You will be intrigued by the myriad of items sold at Ravivari Market.
Timings: 8 am to 4 pm
Projects under work in progress:
Pedestrian Walkway Bridge
Multi-Level Car Parking
Riverfront Sports Park
BJ Park
Proposed Projects

There is a proposal to construct parks and gardens on 26% of reclaimed land which will be for public recreation and also to enhance the environment. Some of the parks have been already constructed while others are under construction and proposed. Talking about the Riverfront Flower Park, it has 330 native and exotic flower species. The cost behind its construction was ₹ 18.75 crores and opened in March 2016 for the public.


The riverfront is featured in several Gujarati films like Gujjubhai The Great, Love ni Bhavai and more.
Awards and Recognition
The riverfront for all its magnanimity has also won several awards and national recognition. Few of which we have mentioned below with the year of their felicitation.
1999: Prime Minister's Award for excellence in urban planning and design
2006: Prime Minister's Award for excellence in "Urban Design & Concept" Award – Excellence in "Urban Design and Concept"
2006: National Safety Council of India – Safety Award (Prashansa Patra)
2011: Housing and Urban Development Corporation Award (HUDCO) – Innovative Infrastructure Development
2012: Housing and Urban Development Corporation Award (HUDCO) – Best Practices to Improve the Living Environment
2014: Construction Industry Development Council (CIDC) Vishwakarma Award – Best Construction Project
That is all about the Sabarmati Riverfront of Ahmedabad. A must visit place if you are in Ahmedabad, hands down. For more information about Ahmedabad keep visiting the blog.