Having breakfast in the morning is the best for your health in so many ways. Morning breakfast gives you an extra boost of energy and saves you from being a lazy slave. Breakfast is not only energy supplier but also have many health benefits. Following breakfast routine for a longer time can help you in weight loss and save from diseases like diabetes and high blood pressure. Have you heard the well-known phrase
"Breakfast like a King, Lunch like a Prince and Dine like a Pauper"
which clearly suggests that breakfast in the most important meal you should have.
Preparing breakfast in the morning on a daily basis is quiet of task especially for those who are always getting late. We get you in the city like Amdavad there is a place for all kind of foodies. Finding a good place for breakfast is not that tough. Here we are to make your work easier. We have curated some ultimate breakfast places in Ahmedabad city with different cuisines. From desi Gujarati breakfast to videshi American breakfast, from the continental breakfast to Indian breakfast Ahmedabad has it all. You have multiple options to choose from. You can try having international breakfast with Sandwiches, waffles or pancakes. What about Desi food from Punjabi parathas to South Indian dosa or the Gujarati delight gathiya, jalebi, khaman and much more. FYI – You can even place an online order for most of these restaurants.
Now the most important meal of the day can also be the most delicious.
Desi Nasta (Indian Breakfast)
Gujarati Breakfast
The Green House – For Traditional Gujarati snacks
The Greenhouse Cafe has a lovely ambience and as the name suggests this cafe is surrounded by beautiful plants and veils. It is located on the ground floor of the house Of MG (heritage home).

At The Green House Cafe, you get all kind of traditional Gujarati food. As for the breakfast, they have delightful Gujarati snacks like Dhokla', 'Dalwada', 'Dudhi Muthiya', 'Haandvo', 'Patra' or 'Pankifrom. The Restaurant opens from 7:00 AM to 11:00 PM, i.e., from breakfast to dinner. The Green House Cafe is also a famous attraction for international visitors.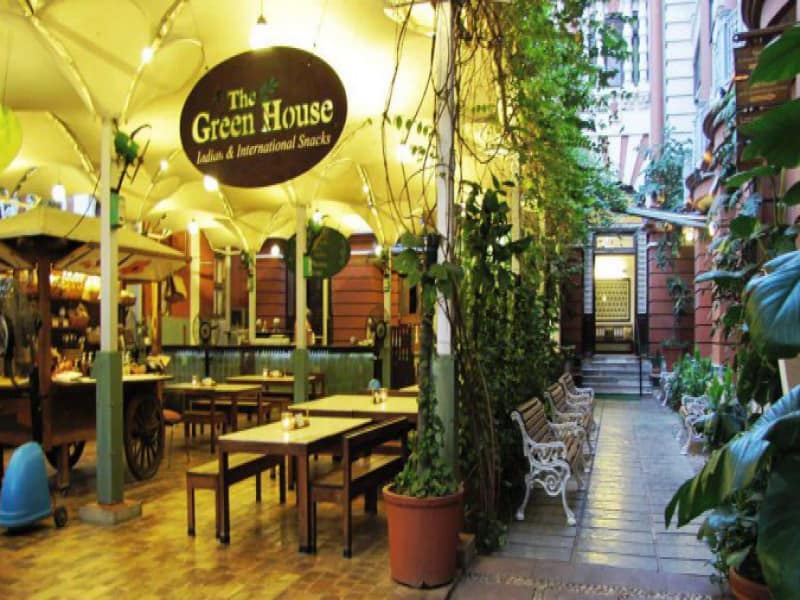 Zomato Rating: 4.1/5
Average cost for two: 700 INR
Food Recommendations: Dhokla', 'Dalwada', 'Dudhi Muthiya', 'Haandvo', 'Patra' or 'Pankifrom
location: The House Of MG, Opposite Sidi Saiyad Jali, Lal Darwaja, Ahmedabad.
Chai wai – A place for chai lovers
If you are chai lover and can't have a breakfast without your tea, chai wai is the place for you. It has more than 20+ flavoured tea. Along with diversified tea flavours they serve Gujarati and desi Indian breakfast. Handwa with its yummylicious garlic chutney, bhakri and thepla are just somethings that you cannot miss.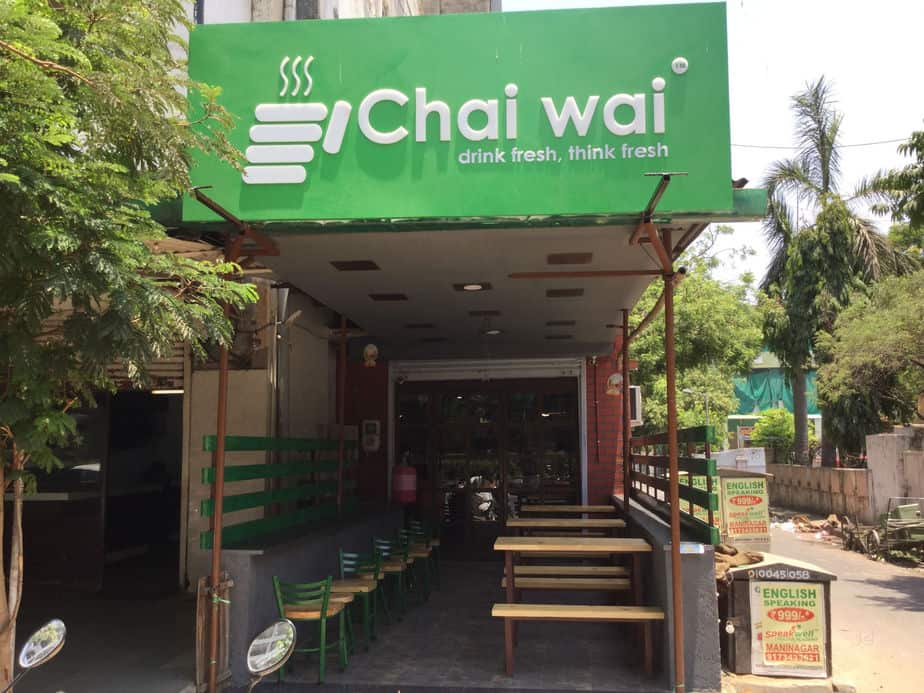 Zomato Rating: 3.8/5
Cuisines: Gujarati cuisines, fast food
Average cost: 250 INR
Food Recommendations: Handwa, Poha, Ice Tea, Upma, Sandwich, Dhokla, Ginger Tea, Kullad Chai
Location: 2, Umiya Vijay Shopping Complex, Shivranjani Cross Road, Satellite, Ahmedabad
Pol Kholi
Pol Kholi is a food place located between the pols of Ahmedabad. This cafe is restored from a haveli located in the old city. The ancient decor of the place is well maintained while the amenities are modernized. This place reflects the heritage of Ahmedabad. It is a fun place to have morning breakfast or brunch. It serves continental and traditional Gujarati breakfast hot and fresh.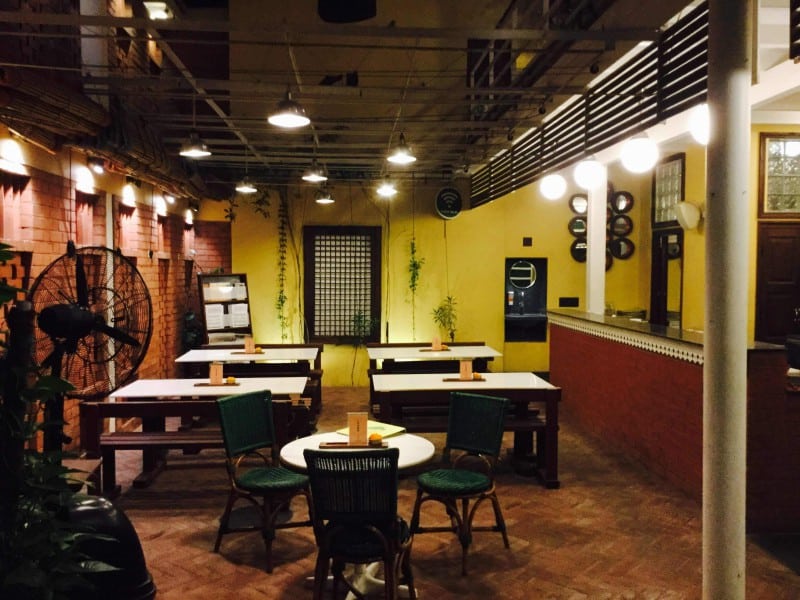 Zomato Rating: 4.2 / 5
Average cost for two: 800 INR
Food Recommendations: cold refreshment drinks, Patra, muthiya, dhokla, Poha, pav bhaji, idli platter, sandwich
The average cost for two: 800 INR

Location: 2, Mangaldas Ni Haveli, Near Manek Chowk, Khadia, Ahmedabad, Manek Chowk, Ahmedabad
Das Khaman – House of Khaman
As the name goes, they offer a wide range of variety in Gujarati Snacks.
Das Khaham was started in 1922, now turned into a brand with more than 8 outlets in Ahmedabad. They have maintained quality and taste throughout the years. Das khaman is one of the few names which comes to the mind of every Gujarati when hungry. The plain Khaman, tam khaman & khandvis are the must-try there.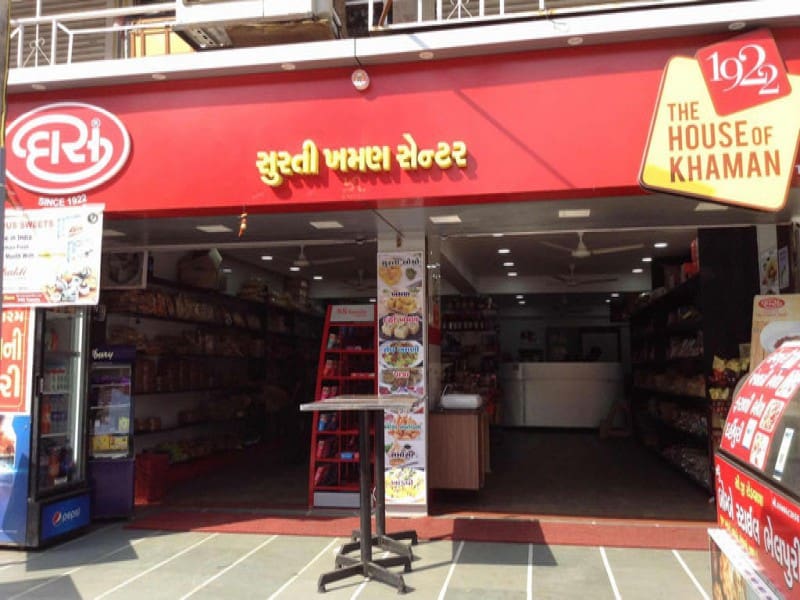 Zomato Rating: 4.2 / 5
Average cost for two: 150 INR
Food Recommendations: Vati dal na khaman, sev khamani, samosa , Dhokla, tam tam khaman, sandwich dhokla, kachori, Khandvi

Location: 2, 120 Feet Ring Road, Near Nehru Nagar Circle, Patel Colony, Ambawadi, Ahmedabad, Gujarat 380006
Indian Breakfast
Food Station
A cute wagon, run by an old uncle & aunt who cook the food themselves, are famous for the authentic South Indian taste they serve at pocket-friendly prices. Situated near the Auda Garden, opposite to Udgam School, they are most famous breakfast placeamongst the people who come for a walk there .
If you want to visit this place try to reach before 10 A.M there is a chance that they will be out-of-stock. The "podi masala" that they sprinkle over all their dishes takes the taste of the dishes a level above.
"Ghee podi masala dosa' and 'vada idli' are a must try.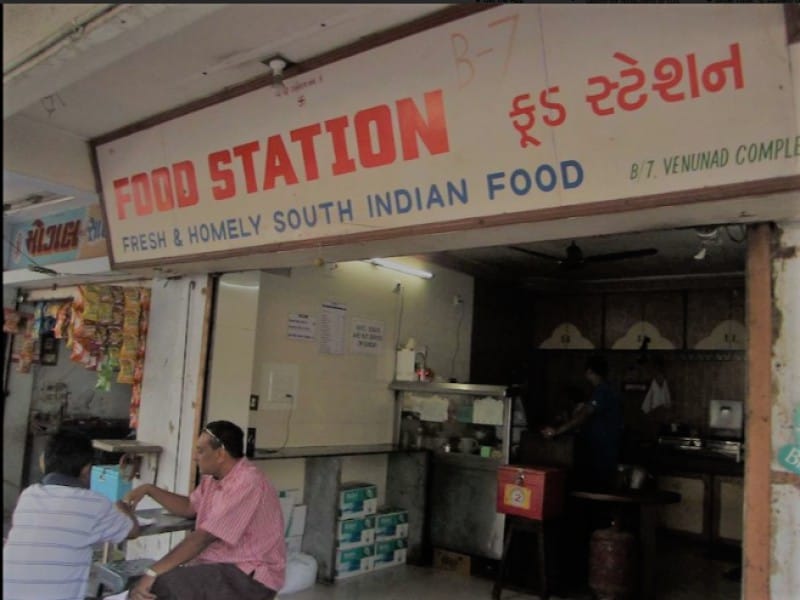 Zomato Rating: 4.1 / 5
Food Recommendations: Podi Masala Dosa, Vada Sambar, Idli Sambar, Onion Uttapam
Average cost for two: 350 INR
Location: B 7, Venunad Complex, Opposite Udgam School, Off Drive-in Road, Thaltej, Ahmedabad, 380059
Shambhu's- The coffee bar
This place definitely tops the list of many people for their late night coffee thirsts. Sitting in a car or in open in winters & sipping on a hot coffee, an amazing feeling right?
Starting from a small laari near H.L. commerce of college to now with almost 19 big and small outlets in town, shambhu is one of the most loved places of the city. Guess what it can be your breakfast place too. Shambhu's coffees and cold cocos are delicious and the masala chai in the morning can make your day.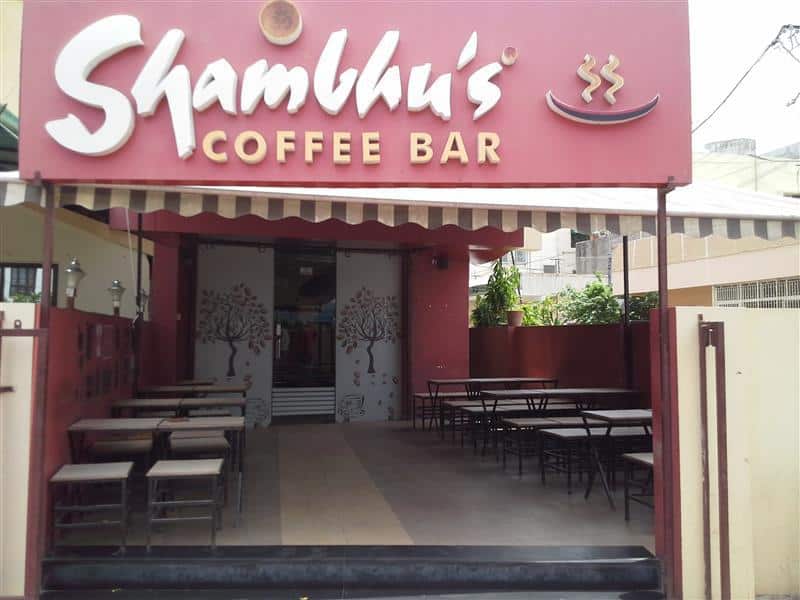 Zomato Rating: 3.6/5
Cuisines: Indian, Fast food
Average cost for two: 350 INR
Food Recommendation: cold coffee, coco, Maggi, cheese chilly toast

Location: All around Ahmedabad
Jay Bhavani- Vadapav House
The speciality of Jay Bhavini is their snacks and their Vada pav takes away the limelight. Can you find a better place for vada pav than Jay Bhavani?
Starting small to now having 42 outlets in Ahmedabad, Jay Bhavani is spread over the city serving you some mouth-watering snacks like Vada Pav, Dabeli, sandwiches & much more at pocket-friendly prices.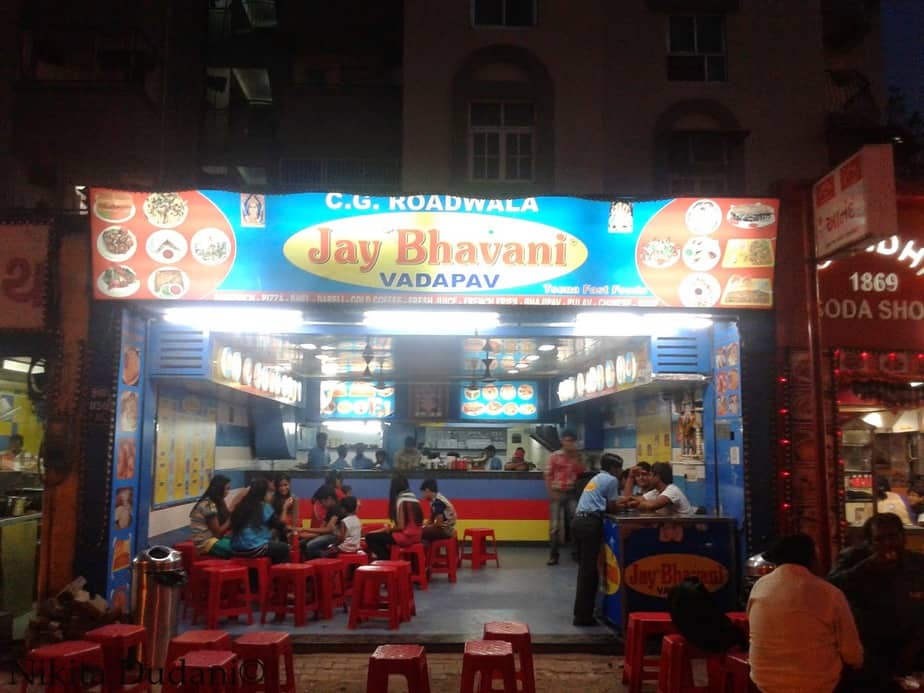 Zomato Rating: 3.8/5
Average cost: 300 INR
Food Recommendations: Vada pav, dabeli, ctc sandwich, cold coffee
Location: All around Ahmedabad
Hojamola – Sindhi Food

"Ho-jamalo" is a word in Sindhi which means celebration. 
Koki, Dal Mung, Sindhi Kutti, Dal Pakwan, Sindhi seyal maani almost all the Sindhi household specialities are a part of the menu. The restaurant aims to take the home-style cooking to another level.
But do they serve breakfast? Yes, they do. They have some great authentic Sindhi breakfast option lined up for the people. Sindhi seyal maani is definitely a must try!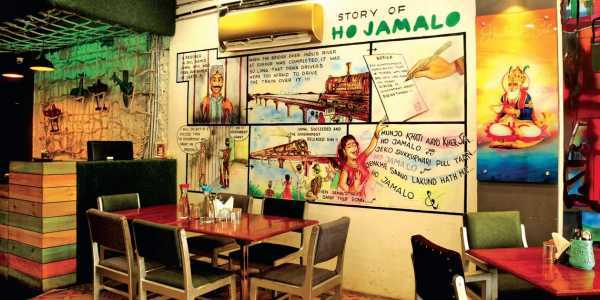 Zomato Rating: 4.1/5
Average cost: 700 INR
Food Recommendation: Samosa chat, Parathas, Sindhi Seyal Maani

Location: Ground Floor, Akshat Complex, Opposite Rajpath Club, Gordhan thal lane, S.G Highway, Bodakdev, Ahmedabad
Wagh Bakri

Tea is an energy booster for the day to start and what could be even better is enjoying an amazing flavour of tea along with your breakfast, isn't it?
Wagh Bakri has a unique blend of flavours in their chai. Tulsi, pudina, adrak, elaichi, masala, chocolate Darjeeling they have it all. Apart from chai, they have gourmet sandwiches perfect partner for your chai.
Zomato Rating: 4.1/5
Average cost: 600 INR
Food Recommendation: Peppy Paneer, Sandwiches, Mocktails, Spinach Corn Sandwich, Khakhra, Masala Tea, Fries
Location: Ground Floor, Aryan WorkSpaces, St Xavier's College Corner, Gulbai Tekra, Ahmedabad
Videshi Nasta (International Breakfast)
The Mad House Café
A small gorgeous paradise in town, The Mad House cafe. It is a cosy isolated place near Gulbai Tekra to enjoy a gourmet American breakfast. The delicious pancake surely will be a delightment for your breakfast platter.
Visit this once and we are sure you will crave for this place. It has sober ambience, pleasant surrounding & of course tasty food.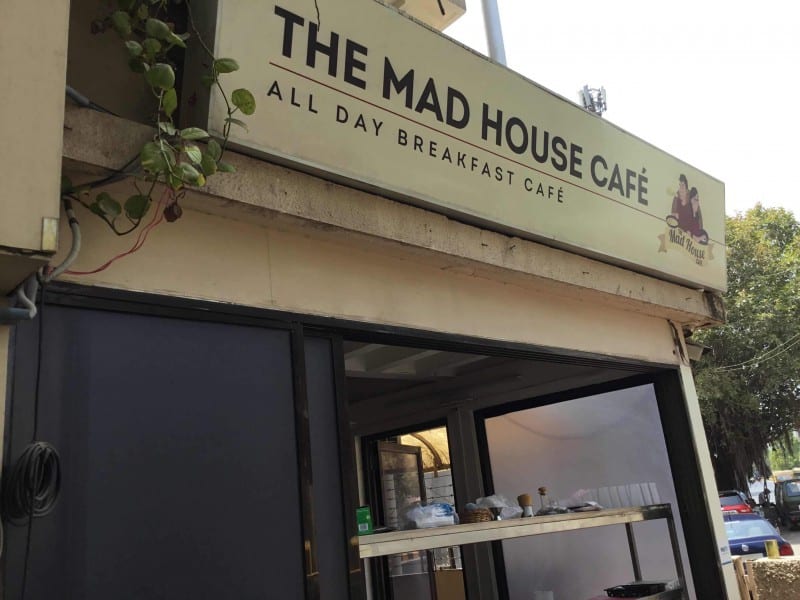 Zomato Rating: 3.9 / 5
Average cost for two: 800 INR
Food Recommendations: Pancakes, Coffee, English breakfast Dishes, Monster Burger, Mojito  
Location: Opposite Navkar Institute, Gulbai Tekra, Ahmedabad
SandwichworkZ – The Fusion Cafe

SandwichworkZ is a cafe which serves goodness of desi and videsi food. At this cafe, you will see the fusion of Indian and American dishes. This cafe is mostly known for its cheese chilli paranthas, custom omelettes & pancakes. They also give you some amazing options for waffles, Shakshouka, varieties of egg dishes and much much more. Besides, you can also try non-veg dishes here. This cafe is perfect for you if you like to have a heavy breakfast. They definitely are worth trying.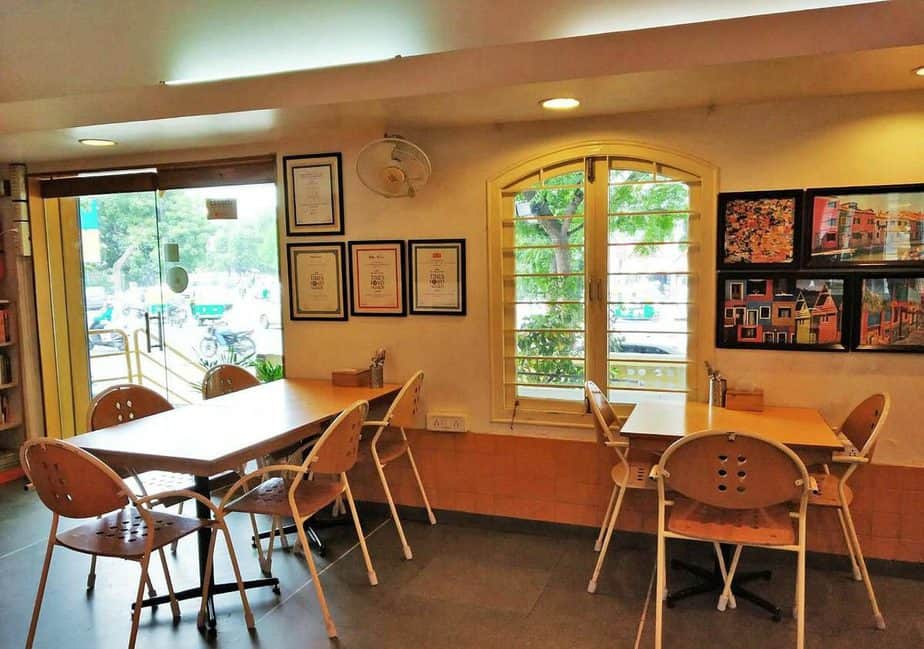 Zomato Rating: 4.2 / 5
Average cost for two: 700 INR
Food Recommendations: Pancakes, waffles, Omelette dosa, Mushroom Kathi roll, and capsicum.
Location: 5 & 6, Madhav Complex, IIM Road, Vastrapur, Ahmedabad
That Place

Bored with the regular menu served in the restaurants? Try visiting "That Place" they serve global food. It is a go-to place for international breakfast. You will find varieties of cuisines like the Mediterranean, Italian, Mexican, European. Not only food but they have the excelent option in juices. Also if you are non-veg over or like egg dishes for breakfast this cafe will not disappoint you.

"That place" cafe is located in the Navrangpura area of Ahmedabad. The environment of this cafe is quiet and peaceful.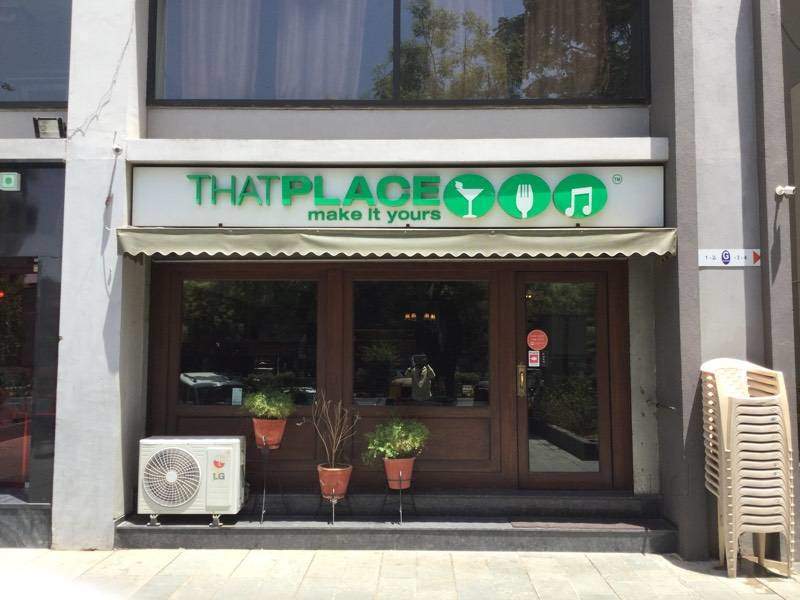 Zomato Rating: 4.1/ 5
Average cost for two: 800 INR

Food Recommendations: Peri Peri Pizza, chicken pizza, Cilantro Chilli Fish, Pasta, Chimichangas, Mojito, Paella, Enchiladas

Location: G2, Aeon Complex, Near Reliance Fresh, Vijay Cross Roads, Navrangpura, Ahmedabad
The Eatery
The Eatery is one of the excellent buffet places of Ahmedabad. Located in Four Points By Sheraton Hotel at Ellis Bridge, this place remains open for 24/7 and is great for breakfast too.
You can find a huge spread for the breakfast menu there. American, Asian, Indian continental & much more sums up the menu. Starting from soups, sausages, continental and Indian dishes and ending with morning baked items, the menu is just perfect. The live counters are a hit. Eggs to order, live Dosas (must try) and live waffles and pancakes are highly recommended. They also have great options in A La Carte.
Not only this, their Sunday brunch is amongst their featured collections & is worth trying.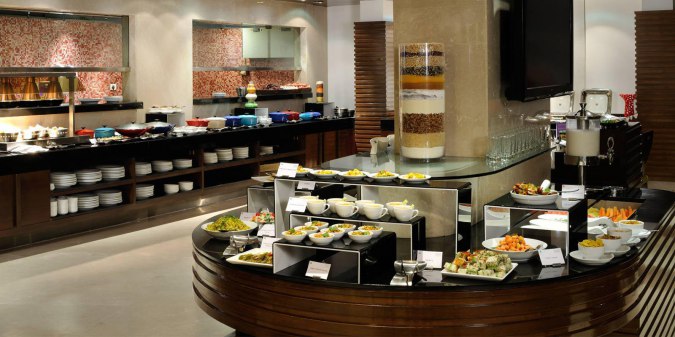 Zomato Rating: 4.1 / 5
Average cost for two: 2100 INR
Food Recommendations: Sunday Brunch, dal makhani, biryani kachori, noodles, chaat, salads.

Location: Four Points by Sheraton, Opposite Gujarat College, Ellis Bridge, Ahmedabad
Also, there are many 24 Hours open cafe which you can visit for breakfast, check them out here
That's it from our side! We would love to hear your favourite places for breakfast too & would love to add those recommendations here in the blog.