Everyone's life was pretty normal until one day, a disease called Coronavirus (COVID – 19) broke out in Wuhan, China. This disease has drastically changed the lives of millions and billions of people all around the world.
Let's get to know about Coronavirus (COVID-19)
What is Coronavirus?
Coronavirus comes from a vast family of viruses. These viruses can cause respiratory illness in humans and animals. Some coronaviruses are mildly severe and cause cough, whereas the other coronaviruses can cause severe illness.
The severe type of Coronaviruses include:
Severe Acute Respiratory Syndrome (SARS) coronavirus
Middle East Respiratory Syndrome (MERS) coronavirus
Currently, Novel Coronavirus (COVID – 19) has been declared to be a pandemic disease. The reason behind this is its spreading across several nations around the world. It is believed that almost 204 countries have been affected by this virus. Interestingly, it is the first time that this disease has been identified in humans.
Coronavirus in Ahmedabad
Presently, there are a total of 2,231 travellers who entered the Ahmedabad and Surat airports. All of these travellers were properly screened. There is another lot of 1,024 people that are under observation in their homes.
Talking about Gujarat, there are several suspected cases in the state right now. Unfortunately, the COVID-19 has reached our city and the overall state too. Presently the number of Coronavirus positive cases has reached 15,365 in the city, whereas the number is 22,067 in the overall state. 

The Number of CoronaVirus Cases in Gujarat
Ahmedabad: 15,365
Gandhinagar: 445
Vadodara: 1,434
Surat:2,365
Rajkot: 140
Kutch: 95
Until now (11th June, 08:10 PM), 1,385 of the corona patients have lost their lives in the state.
The state of Gujarat has been divided into three different zones (Red, Orange, and Green). These zones signify the condition of the city with regards to COVID-19.
The places that fall in the Red zone are Ahmedabad, Surat, Vadodara, Anand, Banas Kantha, Panch Mahals, Gandhinagar, and Aravali.

The places that fall in the Orange zone are Rajkot, Bharuch, Botad, Narmada, Chhotaudepur, Mahisagar, Mahesana, Patan, Kheda, Valsad, Doha, Kachchh, Navsari, Gir Somnath, Dang, SabarKantha, Tapi, Jamnagar, and Surendranagar.
The places that fall in the Green zone are Morbi, Amreli, Porbandar, Junagadh, and Devbhumi Dwarka.
Currently, all areas of Ahmedabad are in the Red zone, whereas these six wards have the highest number of cases (Behrampura and Danilimda in the south zone, Dariyapur, Jamalpur, Khadia, and Shahpur in the central zone).

The samples of coronavirus are being tested in BJ Medical College, Ahmedabad. Post the coronavirus outbreak, a total of 2,400 medical officers and 14,000 paramedical staff have been trained for handling such situations.
The state hospitals are equipped with 572 isolation beds, and 204 ventilators to deal with this pandemic. The state government has ensured everyone's safety by stocking enough triple-layer masks, and sanitizers to prevent citizens against the disease. Furthermore, there are 38 quarantine facilities with 1,117 beds.
Due to increasing patients, there was a lack in the number of quarantine facilities. With this, the Government decided to turn Samras hostel into a quarantine centre. Besides this, people who wanted to have better facilities were given the option of private hotels.

Five-star hotels like Fern Hotel at S.G. Highway and Haj House in Kalupur have decided to run as quarantine centres. This will be a payment based service. But they cannot ask for regular charges, it will be on a discounted rate.
With increasing COVID-19 cases in the city, the State Government has decided to convert 60 hotels into COVID-19 hospitals. This facility will be free of cost, the State Government will take care of the expenses. These hotels have a capacity of 3000 beds.
To control the rapidly increasing coronavirus cases, the State Government has decided to shut all the shops like Grocery, fruits and vegetables. The only things that will be available are Milk and Medicines. This complete lockdown is from 07/05/2020 to 15/05/2020.

Presently, the State Government is thinking to convert L.D. Engineering into COVID-19 hospitals. They have written a letter for the same. Everyone is awaiting the decision.
Corona Virus Treatment in Ahmedabad
Civil Hospital, Asarwa, Ahmedabad
SVP Hospital, Ellisbridge, Ahmedabad
HCG Hospitals, Mithakali, Ahmedabad
Sterling Hospitals, Pakwan Char Rasta, Ahmedabad
Narayana Multispeciality Hospital, Rakhial Char Rasta, Ahmedabad
With increasing cases, there has been an addition of two new private hospitals that will provide free Coronavirus treatment.

Lokhandwala General Hospital, Dariyapur Darwaja, Ahmedabad
SMS Hospital, Chandkheda, Ahmedabad
These private hospitals will be providing free meals and treatment to patients. Both hospitals have a bed capacity of 1000 to 1500 people. Here, doctors will get a proper amount of PPE kits, sanitizers, and masks.

Ahmedabad Airport is completely prepared for screening the incoming patients according to the guidelines by the government. Furthermore, most of the hospitals have been equipped with health alert displays to keep the patients and their caretakers aware of the recent developments.
What is Corona Virus Gujarat Helpline Number
Anyone can call on 104 from Gujarat to know more details about Corona. Well, there are several other helplines for Ahmedabad that can be helpful in these uncertain and difficult times.

Which hospitals are conducting Corona Virus tests?
The samples of coronavirus are being tested in Government centre – BJ Medical College, Ahmedabad. Besides this, Private laboratories like Supratech laboratory and Unipath Speciality Laboratory are conducting tests for COVID-19.
Super spreaders in Ahmedabad
One of the biggest reasons behind the increase in coronavirus cases are Super -spreaders. The term super spreaders refer to people who come in contact with large populations regularly. Every day there is an increase in the number of these super spreaders. According to sources, The total number of super-spreaders in Ahmedabad is 40. Out of 40 super spreaders, 23 were identified on Monday i.e. 27/04/20.

Out of all 23 super spreaders, 11 were vegetable vendors, 4 of them work in a Kirana store, besides this, others are unidentified. The ones identified on Sunday were from Naranpura and Gota. Out of 18, 11 worked in a Kirana store, 4 of them were milk vendors, and the remaining 3 were vegetable vendors.

Presently the number of super spreaders has reached 709. This is becoming a big problem for the state government in curbing COVID-19. After looking into the seriousness of the matter, AMC (Ahmedabad Municipal Corporation) has decided to impose fines on super spreaders for not wearing masks. The rule will come into action by May 1st, 2020. The super spreaders include vegetable and food vendors, Milk vendors, Shopkeepers, and Supermarket employees.

According to sources, If vegetable and fruit vendors are caught without masks, they will have to bear a fine of Rs.2000. Whereas the shopkeepers will face a fine of Rs. 5000. Last but not least the supermarkets will attract a heavy fine of Rs. 50,000.

Coronavirus News
Coronavirus has taken several countries by storm. India has also become prone to this pandemic. While looking at the present conditions, the State Government has decided to shut down the school, colleges, Malls, Theaters/Cinema Halls, Tuition classes, swimming pools, and some other public places.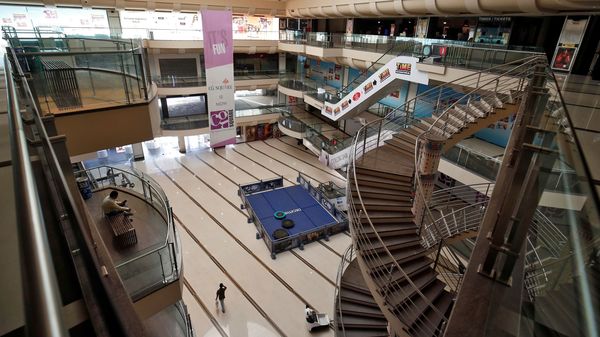 These public places will be temporarily shut for 15 days, i.e. 16/03/2020 – 17/05/2020, to prevent the coronavirus outbreak. Government officials have also advised not to hold or be a part of mass gatherings. If anyone is found spitting publicly, they may attract a fine of Rs. 500. Spitting can become a cause of spreading this disease; that is why this order has been passed.
To prevent this pandemic, the State Government is bringing out one of its oldest acts under the state by notifying Gujarat Epidemic Diseases, COVID-19 Regulations, 2020. Last but not least, AMC is also about to distribute packets with sanitizing kits and masks to spread awareness and help the citizens of the city.

Presently, The overall state of Gujarat is locked down till 17/05/2020. Even the Bus, Railways, and Air Services have been terminated in the state and country too. This step has been taken in the light of rising cases of Coronavirus in the state. This lockdown will be helpful in breaking the chain reaction of COVID – 19.

There is a piece of good news for Amdavadis in the form of Lockdown 4.0. This phase of lockdown comes with a lot of benefits for common people. Several services will be available from 19/05/2020. Ahmedabad will be almost functional with offices, shops, salons, and restaurants opening from tomorrow (19/05/2020). The offices and shops will work on the rule of odd and even. Restaurants can function only on take away basis.
But the containment zones of the city will not be given any kind of permission for opening any non-essential shops and services. Furthermore, people from containment zones will not be allowed to travel to non-containment zones.
last but not least, Rikshaws and cabs are not allowed to function in the city. ST buses will be operational from 19/05/2020.
Every citizen of the city will have to abide by the rules. The city will be operational from morning 7 am to & pm. Post that, the whole city and the overall state will be in curfew. Besides this, anyone found spitting in public places will attract a fine of Rs.200.
To increase the usage of masks among people, the Gujarat Government has decided to provide Triple-layer masks in Amul parlour at the cost of Rs. 5. Whereas the N-95 masks will be sold at the cost of Rs. 65.
Furthermore, Talking about travelling, only one person is allowed on the two-wheeler whereas a driver and two passengers are allowed in the car.
We know how strong Amdavad and Amdavadis are. We will fight this disease with unity and come out stronger and healthier. PS: Avoid Handshakes and opt for Namaste!

Updates on Coronavirus
The situation is getting worse for the state by each passing day. Due to this, there has been an introduction of several rules for the common people too. On April 13th, it was announced that wearing a mask is mandatory in public places. If one doesn't abide by the rules, he or she may attract a fine of Rs 1000-5000 or imprisonment for up to 3 years.

The AMC commissioner Vijay Nehra said, There are new rules to be implemented for home isolation of COVID-19 patients. According to these guidelines, a person who is asymptomatic or mildly symptomatic can pick either Covid-care centre or home isolation. The patient must be isolated in a separate room with an attached washroom. If the patient is serious, he or she will have to choose between a government and a private hospital.

Every single day there is news surfacing up with regards to attacks on doctors and police force, we request to please not do so. They are our protectors, let's help them in fighting this pandemic by staying in our home and abiding by all the laws.

There has been an addition of a total of 1000 beds in the SVP Hospital. In these bad times, there is a ray of hope as the doubling rate of cases has now been prolonged to 9 days.

These statistics show some positivity with the number of patients being discharged as on 28/04/2020.

This is one of the videos showing facilities provided to COVID-19 patients in the civil hospital.
The State Government has decided to put up more eight COVID-19 hospitals with a bed capacity of 800 beds. There is a piece of bad news for Ahmedabad as our honourable Municipal Commissioner Vijay Nehra has been quarantined. The reason behind it was his coming in contact with some COVID-19 positive patients.
According to AMC, there are almost 2000 superspreaders in every ward. With this, the total of superspreaders in Ahmedabad reaches to 14,000. To identify each one of them, AMC has decided to initiate rapid testing with a goal of 500 people every day.
Origin of Coronavirus
The pandemic of Coronavirus (COVID – 19) originated at a market in Wuhan, China which is a big market for fishes, bats, snakes, and other wild animals. For now, experts think that it has been transmitted from animals to humans. Post that it started to spread from one person to another.
What are Coronavirus Symptoms?
Several symptoms of coronavirus include:
Cough
Fever
Shortness of breath
Breathing Difficulties
Respiratory Symptoms
In severe cases, it can lead to pneumonia, severe acute respiratory syndrome, and kidney failure.
How to Prevent Coronavirus?
Wash your Hands Frequently.
There could be millions of viruses on your hands. So, it advised to wash your hands frequently or sanitize them with an alcohol-based sanitizer to kill the viruses.
While picking a sanitizer, Always choose the one with 60-95% alcohol content.
Social Distancing is the Key
Avoid social gatherings and stay at home. Because while you're out in public, there may be people with cough and cold. If such people cough or sneeze and are contracted with COVID -19, then even a small droplet from their nose or mouth may contain the virus and could transmit to you.
Avoid Touching your Eyes, Nose, and Mouth
Your hands are home to several viruses, and for the same reason, it is advised to avoid touching your eyes, nose, and mouth. The viruses can travel from your hands to the body, leaving you sick.
Maintain Respiratory Hygiene
When you cough or sneeze, ensure to cover it with your elbow or tissue. Besides, don't forget to dispose of the tissue. The root cause of this virus are droplets, and for the same reason, it is essential to maintain good respiratory hygiene.
Stay Informed and Follow the Guidelines
Always stay informed regarding this disease through newspaper, radio, internet or Television. Most importantly, follow the instructions provided by doctors as they can be utterly helpful.
Coronavirus Treatment
Currently, COVID – 19 is untreatable, but the symptoms can be cured with the help of medical care. None of the antibiotics works on this virus.
Wrapping Up
It's high time we come together to fight this disease and defeat it. Unfortunately, Gujarat is becoming one of the prone zones to coronavirus. But if we stay at home together, we can surely come up with this pandemic. Please follow the essential measures and protect yourself, friends, and family. There is nothing to panic; it can be controlled if detected early.
We hope this blog will come in handy while knowing about Coronavirus (COVID – 19). If you have any feedback or suggestion, please write in the comment section.
We would love to hear from you!