Cricket – One word, Billion feelings.
Cricket is one of the most loved and followed sports in our nation. Talking about cricket, Melbourne Cricket Ground of Australia is considered to be the biggest stadium in the world. But soon, Motera Stadium situated in Ahmedabad, India is going to surpass the Melbourne Cricket Ground (MCG) with a seating capacity of 110,000. The new Motera Stadium will be capable of holding 10,000 more people when compared to the iconic Melbourne Cricket Ground in Australia.

I know what's on your mind next!!
When will the Motera stadium be ready?
The world's largest stadium, Sardar Patel Stadium was renamed Narendra Modi Stadium as announced during the inauguration of the stadium on February 24, 2021. President Ram Nath Kovind inaugurated the world's biggest cricket stadium in presence of Home Minister Amit Shah, Sports Minister Kiren Rijiju, BCCI Secretary Jay Shah and other dignitaries.
The first-ever match played in the stadium was the Pink Ball Test, the third test match between India and England.
Cricket fans are rejoicing all over India and the world to get a world-class experience after a long gap of four and a half years.
The Stadium has witnessed a lot of historical cricketing moments like
Sunil Gavaskar's 10,000th test run in 1987
Kapil Dev's world record of 431 Test wickets surpassing Richard Hadlee in 1994
Sachin Tendulkar's first double century in 1999.
Motera Stadium Renovation
It was back in 2015 when Motera Stadium has pulled down for renovation. The Motera Stadium is spread across 63 acres and has a 53,000 of seating capacity. The new foundation stone for renovation was laid in 2017.
Populous, a renowned architectural company and Larsen&Toubro, one of the finest manufacturing and engineering company have handled the Motera Cricket Stadium renovation project. Talking about Populous, it is an Australia based architect company that has worked on world-class projects like Melbourne Cricket Ground in Australia and Lord's Cricket Ground in the UK.
While Larsen &Toubro is one of the finest manufacturing and engineering company based in India, who has worked on various significant projects. The masters of their fields have worked on making this world-class Stadium on an estimated cost of around 700 crores within a short time framework.
Motera Stadium Seating Capacity
When you have the best people working on a project, all you can expect is innovation. The renovated Motera Stadium consists of two large seating areas with a general admission capacity of 50,000.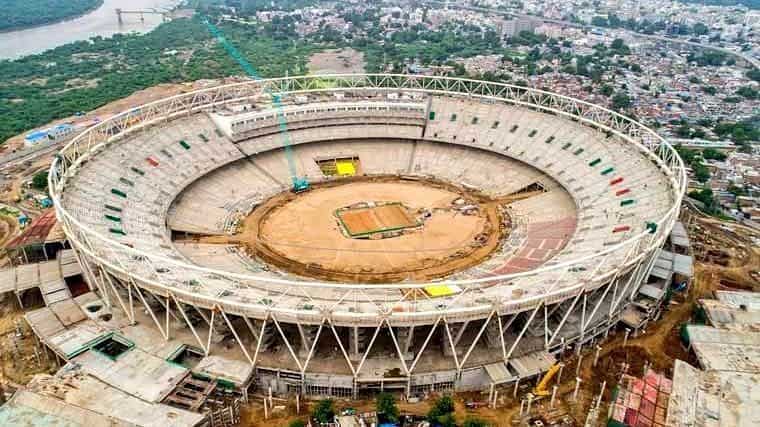 Interestingly, the seating bowl is constructed in a manner to provide a full unobstructed view of the field to each of the spectators. Furthermore, this seating bowl consists of
76 corporate boxes
An Olympic-size swimming pool
Four-team dressing rooms
A state-of-the-art club.
Motera Cricket Stadium New Design
Now, you will not have to worry about crickets matches getting cancelled as the renovated stadium will have a 'sub-surface' drainage facility. It will help in drying out the fields just within 30 minutes after the rain had stopped.
Cricket Gujarat Association is working towards preparing a number of 11 cricket pitches in the stadium. Even the pitches will have three variants. One of the pitches will be prepared with red soil. The other with the black soil and the last one will be a mixture of both.
The Stadium will be hosting local and international cricket matches. Furthermore, it will be used for community use and will have a community indoor cricket academy under the podium in the stadium. There will be a dormitory for almost 40 athletes, that will allow students from India and abroad to attend it. Last but not least, the academy will have three outdoor practice fields and six indoor practice pitches.
Modi and Trump in Motera Stadium
It was on February 24, 2020, when Prime Minister Mr. Narendra Modi and US President (POTUS) Mr. Donald Trump became one of the few visitors to experience the newly built Motera Stadium. On this particular day, history was created as both the leaders jointly addressed the "Namaste Trump" event in this stadium. This event was closely similar to "Howdy Modi" in Texas, USA.
Furthermore, Mr. Trump also talked about the world's greatest cricket players, the God of cricket – Mr. Sachin Tendulkar and the present captain of our Indian cricket team – Mr. Virat Kohli.
Almost 1.2 lakh people were present at this event. These people included students, businessmen, villagers, and citizens from different parts of the state. Furthermore, various prominent artists performed at this event, and even the spectators were high-profile citizens of the nation.
Wrapping Up
Motera Stadium will soon become one of the iconic venues for sports. Besides, it will soon be considered to be the biggest stadium in the world. With this, Gujarat Cricket Association will get a place in the sporting map all over the world.