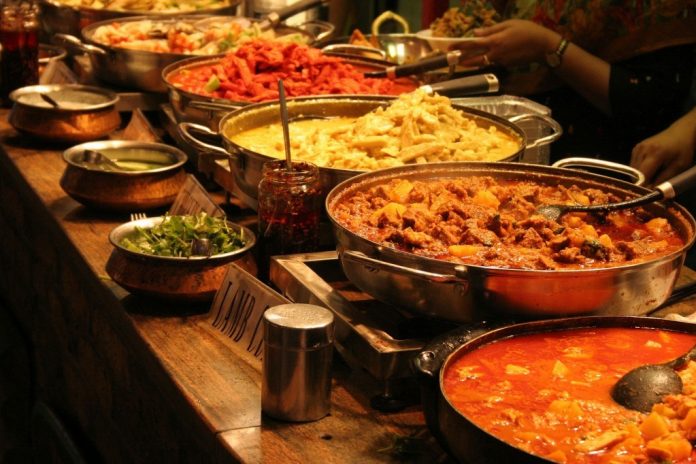 Ahmedabad is a city known for its authenticity. The food aroma and the flavours are what the Gujaratis are fond of. But being a metropolitan city, it holds a population of many diverse people who are fond of different kinds of food. Even though the majority of people here are vegetarians, there stands a crowd in the city who are in love with non veg food. Chicken, mutton, prawn brings water to their mouth!
Are you one of those who is fond of non veg and can't decide on a restaurant to go for in Ahmedabad? Not to worry, we have a list of 12 amazing non veg restaurants based on their diversity, uniqueness, and popularity curated just for all of you non veg lovers.
La Bella
La Bella is run solely by Mrs. Mary Lobo Aunty after the death of her husband. She is goan by heart turned Amdavadi. The place is not fancy or glamorous like other restaurants, but the charm of this place is its food with the rates so low you can't even imagine.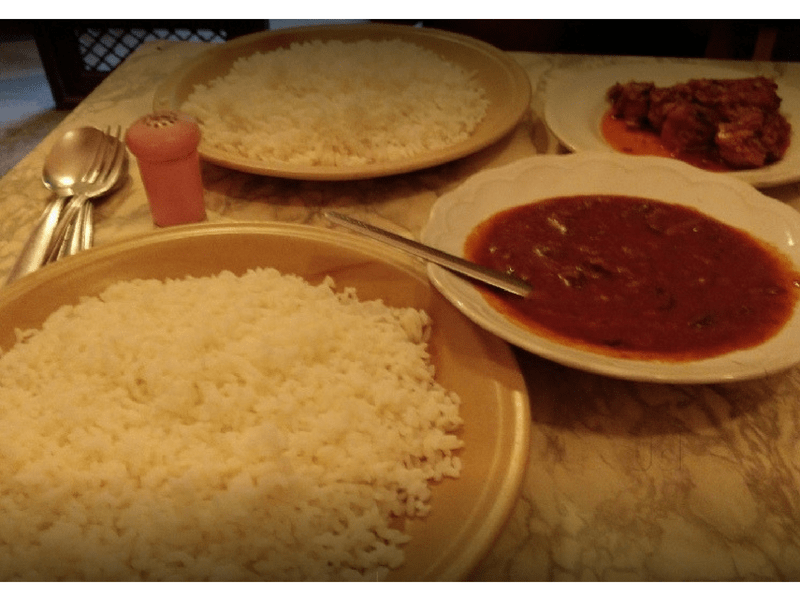 Non veg dishes like chicken masala with minimal prize i.e. just RS. 40 & Prawn curry for RS. 30. The food here is far more worth than the prices it holds for the gaon taste. "I don't need to burn a hole in anybody's pocket, I earn enough to feed myself," says aunty Mary. The customers here are mostly students. The 90's actress Parveen Babi even visited this place.
Timings: 12:30pm to 3:30pm, 6:30pm to 9:30pm
Location: Shahpur Rd, Mill Compound, Below Preyas High School, Ahmedabad, Gujarat 380001
Best dishes: Pork vindaloo, Cutlet, Chicken Curry Masala, Roast meat, Chop masala
Average cost: 150 INR for two person

Simran Farm
Simran farm was started as a small stall in 1994, selling chicken. It's the taste of the non-veg food that made it so popular and well-known that it now has two outlets at airport road, Khanpur. At Simran farm, you will get an amazing blend of Indian and Mughlai in non-veg food.

Timings: 11:00 am to 11:00 pm
Location: 1.Opposite Hanuman Camp Gate No 3, Cantonment Camp, Sardar Bazar,
Airport Road
2. FG Tower, Near Lemon Tree Premier, Khanpur, Bhadra, Ahmedabad
Best dishes: Shikari tandoori, non veg thali, Goan fish curry, mutton kheema
Average cost: 650 INR for two
Barbeque Nation
How can we not talk about barbeque nation when it comes to non veg food?
Initially started in Mumbai in the year 2006, BBQ nation has become the favorite place for foodies and across the whole country. It is one of the longest food chain restaurants.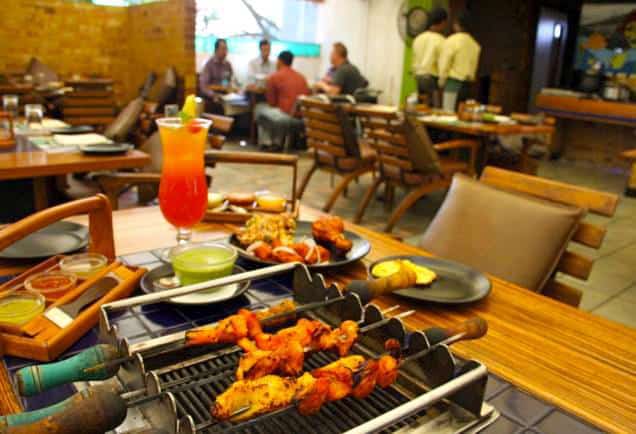 BBQ nation founded in 2008 in Ahmedabad and since then it has become a place of delightment for food lover especially for the people fond of non veg. There are two outlets in Ahmedabad now, one is at Drive-in road and the other one at Prahlad Nagar. BBQ is famous for it's live grill concept and the barbeques here are phenomenal. The buffet served here has endless food options along with many kinds of desserts.
Timings: 12:00pm to 3:00pm and 7:00pm to 10:30pm
Location: 1. Shop No.3, Near Mile Stone Complex, Drive In Rd, Shivalik 3, Ahmedabad,                       Gujarat 380052
               2. 1st Floor, Caspia Hotel, 1 Hotel, Beside Venus Atlantis, 100 Feet Road,                               Prahladnagar, Ahmedabad
Best dishes: non veg buffet
Average cost: 1500 INR for two person
Sizzante

Ahmedabad has very few restaurants with a lot of varieties in their non veg starters or non veg sizzlers. At Sizzante you get a long list of options for non veg starters, sizzlers, sandwiches and much more. The popular cuisines here are Continental and Italian.
Along with food, live music, wifi, outdoor seating and sports screening are a few add ons to the amazingness of the place.
Timings: 12:00 pm to3:00 pm and 7:00 pm to 11:00 pm
Location: 1. 301/B, Shilp Aaron, Sindhu Bhavan Road, Pakwan Cross Roads, Bodakdev                           Ahmedabad
2.Shop 5, Dwarkesh Business Hub, Opposite Visamo Society, Visat, Koba Road,                     Motera, Chandkheda, Ahmedabad
3.Fun Food Battalion, YMCA to Mumatpura Road, Bopal, Ahmedabad
Best dishes: fish chilly, chicken sausage, Mexican meatballs, chicken sizzlers
Average cost: 1000 INR for two
Tomato's
Tomato's, the place where you can find some extraordinary food and adequate quantity! The ambience of this place designed in Retro American theme which is something out of the glass and fascinating. It's a paradise for the non-veg food lovers. Along with Indian cuisines, they also have global cuisines which are super delicious and excellent in taste.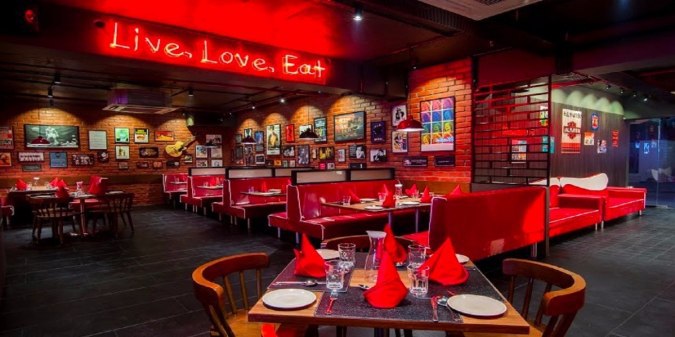 Tomato's has two more outlets in the city, m.a.d by tomato's and the Trophy at YMCA.  Each outlet has a unique theme, different ambience and great food.
Timing: 12 pm – 2:45 pm, 7:00 pm– 10:45 pm
Price: Rs. 1300 for two
Best dishes: Grilled lemon pepper chicken breast, Mexican Non-Veg Pot.
Location:1-3, Mardia Plaza, C G Road, Ahmedabad.

@Nine – The Fern
@Nine is a rooftop restaurant and as the name tells you it is on the 9th floor of Fern Hotel. The charm of the place is its view you enjoy from the 9th floor of S.G Highway. The feel at night is even more captivating. Talking about food @nine has delicious non-veg cuisines, which also includes seafood like Lobster and salmon along with chicken dishes like Yakitori, Tuscan grilled chicken which is a must try when you are here.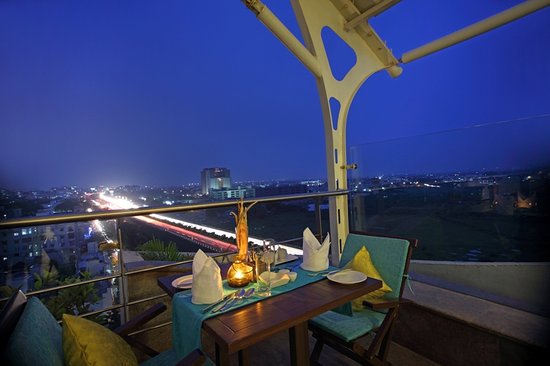 Timing: 7:00 pm 1:00 am
Best dishes: Yakitori, Tuscan grilled chicken
Price: Rs. 1600 for  two
Location: The Fern, Near Sola Overbridge, SG Highway, Sola, Ahmedabad
The Vineyard
The Vineyard makes you fall in love with their authentic non-veg dishes. The restaurant serves multiple non-veg cuisines such as Mediterranean Delicacies, South East Asian and authentic Kerala food. The biryanis and Keralan dishes here are just marvellous. The food is fresh, and ambience is nice with a spacious place to sit and enjoy your meal. The restaurant walls are decorated with vines beautifully after all the name Vineyard is for a  reason.
Timing: 11:00 am – 3:00 pm,  7:00 pm – 11;00 pm
Best dishes: Chicken Makmali, Chicken lollipop, Kerala fish curry, Chicken fried rice
Prices: Rs. 700 for two
Location: First Floor, A 3/4, Krishna Complex, Opposite Devashish Business Park, Bodakdev, Ahmedabad
Fozzie's  Pizza
Want to try Pizzas that are offbeat but finger licking delicious at the same time? Fozzie's is the place to be.
This restaurant serves lip-smacking Italian cuisine and has lots and lots of option available in both veg and non-veg pizzas. The chic hot, barbeque chicken and fatty nonsense pizza are must try if you are visiting this place for the first time.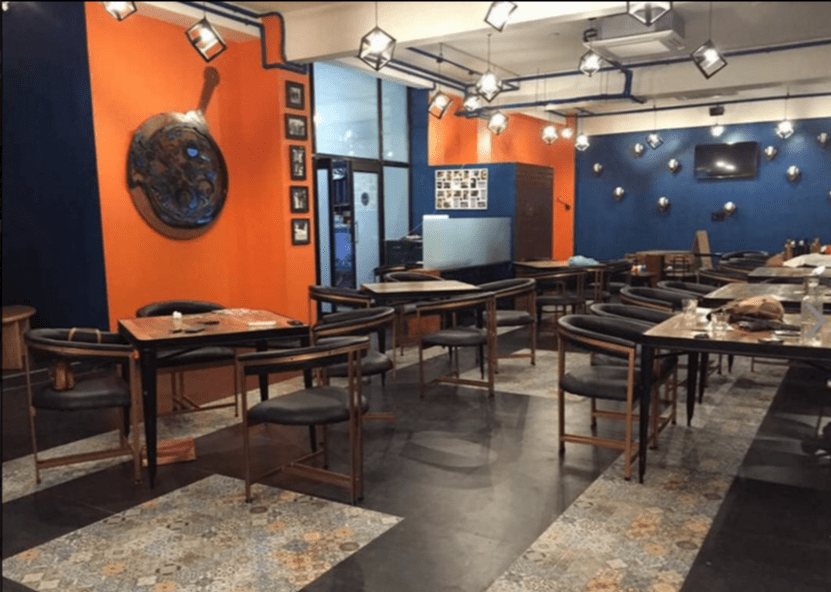 The ambience at Fozzie's is nice and lively. While you wait for your order, you can enjoy your time playing board games, sounds fun right!! 🙂
Timing: 11:30 am – 11:00 pm
Best dishes: Chicken Lasagna, Chicken Enchiladas, Chick Hot, Masaledar Murgi, Fattey Non-sense
Prices: Rs. 900 for two
Location: First Floor, Maruti Crystal, Opposite Rajpath Club, Service Road, Bodakdev, Ahmedabad  
Upper crust
Upper crust is a cafe famous for its bakery, but the non veg food is nonetheless. At upper crust, you get non veg cuisine whose taste will take you all around the globe. Here you get starters, Indian and fusion, Chinese, Italian, Mexican, and Thai. Upper crust was started by Lester D'souza on 1st April 1989 at C.G road now has many outlets in the city, out of which two outlets are only for bakery, and the rest four has restaurants.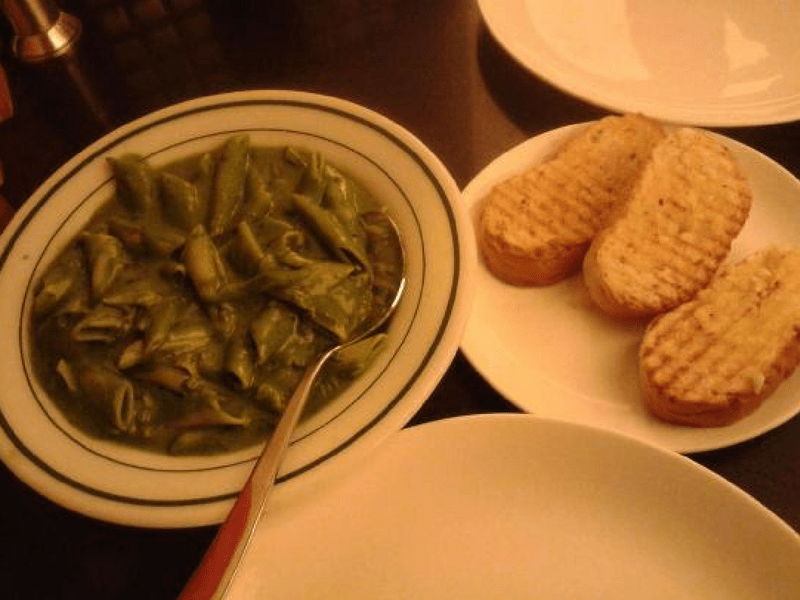 Timings: 11:00 am to 10:45 pm
Location: 1.)Ground and First Floor, Aarohi Complex, Vijay Cross Road, Navrangpura, Ahmedabad
2.) 4 & 5, Shubham Complex, Sunrise Park Corner, Near Vastrapur Lake, Vastrapur, Ahmedabad
3) Rivera Arcade, Near Auda Garden, Prahlad Nagar, Ahmedabad
Best dishes: Big moose, chef recommended sizzlers, pasta and desserts
Average cost: 1100 INR for two
Awadhpuri
Awadhpuri is known as a place of  'Jashn-e-Zyka' which means a place where food is the celebration. They are popularly known for their Lucknowi Nawabi food. Not only the food but the interior, the plates and the decor everything is designed in a way to make you feel royal. They even sometimes have live music and ghazals which serve as the cherry on the cake.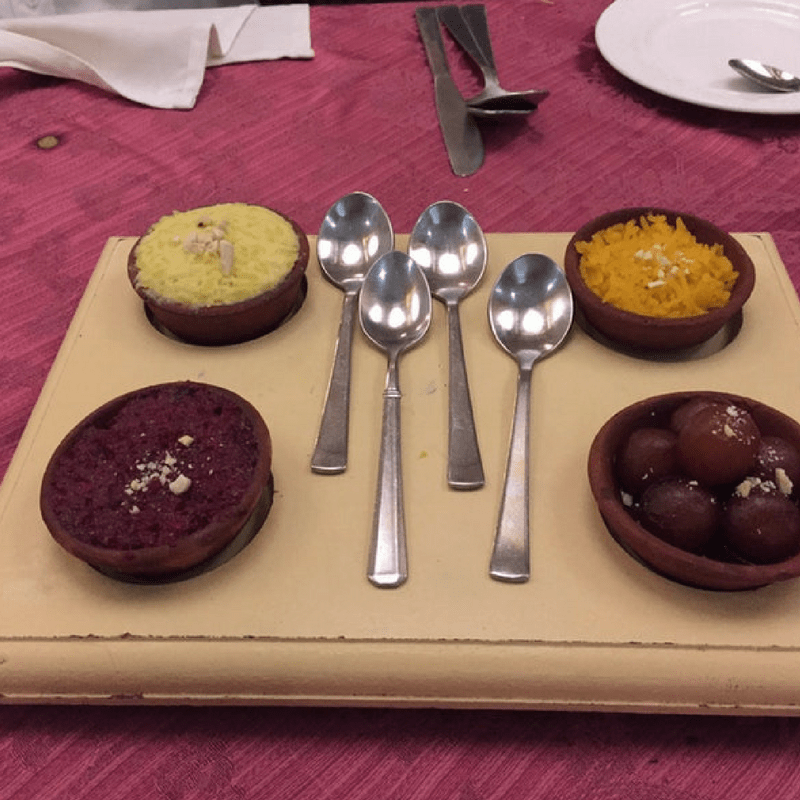 Timings: 12:00 pm to 3:00 pm and 7:00 pm to 11:00 pm
Location: First Floor, Pushpak Complex, Opposite Prahlad Nagar Garden, Prahlad Nagar,  Ahmedabad
Best dishes: Dum Biryani, Palak Gosht, Warqi Parantha, Galauti Kebab, Zafrani Kheer
Average cost: 1200 INR for two people.
Masty
Masty is a place which should always be on your list when it comes to non veg food. It is located near Karnavati club behind the dugout cafe, has a simple but large enough space with a beautiful outdoor seating arrangement. The menu here is not that huge, but the food taste is delicious, served fresh and hot to give you a homely vibe. The restaurant remains quite occupied especially on the weekends.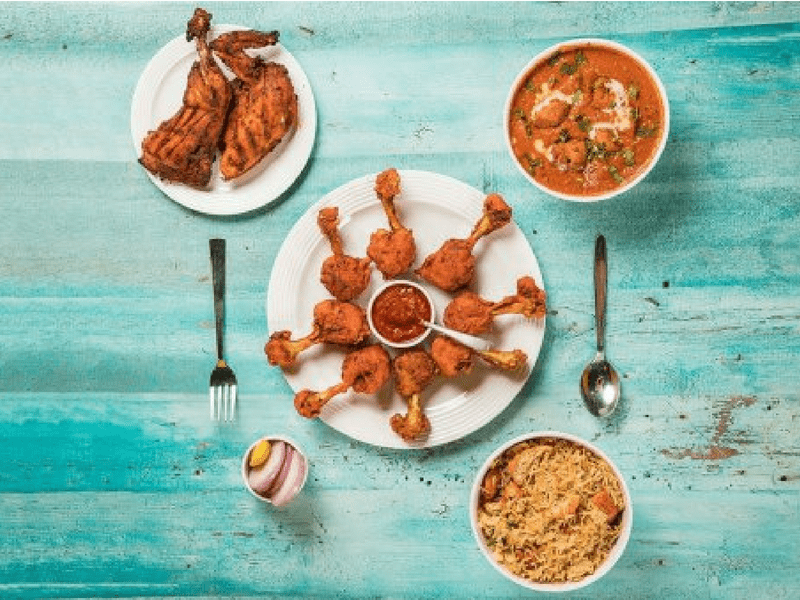 Also, they do not take reservation and preserve the first come first serve policy. So if you are planning to visit this place on the weekend be there on time.
Timings:7:00 am to 11:00 pm
Location: 1. First Floor, 105, Shivalik Plaza, Opposite AMA, IIM Road, Vastrapur, Ahmedabad
2. Besides Apple Global School, SG Highway, Satellite, Ahmedabad
Best dishes: Butter Chicken, Tandoori Chicken, Mutton Chaap, Chicken Biryani, Chicken Lollipop
Average cost: 550 INR for two people

Mirch Masala
Mirch Masala is a restaurant that serves you authentic Punjabi, North-Indian, Mughlai non veg. Along with food, the decor here is also pretty cool. It has a Bollywood theme with the walls painted of some scenes from the epic movies.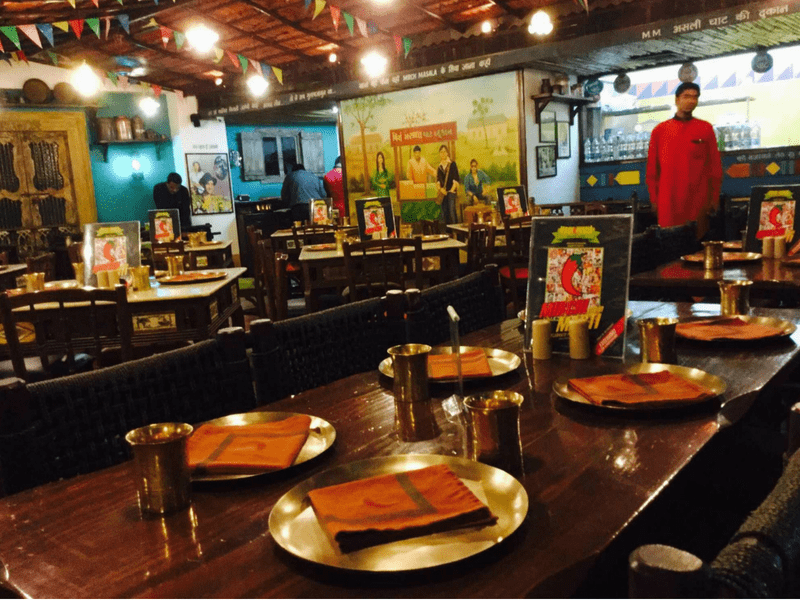 Timings: 12:00 pm to 2:45 pm and 7:00 pm to 11:45 pm
Location:1.Ground Floor, Sachet 4, Near Prerna Tirth Desara, Satellite, Ahmedabad
               2.Sumel Complex, Opposite GNFC Tower, S G Highway, Bodakdev, Ahmedabad
               3.7 to 10, Chandan Complex, Swastik Cross Road, C G Road, Ahmedabad
4.Opposite Ravji Bhai Tower, Near Krishna Baugh Cross Road, Mani Nagar,                            Ahmedabad
Best dishes: Seekh Kebab, Chicken Biryani, Mutton Roganjosh, make ki roti
Average cost: 1000 INR for two person
Yaaran Da Dhabba
This place stands by its name to give you complete Dhaba feels with the seating arrangements of 'khatiya' and 'angeethi. Along with that comes a nice ambience and live music on weekends. This place serves you with some delicious food with Punjabi taste.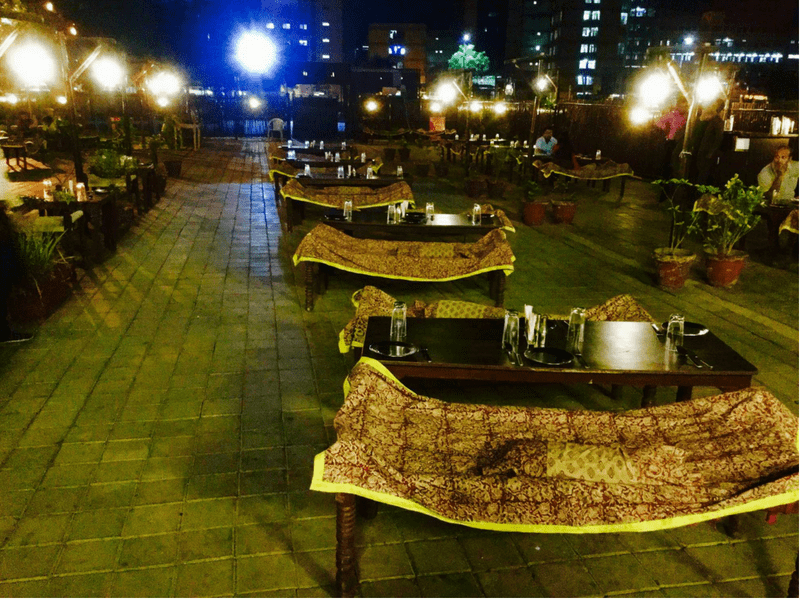 Timing: 7:00 pm to 11:00 am
Location:1.Opposite Sola Civil Hospital, S.G Highway
 2. 60/61, SOBO Center, Near Sun City, South Bopal, Ahmedabad
Best dishes: 7:00 pm to 11:00 pm
Average cost: 550 for two person
Magic chicken
Magic chicken is famous for its Arabic dishes especially AL-Faham, a grilled chicken marinated with Arabic spices and vegetables and barbequed in charcoal grill or oven. The menu here may be limited, but they don't compromise with the taste.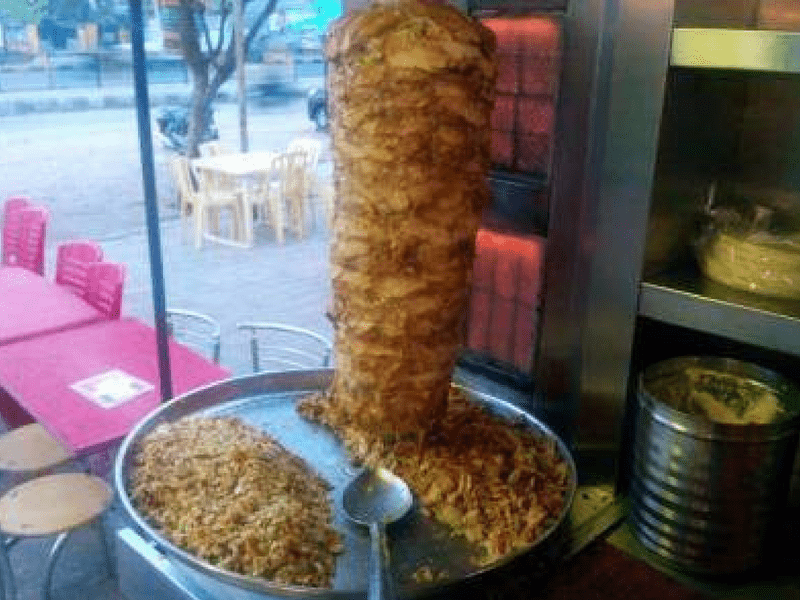 Timings: 5:00 pm to 11:00 pm
Location: Ground Floor, Regency Park, Opp. Amber Tower, Arshad Park, Ahmedabad, Gujarat 380055
Best dishes: Al-Faham, Shawarma
Average cost: 600 INR for two people
Tandoorworkz
Tandoorworkz is a place introduced after the success of their cafe sandwichworkz. Famously known for their tandoori food, both veg and non veg, they also serve some fantastic curries of the South and North India. They claim that the food they serve is prepared with organic spices without any preservatives or food colouring.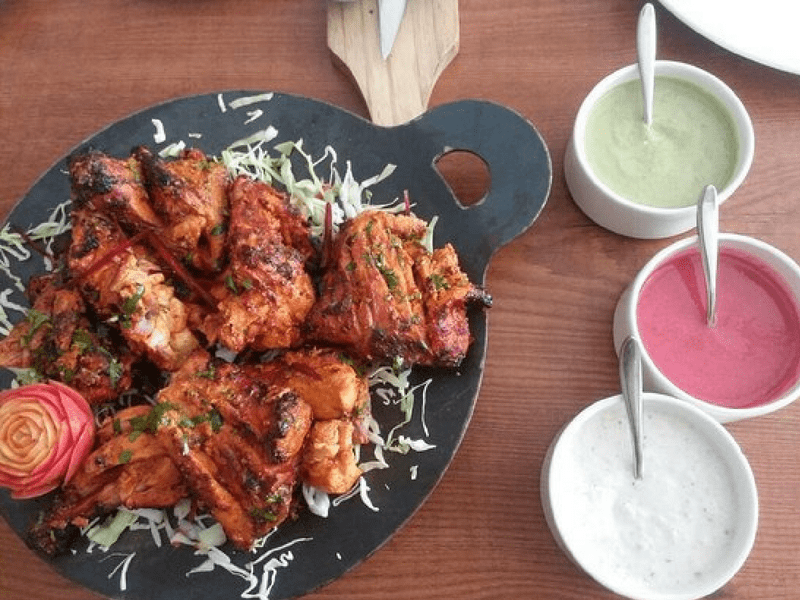 Timings: 8:30 am to 11:00 pm
Location: 7, Dev Complex, Opposite Parimal Garden Main Gate, Off CG Road, C G Road, Ahmedabad
Best dishes: Chicken Boneless Biryani, Tandoori Chicken, Mutton Seekh Kabab, Chicken Manchurian,  Butter Chicken
Average cost: 1100 for two person

These are the 12 restaurants in Ahmedabad to overcome your cravings for delicious non veg food. Do visit these restaurants and share your experiences. Also, if you have any suggestions for other places like these share them in the comment section below, we will surely try to add them up here with a mention.
We even have a list of cafes which are one of its kind click here to read  the blog: unexplored cafes in Ahmedabad