"I dream of a future where menstruation is not a curse, not a disease but a welcoming change in a girl's life".
Aditi Gupta, Menstrupedia Founder 

"This is a great creative solution to a tough cultural challenge," 
-Melinda Gates, Co-Founder – Bill & Melinda Gates Foundation
She is a TED speaker and a social entrepreneur. She and her husband, both NID Alumni, co-founded Menstrupedia in 2012. She has had the distinct honour of being on the Forbes India 30 Under 30 in 2014. She is an Economic Forum Global Shapers Alumnus. She has been featured in Time, The Wall Street Journal, Reuters, CNBC, BBC among many others. In 2018, she was named as 'Business Today Most Powerful Women in Impact'.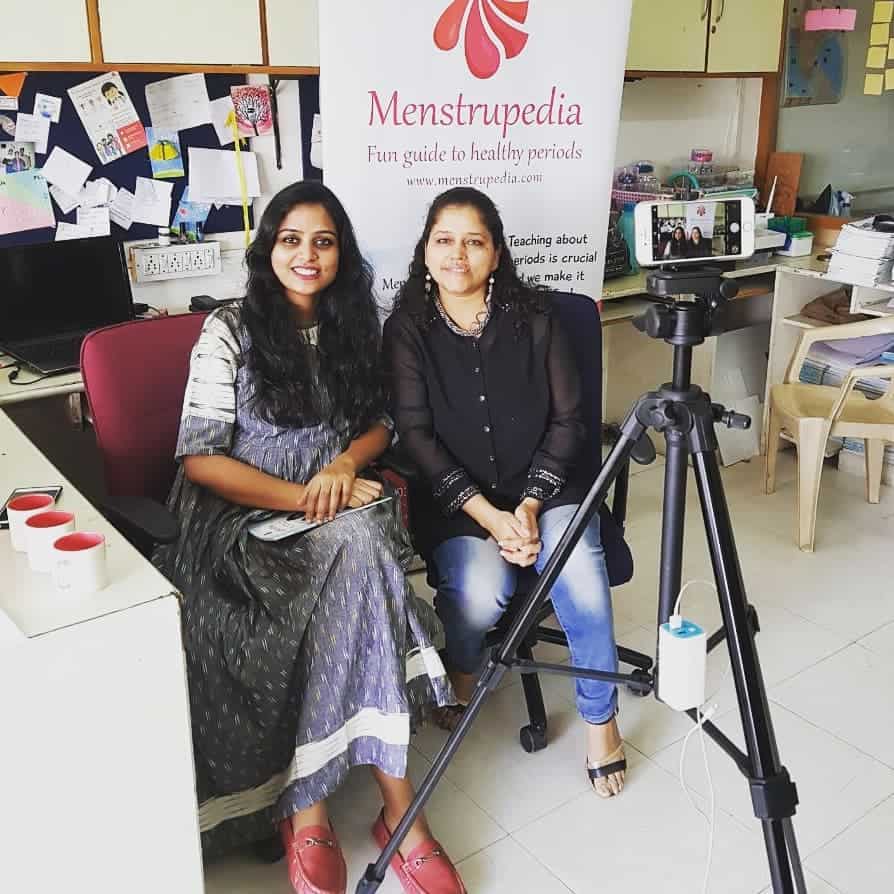 She is a doting mother of an eight-month-old toddler, Adin and a cute feline 'Mink'. Adin often accompanies his mother to her workplace. She is the ever- smiling and vivacious Aditi Gupta who is relentlessly working to break the taboo surrounding menstruation and bring about period positivity in the society. Not only her efforts are commendable but her journey is nothing short of inspirational.
Early Days of Menstrual Trauma
Born in a small town Garhwa, Jharkhand in a modest, middle-class family, Aditi had a loving and normal childhood. She was 12 years old when she got her first period but just like most of her friends, she was oblivious of the physiological reasons behind it. Even though her parents provided her with the best of the facilities, sanitary napkins were not accessible to her. She grew up in a town where everyone knew everyone and even buying of pad was considered shameful. So she would use cloth and rags during periods. For re-use the cloth needed to be washed, since periods are considered impure, the clothes using during periods needed to be stored secretly often in dark damp places so that male members of the family would not know about it. She was not allowed to touch or eat pickle, worship or sit on the sofa. Numerous other restrictions were imposed on her, which she had accepted without questioning.  After my periods would get over, I had to wash the bed sheet, whether it was stained or not. In short, I was treated as impure or polluted. I was expected to have become 'pure' only after the seventh day when I had taken a bath and washed my hair", mentions Aditi.
At the age of 15, when she took admission in a boarding school and moved to another city, she started using sanitary pads at the behest of her friends. Although approaching a chemist and asking for a sanitary napkin brand in a hushed voice, who would then wrap it in black plastic, was still a very embarrassing task. The cloth rags had gone but the restrictions were still intact.
NID Project at Ahmedabad – A Turning Point
In 2009, Aditi took admission in National Institute of Design (NID) and moved to Ahmedabad. There she met Tuhin Paul, love blossomed between the two and later married him. Aditi used to religiously follow the menstruation-related restrictions then as well but was comfortable in talking to Tuhin about them. Tuhin who knew very little about periods, in an attempt to help Aditi during her painful period cramps, would browse the internet to know more about menstruation and share his findings with her. The findings made Aditi realize how ill-informed she was about menstruation and took up a year-long project at NID to study the lack of awareness about menstruation and the root cause behind it.
The findings were a shocking revelation to her that the urban scenario was not different than the rural and even girls and women in urban areas had very little or misinformation on menstruation. She was shocked that most of the girls she spoke to, who were unaware of periods when they first had them, thought that they were suffering from blood cancer and will die soon. The girls on an average got their periods in 6th or 7th standard but the curriculum included the topic only in 8th and 9th standard and that too was generally skipped looking at the taboo and shame associated with it. She also found that although many parents and teachers wanted to educate girls about menstruation before they got them, due to lack of any proper educational material and overall embarrassment, they did not talk about it. These findings got Aditi and Tuhin thinking that what if they came out with something which could educate girls about the periods at the right age, the physiological changes their body undergoes in a fun, engaging and non-threatening way, something which could enable the parents and teachers to educate their wards and students as well.
The Initial Years of Struggle
After many iterations, they came up with the idea of a Comic Book having main characters representing girls in different phases of puberty. During the prototype testing of the comic book, they were delighted to see the response among girls who were curious to know about periods, teachers and parents who felt comfortable using the comic to educate and even many boys who took interest in the topic.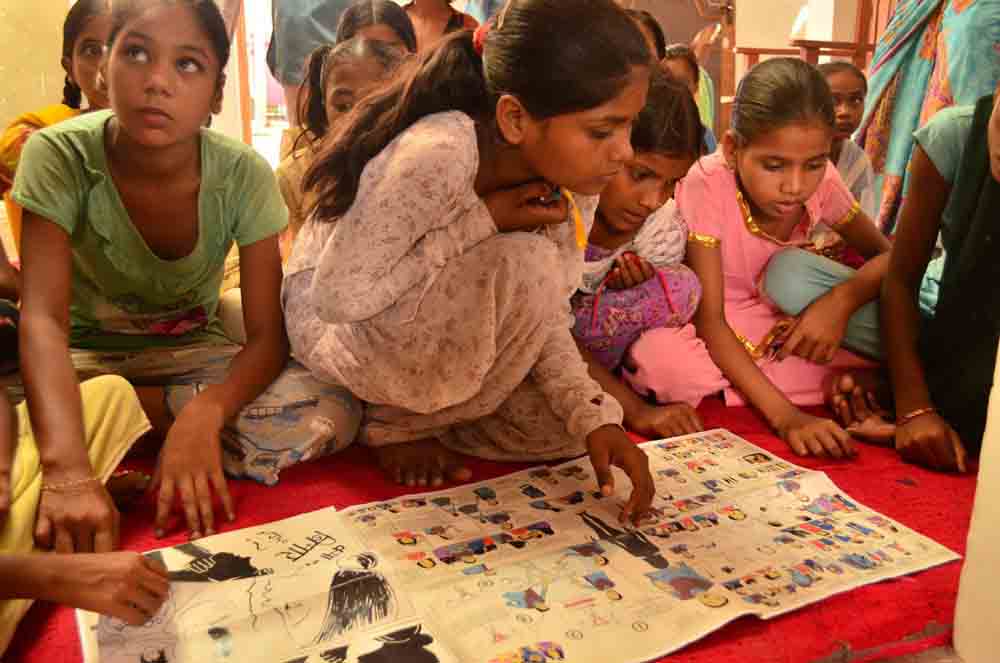 But a lack of funds, made them shelve the project and take up jobs in other companies. While her job in a company in Ahmedabad, Aditi used to talk about her project with her colleagues who encouraged her to take it up again. Around the same time, Tuhin discussed this project with his friend and classmate from engineering who had just returned from the US. He joined Tuhin and Aditi and they decided to pursue it full time. They applied for a startup accelerator program contest at IIM Ahmedabad and cleared the first round. Confident of their cause and success of their project, Aditi and Tuhin quit their jobs, cut down hugely on their expenses and shifted to a smaller flat in Ahmedabad. However, they could not clear further rounds of the contest.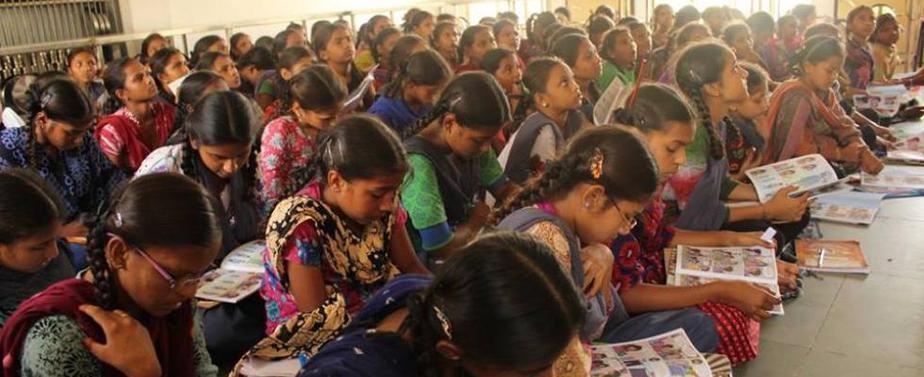 This setback did not thwart their ambitions and they were rather more determined to pursue the cause which they so much believed in. They launched their website on October 2012 and made its announcement on various social network channels. Within a month they started receiving a tremendous positive response from their website and in November their story got its first media coverage in a leading newspaper. After various phases of prototype testing and workshops in five states in India including in a Tibetian Monastery for nuns, Menstrupedia comic was launched in September 2014.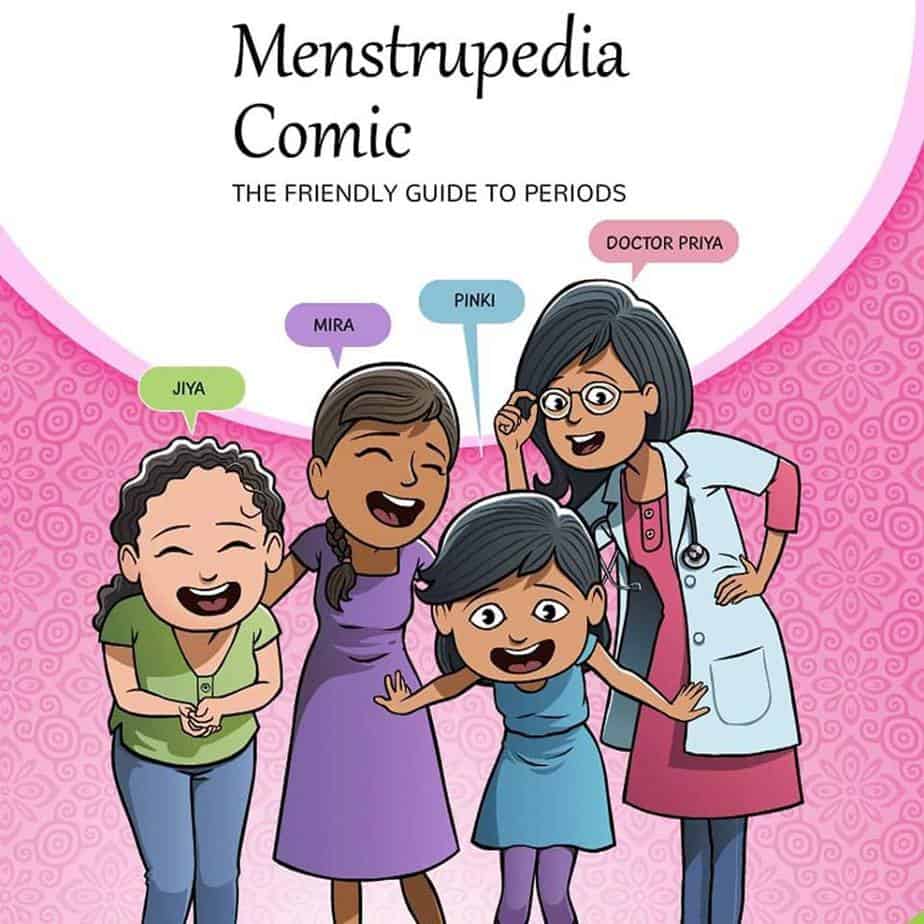 Menstrupedia Comic, a fun, colourful and accessible guide to menstruation has four main characters. Pinki, who has not got her periods yet, Jiya who gets her period during the narrative of the comic and Meera who has been getting her periods since a while but is curious about the myths surrounding them. Priya didi is a doctor who guides them about menstruation and various other aspects of puberty and growing up.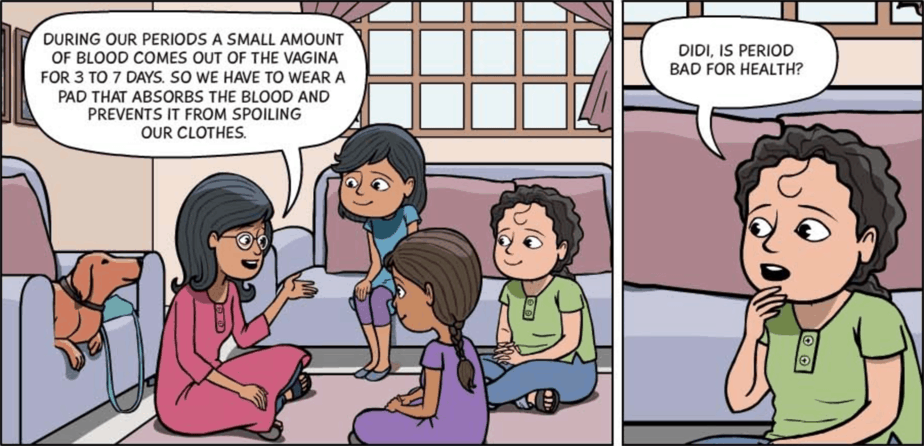 The content of the comic aimed at girls aged 9 and above was reviewed by medical professionals to ensure their accuracy. It was also ensured that the content or illustrations were not objectionable to anyone. The storyline of the book were adapted from real-life experiences so that girls reading it could relate to. Aditi mentioned, "We wanted to do it in a positive and matter-of-fact way to debunk misconceptions, and so that parents and teachers would be comfortable using it. Girls can read it and say, 'Oh, this happened to me too!'"
Soon after launch of Menstrupedia Comic, it started getting an immense response and contributed significantly to opening up the conversation on menstruation. With a website already functional, Aditi and Tuhin started their Facebook page and YouTube channel as well. Whisper, a leading sanitary napkin manufacturer approached Aditi and Tuhin about buying advertising space in the Menstrupedia Comic and become a partner.  
Aditi's TED Talk at Bangalore and her inclusion in Forbes 30 Under 30
In 2015, Aditi was invited for a TED talk at Bangalore. Her talk was so well received that at the end of it, she got a standing ovation. This talk which Aditi says is one of the most honest of her talks helped in a very substantial way to propagate Aditi's appeal and dream to millions.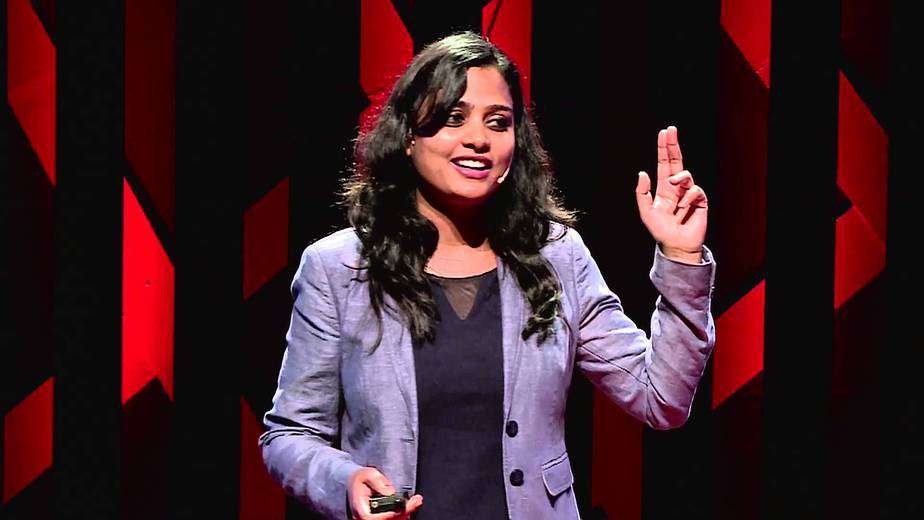 Other than TED, she has delivered numerous talks at key conferences, seminars and meet-ups which have made the world notice her work and root for the cause which she and Tuhin have dedicated themselves to.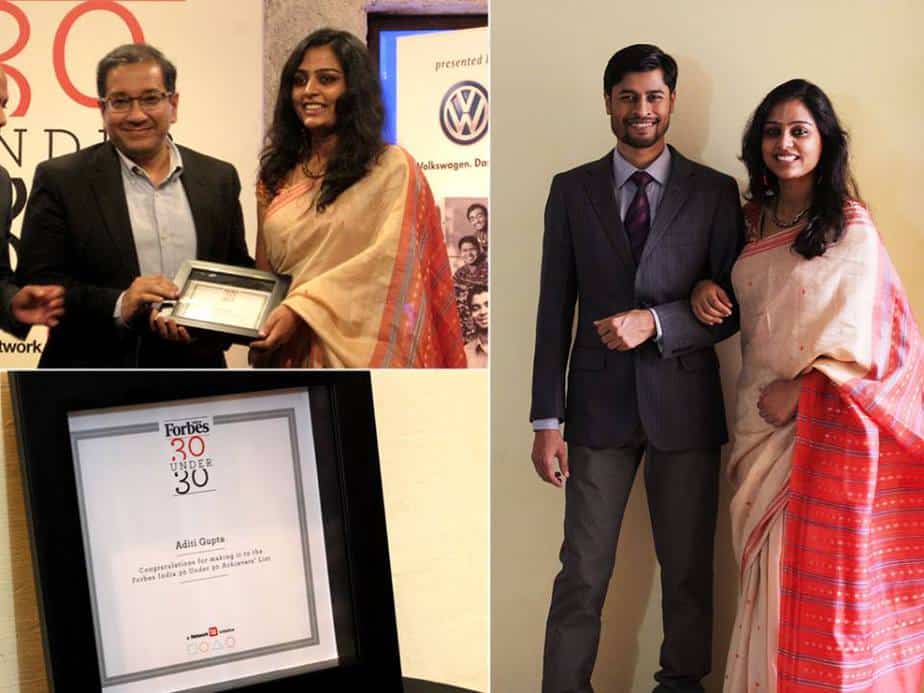 In 2014, Aditi was included in the prestigious Forbes India Under 30 ranking which for her is one of the most cherished memories.  
Menstrupedia Comic which had a humble start from a couple of schools, today is used by more than 6000 schools as a part of their school curriculum and is published in 9 Indian and 7 International languages. The Menstrupedia organization is working with five state governments namely Gujarat, Andhra Pradesh, Uttrakhand, Madhya Pradesh and Karnataka. Other than India, the book is locally printed in 5 other countries; Nepal, Uruguay, South America, China and Hungary. 'Hello Periods' video and its tutorial which is a free tool are available in 9 languages. It can be downloaded from their YouTube channel and website and any girl can take free menstrual awareness workshop.
"Our plan is to build an educational infrastructure, not only for girls but for everybody, to talk about periods in a friendly, free way. I know it's going to take decades, but eventually, I want to raise a generation of girls who are period positive when they become mothers. When they raise their own girls, period taboos would just vanish from that generation — they wouldn't even know such a taboo existed", hopes Aditi.
The Best Is Yet to Come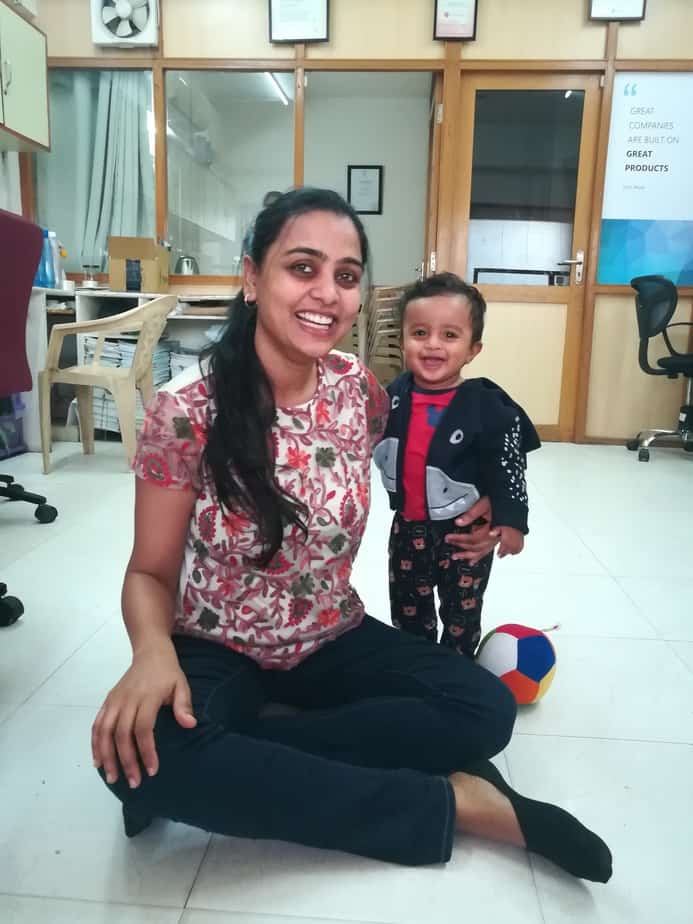 Buoyed by the success of Menstrupedia and the social change it is slowly but steadily bringing in the society, Aditi and Tuhin are now working on yet another topic on 'Boy's Puberty'. I would love to assume that the topic could have been inspired with a recent addition in their family, the cute little 'Adin' who is eight months old and loves coming to work with his parents!