About Vibrant Gujarat Summit
Vibrant Gujarat Global Summit is a place where innovators, entrepreneurs and even business tycoons from across the world meet and interact. It also brings excellent networking opportunities, chance to connect with many people like Thought Leaders, Academicians and Researchers, Youth icons and motivators, chambers of commerce and Industry Associations, Venture Capitalists, PE Investors and Angel Funds, Innovators, Entrepreneurs and Tinkerers. Most importantly you even get a chance to meet and listen to the speech of Hon'ble Prime Minister of India and his core team, even Hon'ble Chief Minister of Gujarat and Hon'ble Deputy Chief Minister of Gujarat.
Vibrant Gujarat Global Summit was initiated in the year 2003 by Hon'ble Prime Minister of India Mr Narendra Modi when he was the chief minister of Gujarat State. The aim to start the vibrant Gujarat summit was to establish Gujarat as an investment destination within India.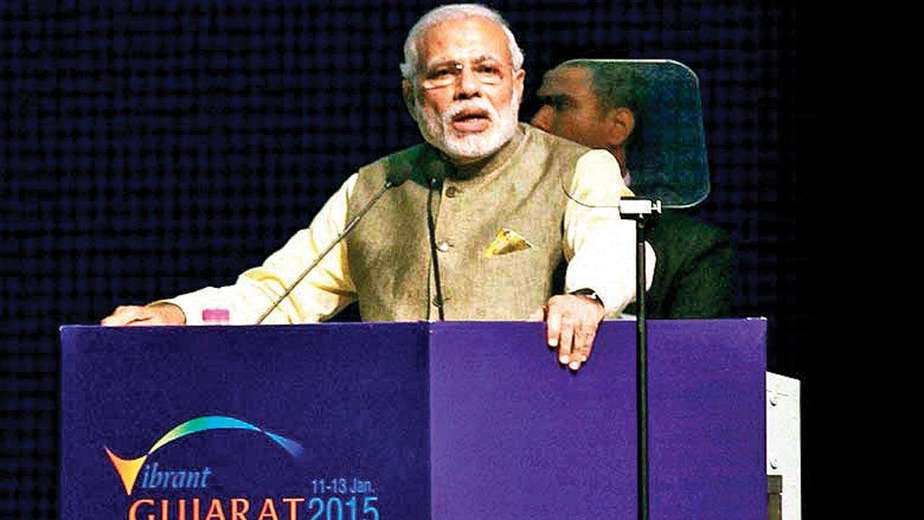 (Vibrant Gujarat Summit 2015, 7th edition)
Vibrant Gujarat Summit 2019
Vibrant Gujarat Global Summit 2019 is the 9th edition of the grand event. The theme for this year's summit is 'Shaping the new India'. The event will take place at Mahatma Mandir Gandhinagar. It is four days event which is starting from 17th January 2019 till 20th January.
The Summit has been evolved a lot since 2003, and the best example for it is the 8th Vibrant Gujarat Global Summit, held in January 2017, witnessed participation from 25,000+ delegates from 100+ countries, including 4 Heads of States, Nobel Laureates, Captains of global industry and Thought Leaders.
(Vibrant Gujarat Summit 2015, 7th edition)
Vibrant Gujarat Trade Show
The Vibrant Gujarat Trade show 2019 will be inaugurated on 17th January. Initial three days will be reserved for visits by the participants and invitees, general public visit for VGTS 2019 will start from 20th January.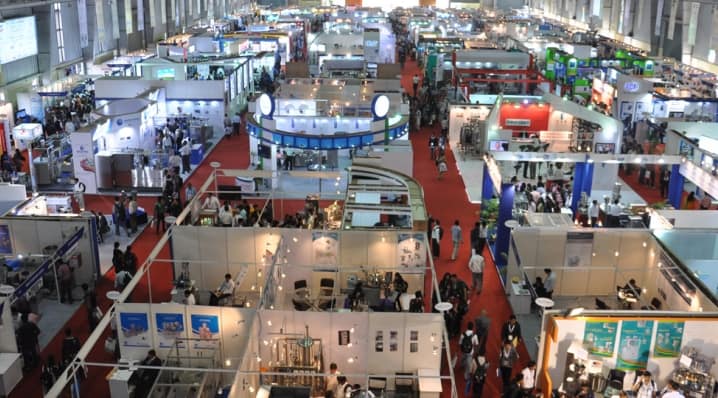 Vibrant gujarat trade show 2017
Vibrant Gujarat Trade Show 2019 is expected to witness more than 1.5 million visitors and around 3000 delegates from over 100 countries.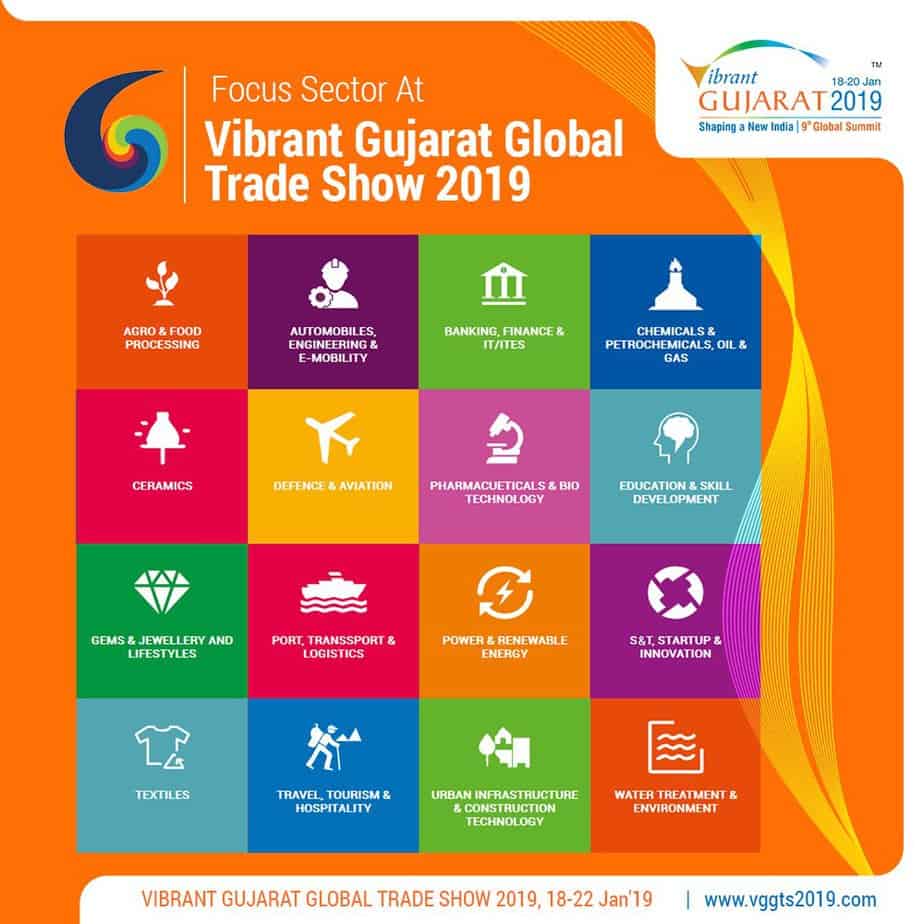 picture Source: deshgujarat.com
Schedule and Location
Vibrant Gujarat Global Summit 2019 is four days event, i.e. from 17th January to 20th January. The venue is Mahatma Mandir Gandhinagar.
Here is the curated list of all the Seminars, Exhibition, Speeches and discussions which will be taking place at Vibrant Gujarat summit 2019.
Day-1

17 January 2019

Day-2

18 January 2019

Day-3

19 January 2019

Day-4

20 January 2019

Roundtable for Opportunities in Science, Technology, Engineering and Mathematics (STEM) Education & Research in India
Inaugural Session
Vibrant Gujarat: Africa Day
Repositioning Indian Talent Pool on a Global Frontier
Exhibition on Futuristic Technologies and Space Exploration
B2B / B2G meetings
Global Conclave of International Chambers
Renewable Energy – Opportunities in Gujarat and India
International Conference on Science, Technology, Engineering and Mathematics (STEM)
Seminar on Make in India
International Solar Alliance (ISA) Forum
Sustainable Technology Driven Agriculture for New India
Inaugural of Vibrant Gujarat Global Trade Show
Port Led Development & Strategies to establish India as the Transshipment Hub of Asia
Germany & Gujarat – Partners in Growth
Textile Conclave – Exploring growth potential of Textile for Building New India
GIFT International Financial Services Centre: A New Financial Gateway of India
Taiwan External Trade Development Council (TAITRA) Seminar
Global Conclave of International Chambers

Australia Country Seminar
Denmark Country Seminar
Japan Country Seminar
Uzbekistan Country Seminar
Netherlands Country Seminar
US-India Business Council (USIBC) Seminar
Thailand Country Seminar
Czech Republic Country Seminar
UAE Country Seminar
South Korea Country Seminar
Malta Country Seminar

France Country Seminar
Poland Country Seminar
US – India Strategic Partnership Forum (USISPF) Seminar
Himachal Pradesh State Seminar
Norway Country Seminar
Karnataka State Seminar
Punjab State Seminar
South Africa Country Seminar
Morocco Country Seminar
Andhra Pradesh State Seminar
Canada: Your Startup Gateway
Odisha State Seminar
Singapore India Chamber of Commerce and Industry (SICCI) Seminar

Haryana State Seminar
Opportunities for Defence & Aeronautics in Gujarat
B2B / B2G Meetings
Valedictory Session
Global Investors Roundtable Interaction with Sovereign Wealth Funds, Pension Funds and Institutional Investors
Seminar on Bilateral Trade (Trade & Exports)
Free State of Bavaria (Germany) – Gateway to European Market and Innovation
Shaping a New Paradigm in Medical & Pharma Services
Mobility Led Urban Development
MSME Convention
Economic and Investment Potential of Tyumen Region (Russia)
The Special Economic Zone at Duqm (Oman)
Vibrant Gujarat 2019 Partner Countries
The 9th edition of Vibrant Gujarat, Vibrant Gujarat Globa summit 2019 will witness 16 countries this time, which is the highest number so far. At the 8th edition of Vibrant Gujarat, i.e. 2017, 12 countries participated. Countries like South Africa, Australia, South Korea, Uzbekistan, Czech Republic, Morocco are contributing for the first time.
The government informed that a separate pavilion of the partner country will be created at vibrant Gujarat Tradeshow. This year summit includes Africa Day for the first which will be attended by government and business delegation of African countries.

Here is the list of the 16 countries which will partner the Vibrant Gujarat Global Summit 2019.
Australia

Japan

Morocco

Canada
Norway
France
Poland
South Korea
South Africa
Denmark
Thailand
Netherlands
Czech Republic
Thailand
Uzbekistan
UAE
How to Register for Vibrant Gujarat Summit
Participation in Vibrant Gujarat Summit 2019 is by invitation only. However, you can proceed for registration without an invitation code and request for participation via following links. On successful submission of a registration request, it will be approved or declined as per the discretion of the concerned department.