Lucky restaurant in Ahmedabad is one of the unique restaurants where you get the chance to dine with the dead. This restaurant has evolved from the cemetery (kabristan). Rather than dislodging the graves to make a way for his restaurant, owner Krishnan Kutti decided not to remove them and instead made sitting arrangements for his restaurant by setting tables at the space available between the graves (kabars).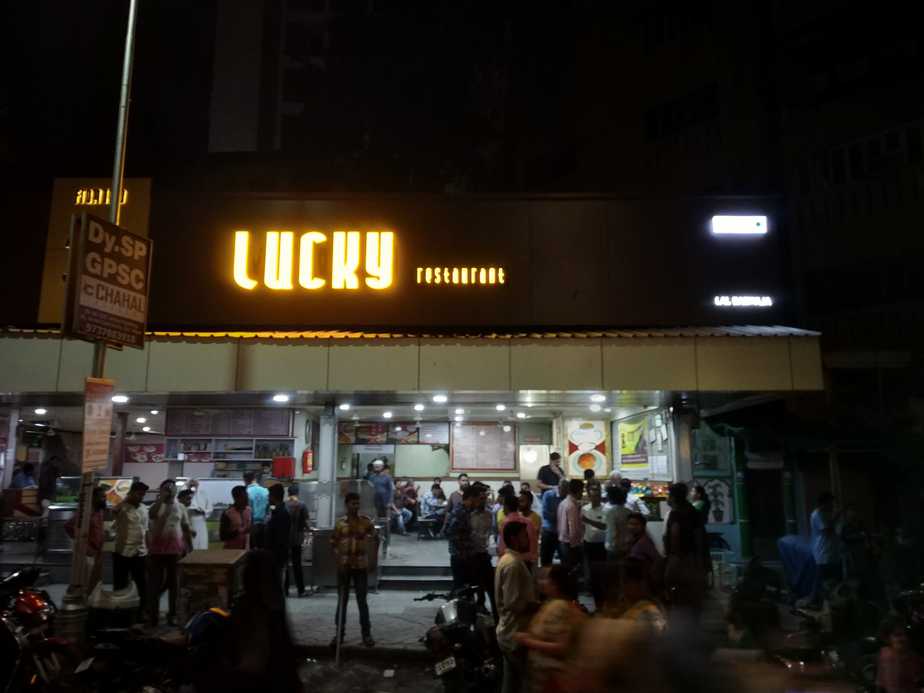 Most of the time dead people are related to "Ghosts" and "Evil Spirits", Places related to dead people are often refer as gloomy, ill-fated and at times "Unlucky" but the New Lucky Restaurant in Ahmedabad will surprise you. It consists of 26 graves in total. Ghostly right! But this doesn't bother the customers coming to this place, they spend long hours in the restaurant and dine with the deads.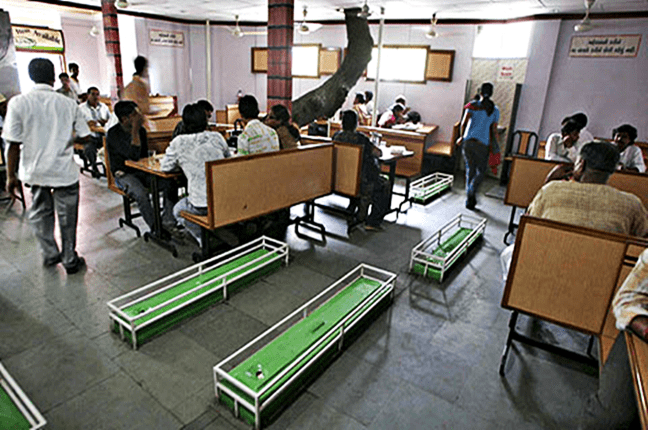 So what is the secret behind the popularity of this non-traditional restaurant in Ahmedabad?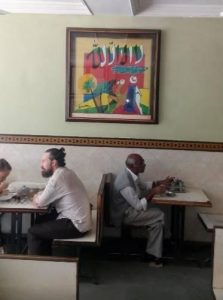 After the independence, when unoccupied plots were joined with the city for the development, an ancient graveyard was bought by two young men – K.H.Mohammad and Krishnan Kutti Nair. They established a tea stall outside the cemetery. They used to sell tea and creamy buns commonly known as "maska buns". Over a short time their masala tea became quite well-known, and soon they had to build a structure with a tree shooting up in the roof through a hole to serve the increasing number of customers with delicacies along with tea and maska bun.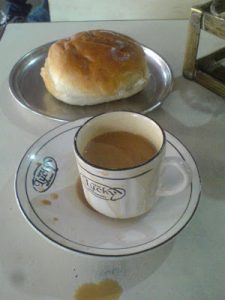 The popularity of the restaurant was due to the "Masala Tea" served with a signature twist of cocoa powder added to the tea. The combination of masala tea with Maska bun became the star of this place. The growing popularity of lucky restaurant even brought some celebrity visitors. Renowned painter M.F.Husain was one of them, a friend of the late owner Mr Mohammad. He made a painting while having tea and Maska bun at the restaurant which still holds its place on the wall of the world's first graveyard cafe.
Initially, the locals of Ahmedabad did not welcome the idea of having the grave in the restaurant, but when they acknowledged the fact that these graves are not of any ordinary people but it holds some holy saints of 19th-century inside them, the taboo phased out. Each morning the graves are cleaned and Poured with freshly flowers to respect their soul.
The world's first cafe made around the cemetery "Lucky restaurant" of Ahmedabad is a small cafe build around graves and coffins but the speedy service will not make you wait long. The cafe was even showcased in one of the episodes of "OMG-Yeh Mera India", a tv show on the historytv18 channel. This innovative theme of dining with the dead is appreciated worldwide.
Lucky Restaurant Ahmedabad Address:Opposite City College, Lal Darwaza, Ahmedabad, Gujarat 380001