There is something new which looks old and feels new in Ahmedabad. It is also something old which looks fresh and feels familiar. The Law Garden Khau Gali returns with a complete revamp as Happy Street Ahmedabad. The old is new and new is old. It seems confusing, at the same time, it tastes nostalgic.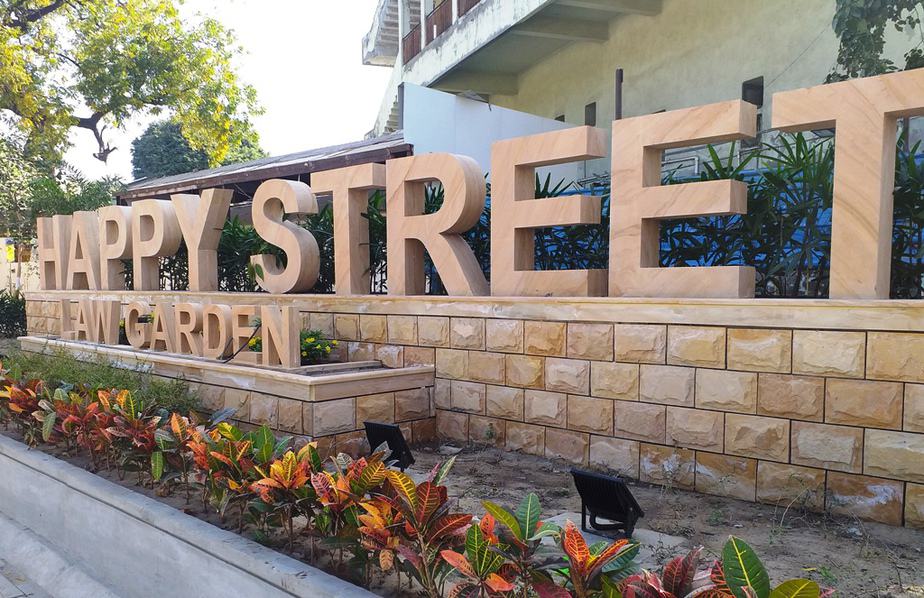 There are several food truck parks in the city to tickle your taste buds. Many of you know that Law Garden Khau Gali has been rechristened as 'Happy Street'. Every time we see good food or think of food or even hear of food; a smile emerges on our face. Food makes us smile and good food makes us the happiest.  Hence "Happy Street".
About Happy Street Ahmedabad
Happy Street transcends the conventional expectations of a typical food street which is commonly envisioned as an avenue featuring a string of food trucks. This remarkable place brings the nostalgic charm of the historic city to the modern sections of western Ahmedabad in a unique and captivating way.
The aura of Happy Street is heightened by the stunning architecture that adorns its landscape. The novelty of this place lies in its ancient-looking walls, carved meticulously, reminiscent of a bygone era. These fortified structures, combined with tastefully positioned, glamorous lighting, significantly enhance the heritage ambiance. The very walls are an exhibition of the legendary craftsmanship from Jaipur, formed with the revered Jaipuri Patthar. Their detailed illustrations portray the renowned emblem of Ahmedabad – the majestic Teen Darwaza.
The transformation of Happy Street has left everyone spellbound. It has undergone a sweeping makeover from a place once dotted with ordinary tables and plastic chairs to a vibrant, enchanting street illuminated by festive lights and guarded by heritage-inspired walls. Previously, nighttime navigation was a struggle for many, but with the addition of separate lanes dedicated to cyclists and pedestrians, the area has become easily accessible and safer for everyone.
Happy Street is far from being just an ordinary food street. It embodies an innovative fusion of culture, history, and urban planning – a remarkable work of art in itself. This aspect of it is something that Ahmedabad had never been familiar with until now.
The new, upgraded Happy Street, boasting dimensions of 325 meters in length and 26.5 meters in width, is the brainchild of the ingenious minds at the National Institute of Design (NID). This sprawling place of interest, which cost a whopping Rs 8.50 crore to bring to life, was inaugurated by Chief Minister Vijay Rupani on February 7, 2020. The innovative concept of Happy Street is attributed to the visionary foresight of the former Municipal Commissioner, Vijay Nehra, who spearheaded the project.
The Happy street was a hit among Amdavadis. The very day it was inaugurated both people and traffic moved at a snail's pace. Since Happy Street saw a humongous crowd, it created bottleneck traffic. Taking into consideration the suggestions of Amdavadis, former AMC Chief, Vijay Nehra has put forward a request to the Standing Committee, to declare it a no-vehicle zone. The decision on the same is still pending.
Happy Street is not just about food. If you plan to visit Happy Street, make sure your phone battery is full because with such a beautiful ambience, who wouldn't want to take tons of pictures? Not to forget scrumptious food photos!
Your go-to place for morning walks and street food in the evening is all sorted. It is an open street with food trucks coming in only by 6 pm. The street is open for parking till evening. Space is only taken up by food vans from 6 pm till midnight.
Your taste buds will be satisfied with a variety of cuisine items ranging from desserts to chats to Gujarati dishes to junk food.
Parking space
A concern which tops any Amdavadi's list is parking. The corporation has tried its best to take care of it.
Parking capacity during the day: 402 two-wheelers and 61-four wheelers
Parking capacity in the evening: 148 two-wheelers and 61-four wheelers
Things to note:
Free parking 5 am to 8:30 am
Paid parking 8:30 am to 4 pm (office hours)
Premium parking 4 pm to 5 am
You can also have a joyride on Yulu bikes which can be rented from the spot.
History of Law Garden Khau Gali
The origins of the now vibrant and lively Happy Street, previously known as Law Garden Khau Gali, can be traced back to August 17, 1979. Initially, this location was a humble spot where the city had rented out spaces to 35 vendors at a nominal yearly fee of Rs 900. As the years rolled on, these vendors, with the backing of police permissions, began serving the food enthusiasts of Ahmedabad from 5 pm to 12:30 am. During the festive seasons, the business hours were extended till 2 am, adding to the cheer and vibrant atmosphere.
However, in August 2018, this bustling food street came under the hammer of the Ahmedabad Municipal Corporation (AMC). As a part of a strategic traffic management and demolition drive, the beloved Law Garden Khau Gali was leveled. The eviction triggered a wave of protests and outcry from the 36 displaced vendors, many of whom had been trading there for decades. They were an integral part of the area's community and culture. Consequently, two petitions were lodged in the court, challenging the displacement of these street vendors.
Despite the turbulence, it's worth noting that the iconic Law Garden Khau Gali had been the nurturing ground for several famous food joints that now have a citywide reputation. Establishments like Honest, the renowned fast food restaurant, Asharfi Kulfi, known for its delectable Indian ice-cream, and Shakar Ice-Cream, began their culinary journey from the very heart of Law Garden Khau Gali. These places are now an indelible part of Ahmedabad's gastronomic landscape.
Places worth visiting near Happy Street
Law Garden Night market
"Ahmedabad aaye aur Law Garden night market nahi dekha to kuch nahi dekha!" Law Garden night market is of the must-visits by tourists which are world-famous for its array of Chaniya cholis and traditional jewellery. Ensure to sharpen your bargaining skills before shopping here.
Law Garden
If you want to be away from the traffic snarls and staunch smell from the food joints, Law Garden would be the best place to sit and relax.
Dining options
If you are not a fan of street food, worry not, you can still relish at the great dining options available nearby. The options include New Freezeland, Swati Snacks, Shankar's Ice Cream, Choice and many others to relish good food.
Chitibang Chitibang
It may be a task to convince your kids to explore a street, but when there is Chitibang Chitibang, it will be less of a worry. It is a children amusement park with more than 60 rides and games like battery-operated cars, video games, kiddy rides, skill games, bungee trampoline and indoor rock
climbing to name a few. This was every 90's kids favourite place while savouring a tub of flavoured popcorn.
Law Garden trivia
When you visit Happy Street next, do not miss out on spotting the 1948 vintage fire hydrant that is still standing strong.
Hint: You will find it on the stretch of the Law Garden night market.
Source: Nitin Sangwan
*Pictures of Happy Street sourced from Twitter
Bon appétit!