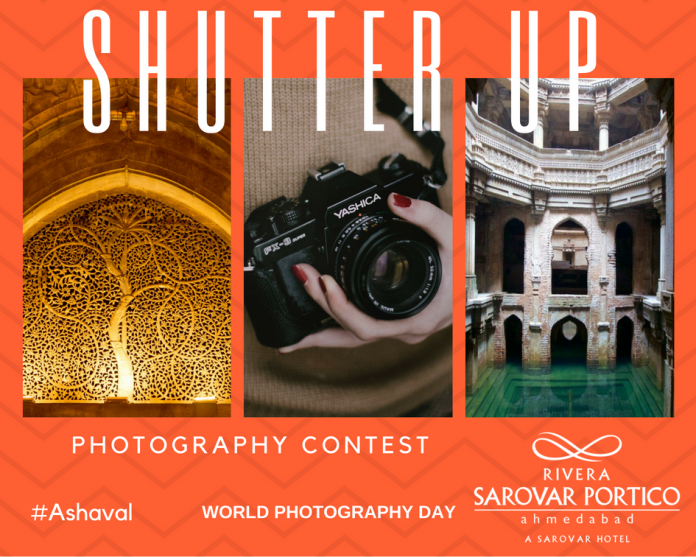 Hello Amdavadis, do you love photography or simply enjoy clicking photos of the places around you? Here we are, along with Hotel Sarovar Portico, celebrating World Photography day on 19th  August by an Instagram photography contest  "Shutter Up".
Don't worry! You don't have to be a professional photographer for this. All you have to do is:
Step 1: Click a picture that represents Ahmedabad & it's culture
Step 2: Follow us on Instagram @helloashaval
Step 3: Post the click on your page & "CAPTION IT"
Step 4: Tag @helloashaval in the picture. Add hashtags #Ashaval & #Shutterup
Step 5: TADA! You're done.
Isn't that simple? The top three winners will get free dinner buffet passes from Hotel Sarovar Portico.
Hotel Sarovar Portico, located at Bhavna college Road, is recognized for its spirit to serve and commitment to distinctiveness, which assures better guest satisfaction. The restaurant named River view of Sarovar hotel has amazing food options serving you authentic continental, North-Indian and Chinese cuisine.
Shutter up is a 6 days long contest, starting from 14th to 19th August and is for all the age groups. The winners will be announced soon after the contest. The best click with the best caption will be selected. And friends don't forget these #Ashaval #ShutterUp.
We live in a beautiful city, a city full of joy where each festival and occasion is celebrated to the fullest. Let's celebrate this too. So Amdavadis, what are you waiting for? Get ready with your phone or a camera and capture the best picture of your city and tells us its story in one caption. 🙂
Terms and Condition for #ShutterUp
Follow us @helloashaval on Instagram

Click a picture that represents Ahmedabad & it's culture
Post it on Instagram & caption it
Tag us @helloashaval

Use hashtags #Ashaval and #ShutterUp

Photos can be anything which represents "Ahmedabad"

Only original self taken photos are allowed (editing is allowed too)

No photos will be accepted if taken from Google



Let's get going Ahmedabad!