Enthralling view of Ahmedabad city clubbed with delectable food in the open under the stars. What else do you need? Enjoy the view of Sabarmati Riverfront, busy roads, Ahmedabad's skyline at these 15+ rooftop restaurants and cafes. If you are a sucker for a good view and good food, then these rooftop cafes and restaurants in Ahmedabad are a must-visit.
List of Rooftop Cafes and Restaurants in Ahmedabad
Veranda – a Rooftop Restro Cafe

This newbie in town has already garnered enough foodie fans! And did you know the Veranda Cafe was opened during the pandemic? You need not go in search of places to enjoy the sight of the setting sun. You can have one from Veranda cafe. Relish your favourite food with a wide seating option. Live music, a dedicated balcony bar, live screening, games and amazing food, if you love the beauty of nature, Veranda is your go-to-place. It is the perfect place to celebrate the occasion of any kind and we are sure the view won't disappoint.
Cost for two: Rs 800
Address: 407, Sun Avenue One, Shyamal Manekbaug Road, Satellite, Ahmedabad – 380015
Contact details: 08511956574
Makeba – The Lounge Cafe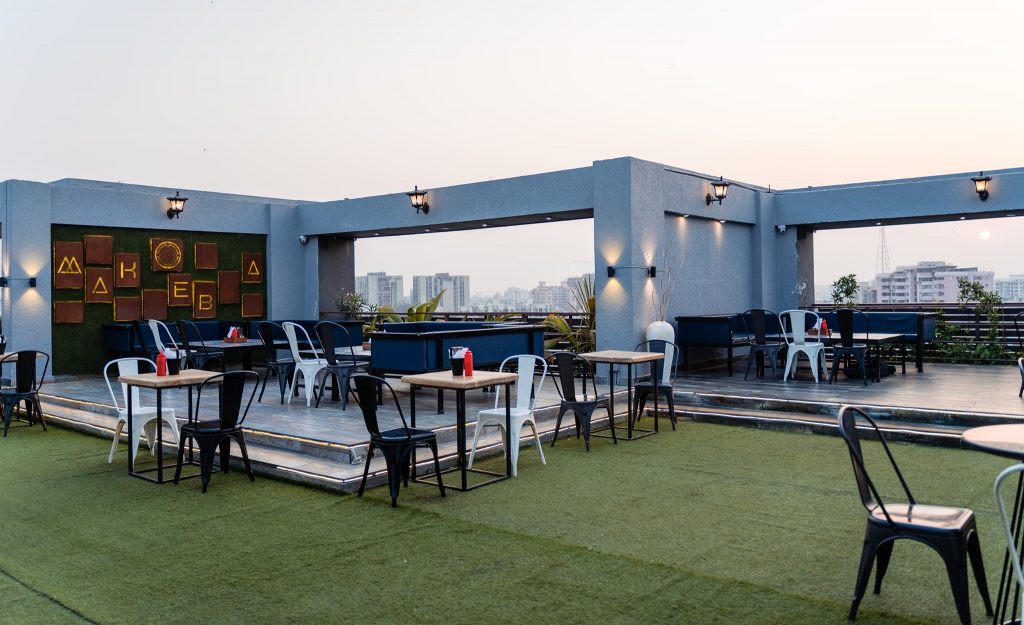 With the breathtaking view of Ahmedabad from the 8th floor, you can have a ball of a time with your bunch of friends or can hold work meet-ups. This place with the already socially distanced seating is suitable even for professional meet-ups. Non-veg food here is to die for!
The popular dishes at Makeba you can savour include, Mexican rice, Spaghetti pasta, Kit Kat Shake, Ginger Tea and Hot Chocolate. The breezy atmosphere and quintessential ambience will set your mood right. The seating at Makeba is chic and beautiful.
Apart from satiating our taste buds, Makeba has also started delivering Covid Meal Box (Quarantine Tiffin) in these difficult times.
Craving for non-veg food? Click here to know about the best non-veg restaurants in Ahmedabad!
Cost for two: Rs 1000
Address: 8th floor, 3rd Eye Vision, IIM Road, Above Maruti Nexa Showroom, Panjra Pol, University area, Ahmedabad 38009
Contact details: +9174900-44477, +919033461923
VariTEA Lounge and Terrace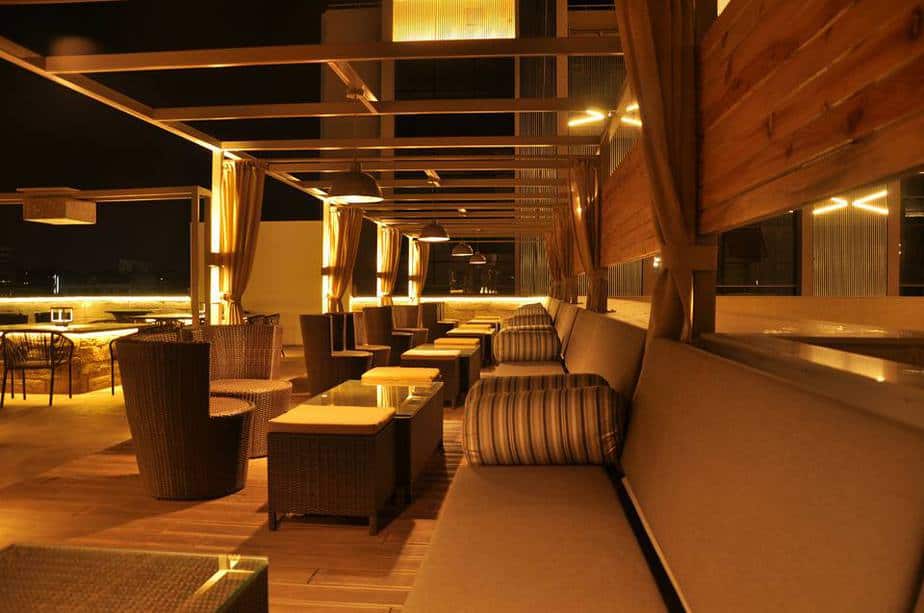 Enjoy a sip of your desi masala chai or a Rose Oolong tea and inseparable maska bun at the VarieTEA Lounge and Terrace cafe. From here you will get the oh-so-amazing view of one of the prime locations of Ahmedabad: Sindhu Bhavan-Pakwaan crossroads. This place offers a delectable food menu and it also boasts a menu with tea from across the globe that you may not even have heard of. Relish cheese fondue, pesto pasta, chai, hot chocolate and sizzlers at the rooftop cafe.
Cost for two: Rs 700
Address: 403/404, Shilp Aaron, Opp. Armeida, Sindhu Bhavan Road, Ahmedabd 380059
Contact details: 09512184440
Sphere Lounge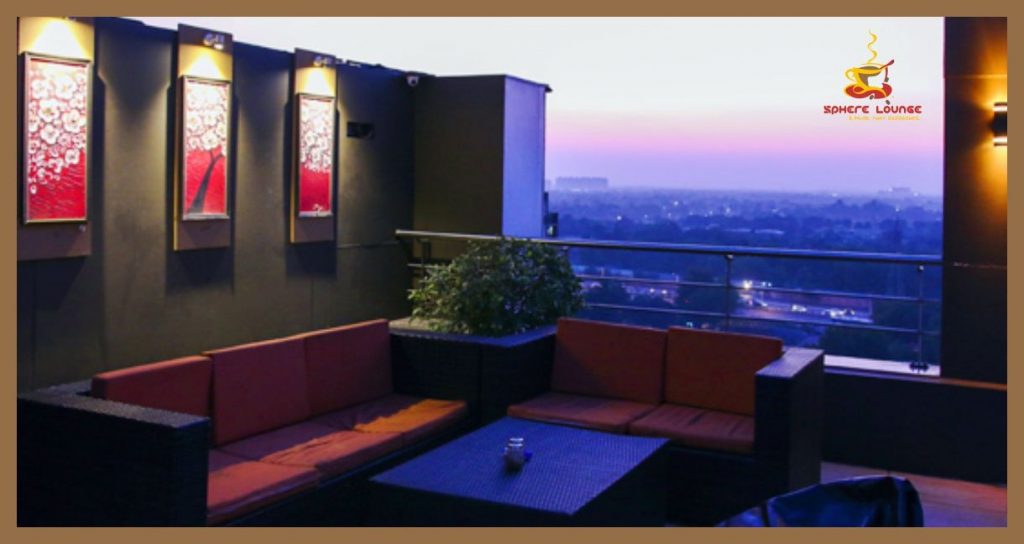 Gazing at the twinkling stars satiate your food cravings at the Sphere Lounge in Hotel Ramada and also at the University branch of the lounge. Witness the spectacular view of the city and also the Gujarat University main tower from the 13th floor of the Sphere Lounge at the University branch. The specialities of the lounge are Barbeque Pizza, mixed sauce pasta, Irish Coffee and mocktails.
It has three branches, two of which are rooftop cafes: Prahladnagar and University. Located on the 13th floor at 148 ft high in the University area, the Sphere Lounge offers the best view possible. The University branch Sphere Lounge is the highest rooftop cafe in the city and in Gujarat.
Cost for two: Rs 1,200
Address:
University branch: 13 Floor, Rooftop, Addor Aspire, University to Panjrapole Road, Near Jhanvi Restaurant, Ambawadi, Ahmedabad – 380006
Contact details: 079-48425001, 09574001411
Prahladnagar branch: Hotel Ramada, Opp Prahladnagar Garden, Prahladnagar, Ahmedabad – 380015
Contact details: 09428909644
Three Quarter Indian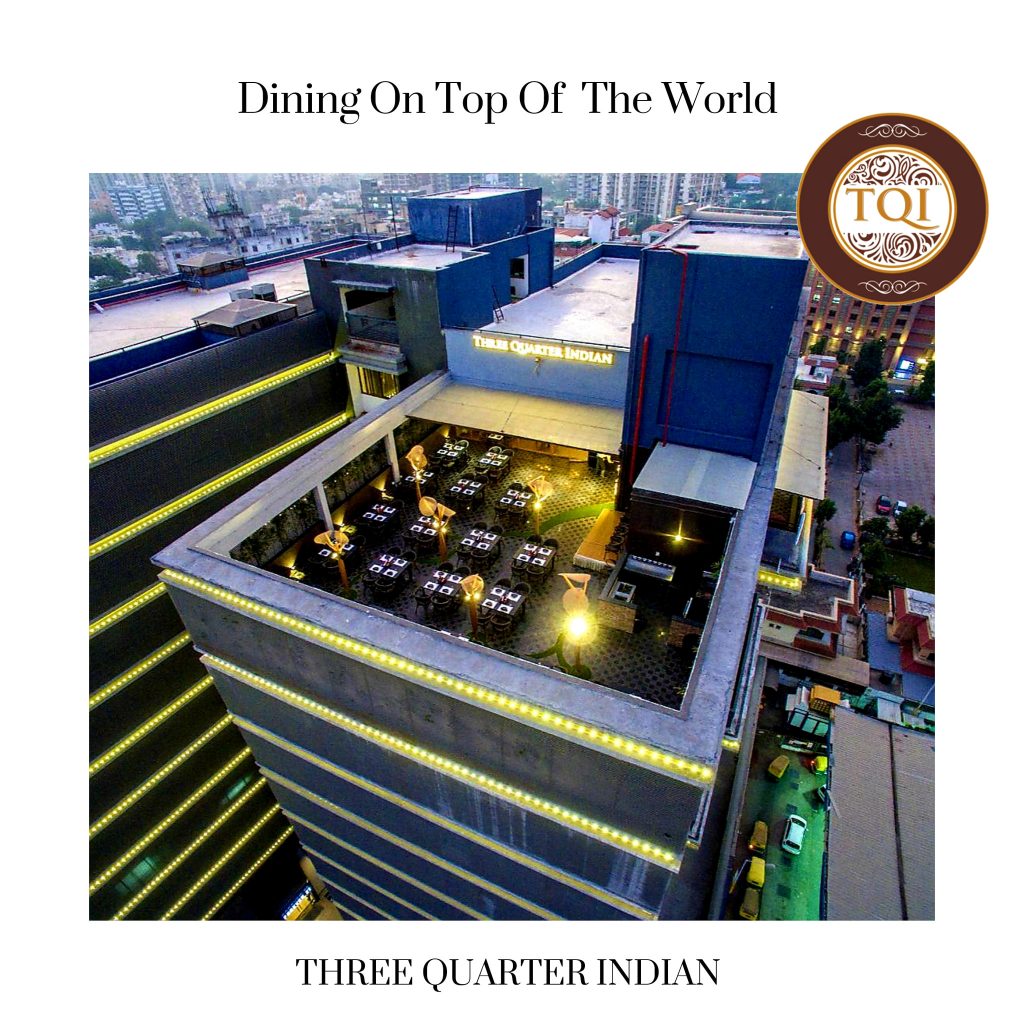 The Three Quarter Indian is the latest upmarket and newly opened restaurant in Ahmedabad. Bedazzled by the amazing view and live music every Friday at the Three Quarter Indian. Apart from savouring the most delectable dishes at the Three Indian Quarter, you can also opt for the Chef-on-call when you are hosting a party or gathering. The views from the 11th floor will definitely be surreal.
Cost for two: Rs 1,000
Address: B Wing – 1101, 11th Floor, Vivan Square, Jodhpur Cross roads, Satellite, Ahmedabad 380015
Contact details: 09099484950
@Nine – The Fern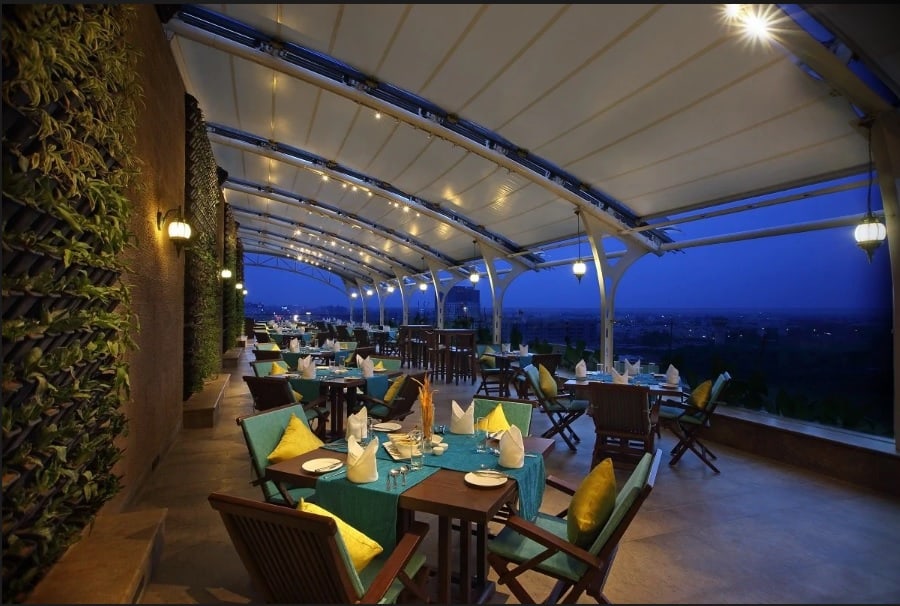 Located at a prime location, @Nine on the ninth floor gives the perfect rooftop view of the city. The open-air and oh-so-amazing ambience will make you visit this place again and again. You can satisfy your hunger pangs with these most-loved dishes, Brochette, Greek wrap, chicken steak and chocolate ganache. This is an excellent place to take your partner who cherishes stunning views. The rooftop cafe is open on all three sides, thus offering an amazing view.
Cost for two: Rs 2,000
Address: The Fern – an Ecotel Hotel, Near Sola Overbridge, SG Highway, Ahmedabad – 380054
Contact details: 079-71001001
Earthen Oven – Fortune Landmark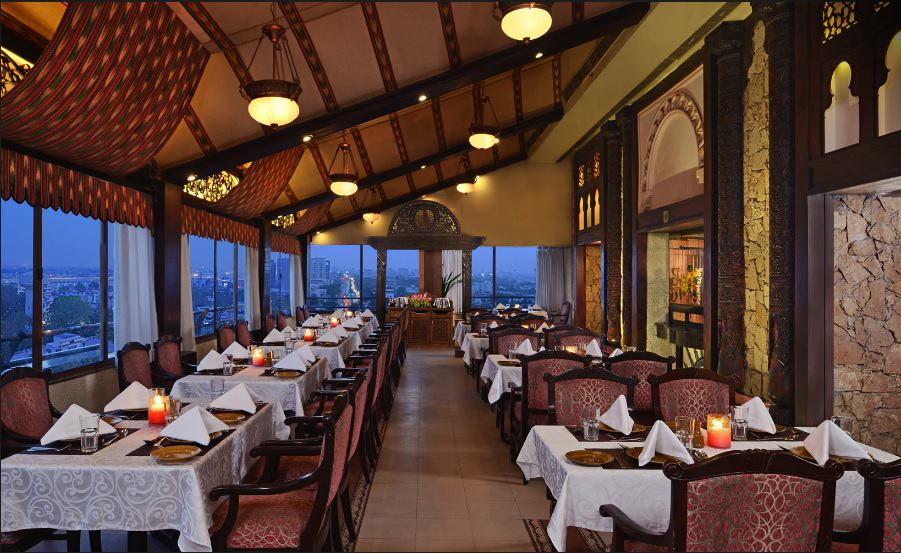 Experience serenity right in the middle of the city with finger-licking food and mesmerizing view of the Sabarmati Riverfront. Glass windows make it all the more beautiful and the view is a feast for the eyes. Earthen Oven is known for Kebabs and Biryani and the food will directly take you to Northern India. Not literally! But non-veg and seafood here are to die for! Do not miss trying out the dessert while you enjoy the cityscape. 
Cost for two: Rs 1,600
Address: Fortune Landmark, Ashram Road, Ahmedabad – 380013
Contact details: 079-66824444
SKYZ Restaurant and Banquet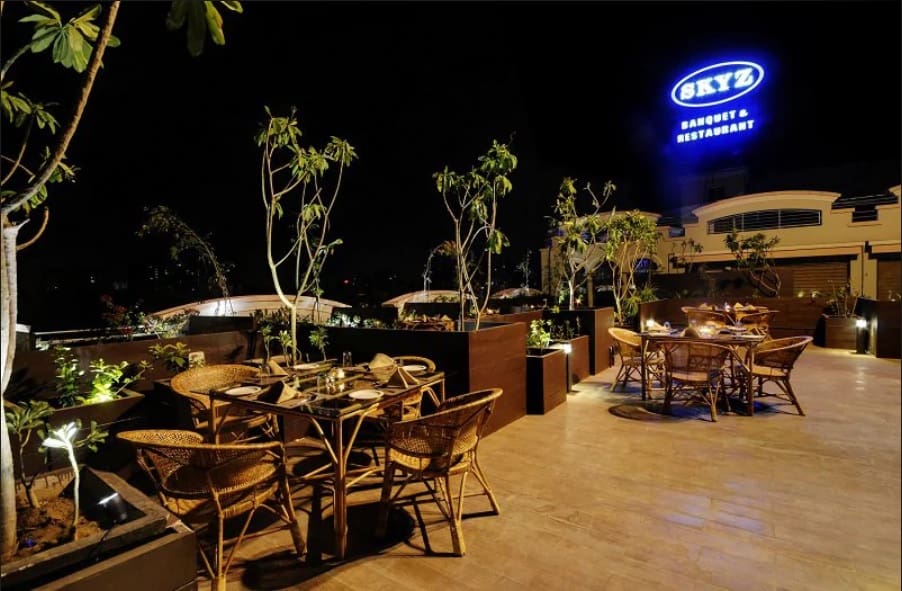 At SKYZ you have the option to choose from: indoor and outdoor seating. Karari Roomali Roti is a must-try along with Jalapeno Cheese balls, mouth-watering starter Galouti Kebabs and different varieties of pasta. Enjoy dishes from this multicuisine restaurant with live music while looking at the view of the posh area of the city, Prahladnagar. While you may have innumerable restaurants to choose from in Prahladnagar, only SKYZ and Sphere Lounge allows you to enjoy food in the open air.
Cost for two: Rs 1,000
Address: 3rd floor, Shivalik Arcade, Anand Nagar Road, Opp Prahladnagar Garden, Ahmedabad – 380015
Contact details: 079-26931500
Vertu Lounge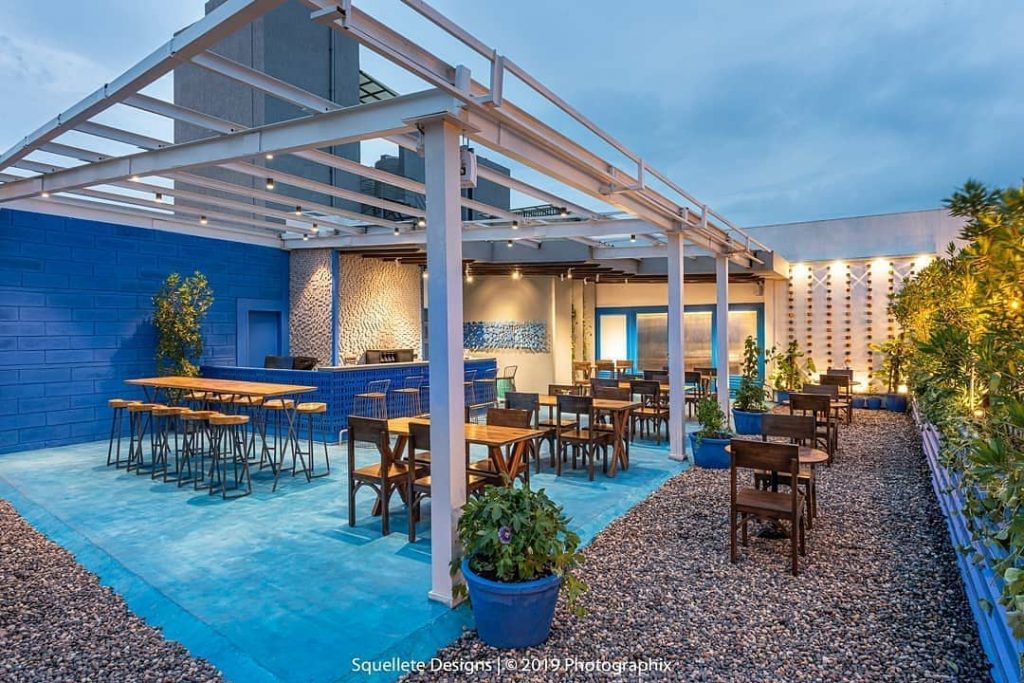 With elegant and beautiful ambience in the shades of blue, you will not regret visiting Vertu Lounge located on the fifth floor of Silver Radiance One. You can enjoy the view of Thaltej area while enjoying food that will tickle your palate from the wide range of cuisines that includes North India, Chinese, Fast food and beverages. Live Sports screening is an add-on to your fun times at Vertu Lounge.
Cost for two: Rs 1,000
Address: 5th floor, Silver Radiance One, Nr Zydus Hospital, Hebatpur Road, Thaltej, Ahmedabad – 380059
Contact details: 08181810299
The Riverfront Grill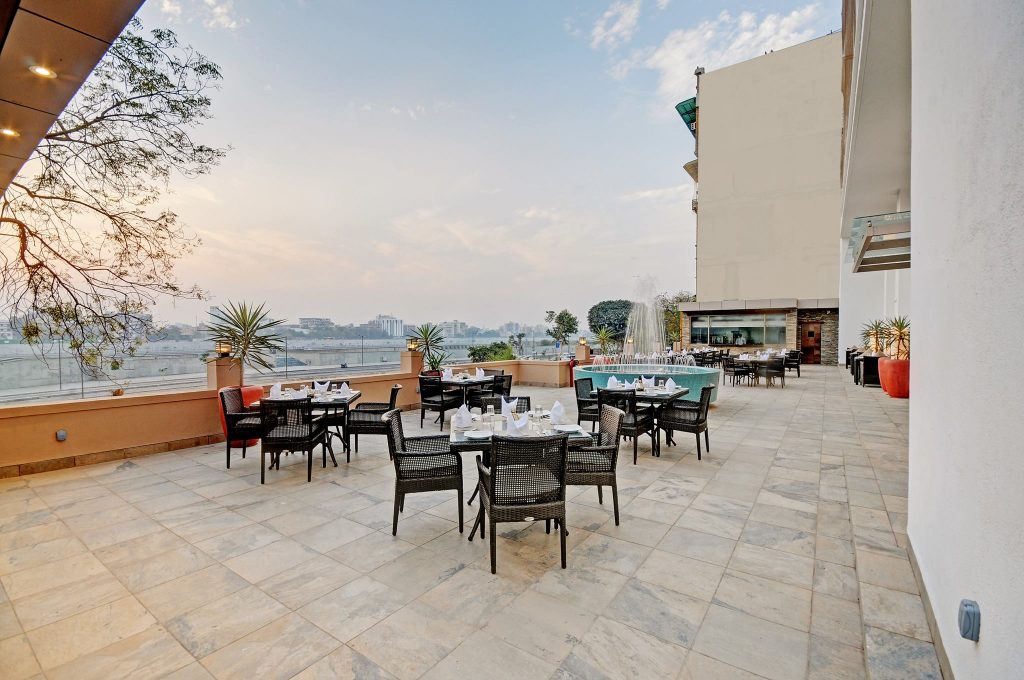 This place is a non-veg food lover's paradise. At least the reviews say so! Relish Nalli Gosht, steak, butter chicken, chicken tikka and so much more while enjoying the view of the iconic Patang Hotel clubbed with an eye-pleasing view of the Sabarmati Riverfront. Vegetarian items too are available at the Riverfront Grill.
Cost for two: Rs 1,500
Address: Lemon Tree Premier, The Atrium, Off Nehru Bridge, Sabarmati Riverfront, Towards Khanpur, Ahmedabad – 380001
Contact details: 079-40805506
Cafe Bluez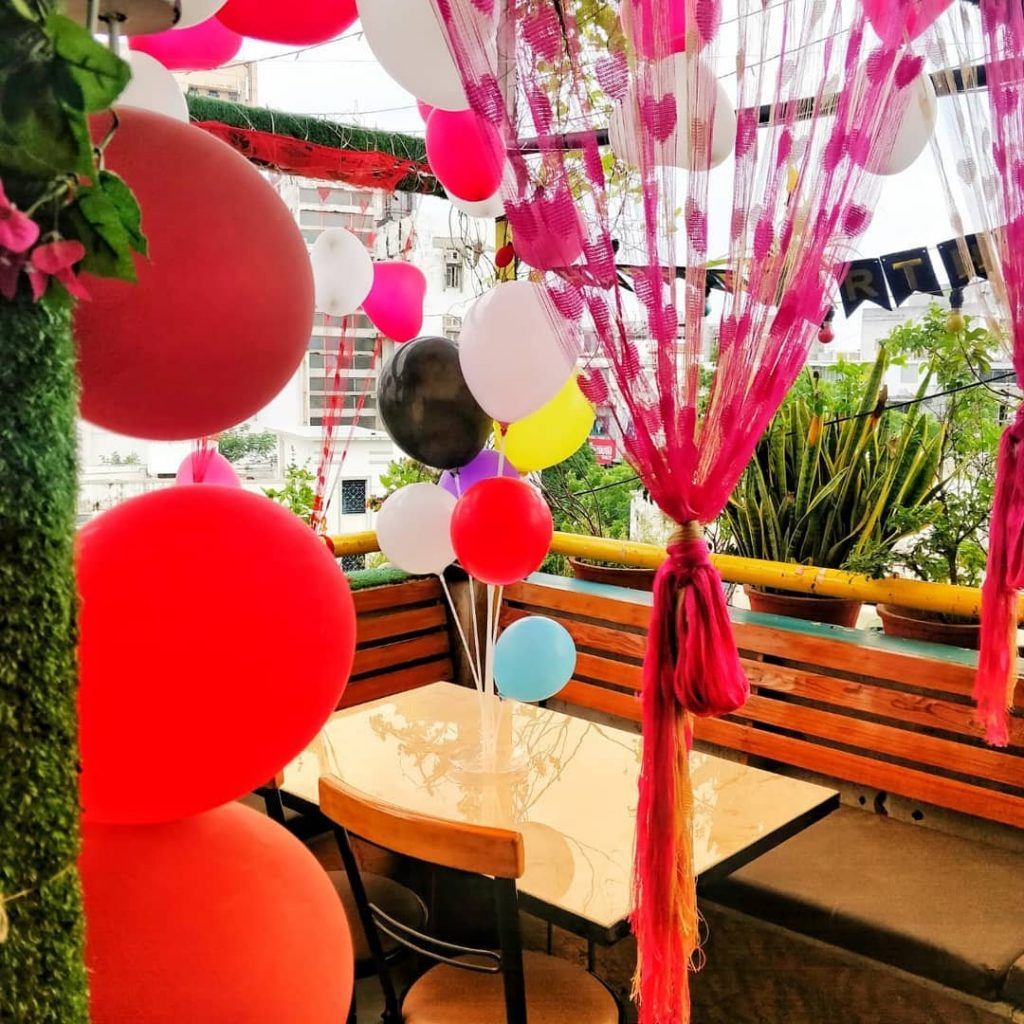 The rooftop outlet is stationed in the heart of the city – CG Road. This dining place serves scrumptious dal makhani, Hakka noodles, paratha and biryani. The Bluez Terrace Cafe is the ideal place to chill out with your friends or your date. This place will surely take away your hunger 'blues'. With Valentine's Day approaching, the Bluez Terrace Cafe is already open for candlelight dinner bookings to make your day with your loved one extra special.
Cost for two: Rs 600
Address: 421, 4th Floor, Supermall, CG Road, Near Lal Bungalow, Ahmedabad 380006
Contact details: 09925088666
Did you know? There are more than 10 Romantic Dinner Places in Ahmedabad. Click here to know more.
The Cafe Date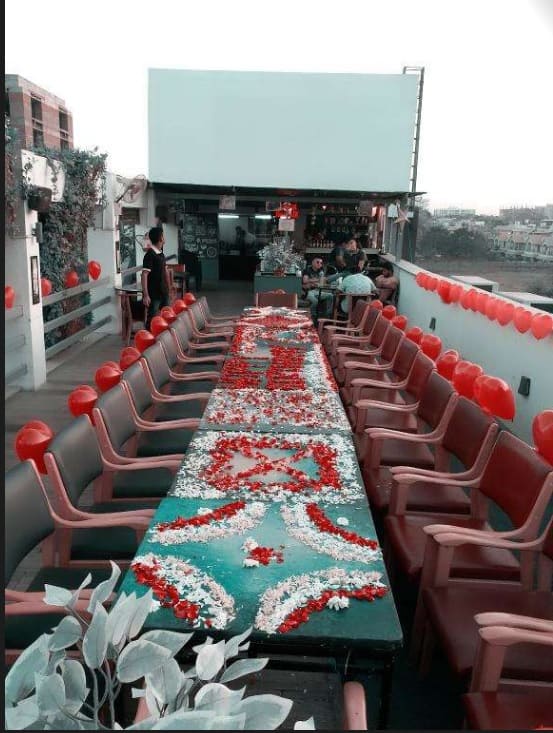 Planning to propose to your partner? The Cafe Date will ensure that your partner at least doesn't say no to the food and the out-of-the-world decoration. This is the best place to spend time with your loved ones with oh-so-perfect candlelight dinner accompanied by live music. The cafe is both on the ground floor and has rooftop seating too. Pasta clubbed with mocktails is something you should not miss trying here!
Cost for two: Rs 500
Address: Kensville Golf Academy, Opp. Pandit Dindayal Auditorium/ Shivalik Business Centre, Rajpath-Rangoli Road, Off SG Highway, Behind Rajpath Club, Bodakdev, Ahmedabad – 380054
Contact details: 06355883148
Brewich Rooftop Café and Restaurant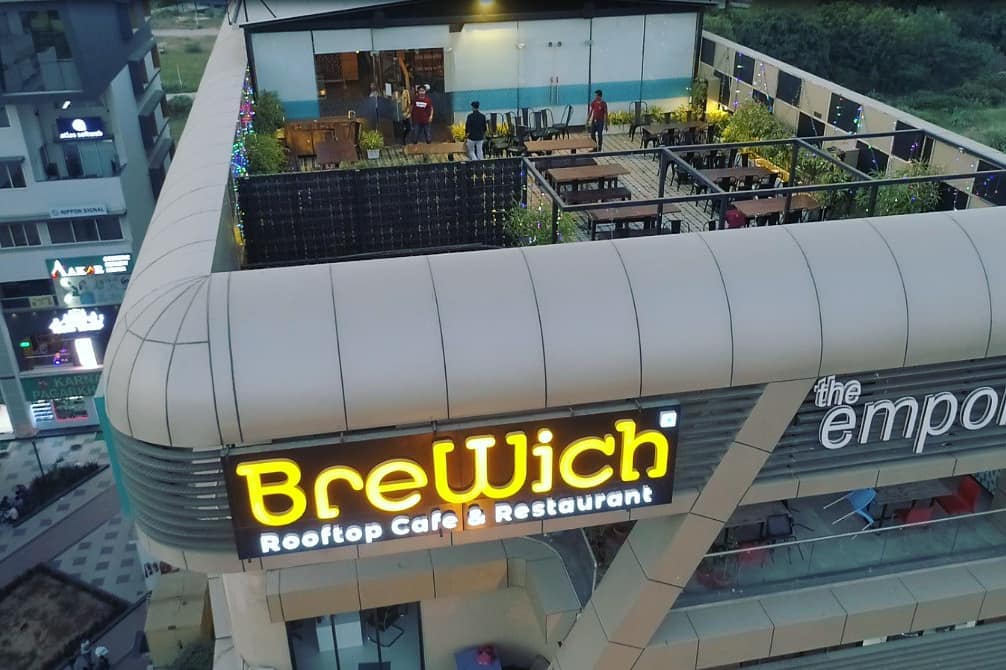 An all-vegetarian cafe and restaurant, cheese balls here are not worth a miss! You can enjoy delicious food at the cafe and restaurant at peace as they also provide valet parking service. A headache that almost every Amdavadi has. Other worth trying items at this rooftop cafe are peri peri pizza, cheese fondue, sizzlers and mojito.
Cost for two: Rs 1,000
Address: The Emporio, Opp. PVR, 4D Square Mall, Visat Highway, Chandkheda, Ahmedabad – 380005
Contact details: 09824124198
Temptt Restro and Cafe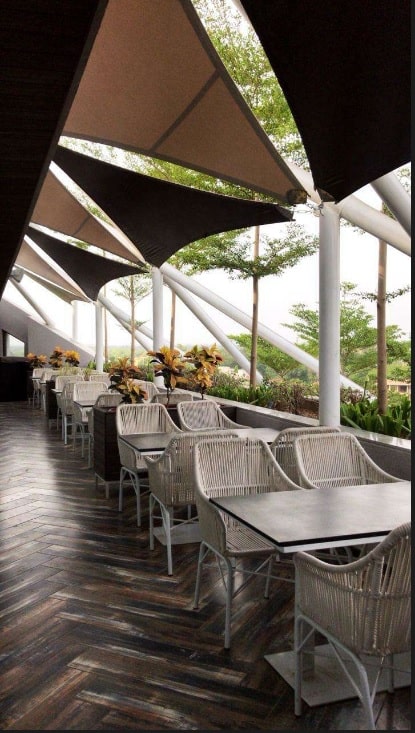 Here you can enjoy a range of cuisines starting from Indian to different Global cuisines like Chinese, Mexican and dessert lovers will drool over. Spend your time joyfully with good food and great music at Temptt Restro Cafe on the sixth floor with a cool vibe. The cafe is a perfect dine out place for family and friends. The must-try dishes include jalapeno cheese balls and basil rice.
Cost for two: Rs 1,000
Address: 6th floor, Athishay Prism, Tapovan Circle, Chandkheda, Ahmedabad 382424
Contact details: 09586041111
Urban Zykaa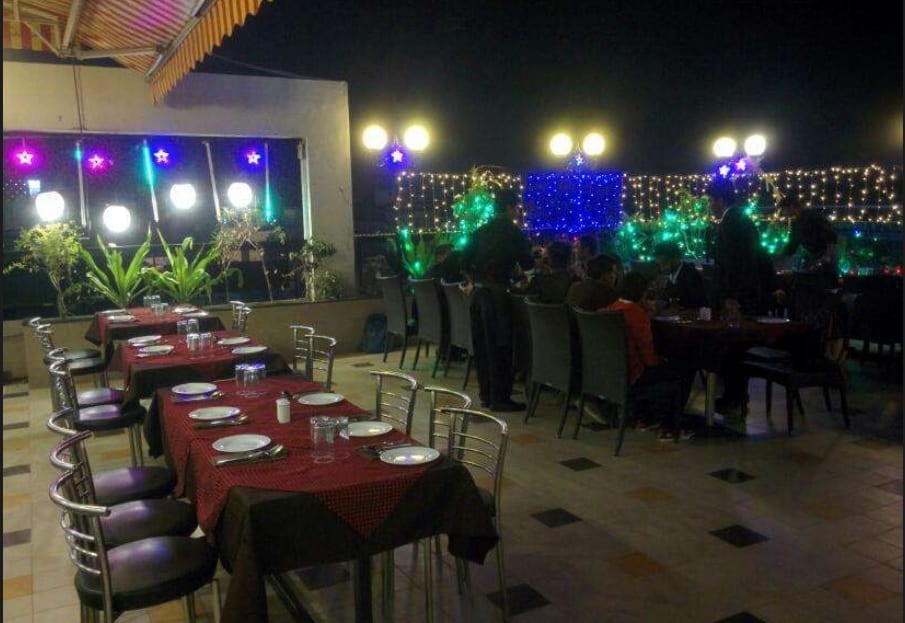 Head here for some good meal that includes great buffet spread and is the ideal place for family gatherings. This place is known for its Chinese, north Indian, continental, Italian and desserts. Urban Zykaa has garden seating and is light on the pocket which gives us all the more reason to visit it.
Cost for two: Rs 800
Address: 4th floor, Saffron Complex, Rambagh, Opp Shelat Bhuvan Bus Stop, Maninagar
Contact details: 07925434000
The Global Adda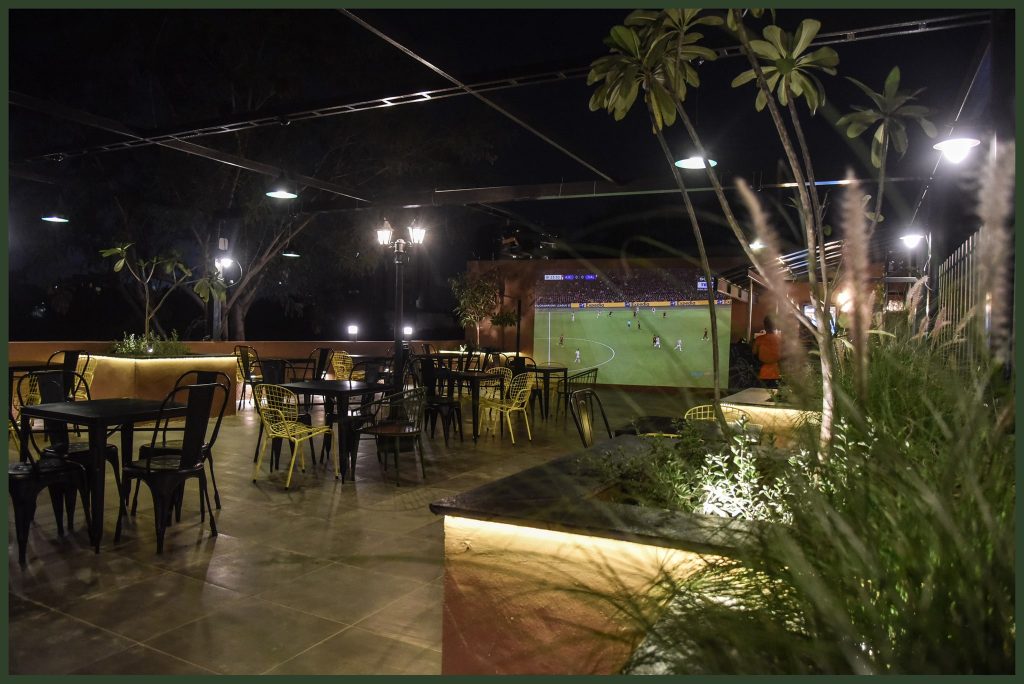 Gorge on list-long dishes from North Indian, Chinese, Italian and Continental at the Global Adda. This place too has both indoor and outdoor seating. The ambience is perfect for family, friends and even couples. The Global Adda is on the first floor, so the view might not be enthralling, however, you can make the most of it by gobbling pizza and other items from the elaborate menu with soothing music.
Cost for two: Rs 1,000
Address: IOC Petrol Pump, Between Pakwan & Gurudwara crossroads, SG Highway, Bodakdev, Ahmedabad – 380054
Contact details: 09510777212
Egg House Rooftop Family Café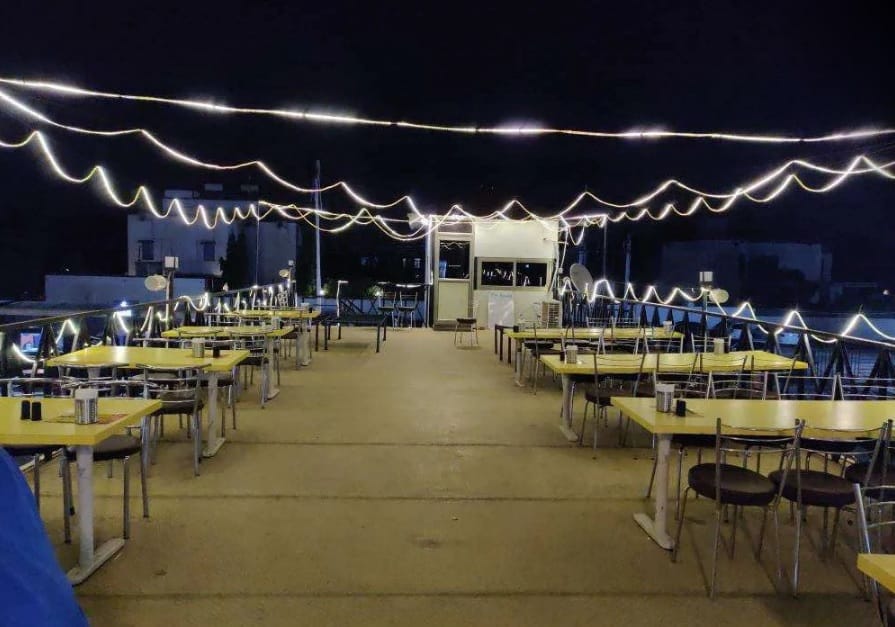 Here you will find a long list of egg delicacies and they claim to be the specialist of Surti Egg items. Satiate your egg cravings with egg pizza, Egg Jannat, Anda Paratha, Australian fry in the open at this budget-friendly restaurant.
Craving for eggs? Check out this detailed list of egg restaurants in Ahmedabad here.
Cost for two: Rs 450
Address: Bogie chefs, B/H Ornet Park – 2, Sindhu Bhavan Marg, PRL Colony, Thaltej, Ahmedabad – 380054
Contact details: 07043601233
We know you must be already craving for egg dishes, click here for the list of best egg restaurants in Ahmedabad.
Cafe Patio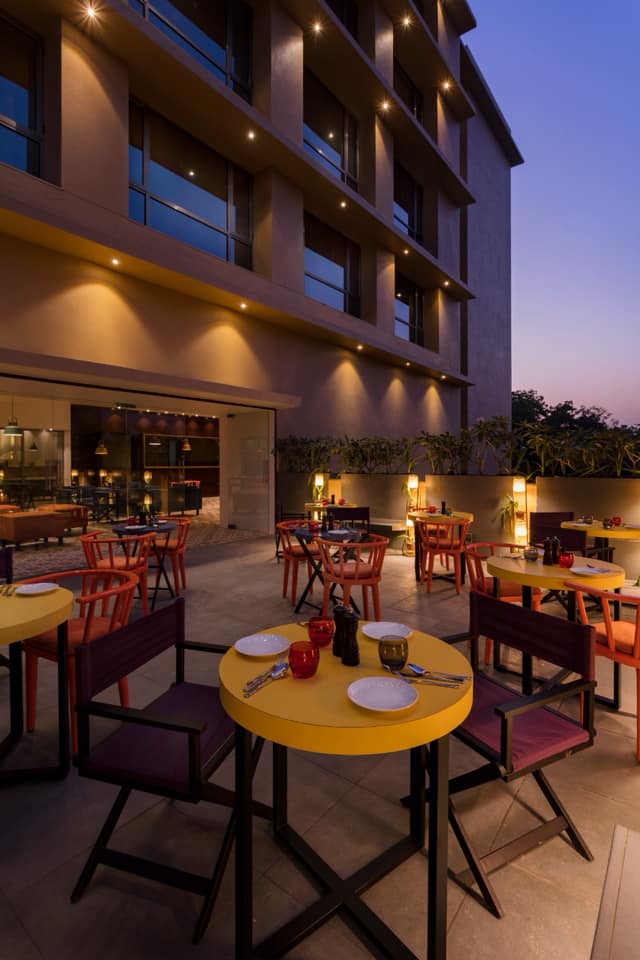 Enjoy a variety of items ranging from North Indian to Chinese and delectable desserts while enjoying the view of Thaltej. You will witness vehicular movement here all day, at times chock-a-block traffic. You can use this as an opportunity to click pictures not only of the delicious food but also the traffic.
Cost for two: Rs 1,500
Address: Hotel Binori, Opp New York Tower, Nr Zydus Hospital, Thaltej, SG Highway, Ahmedabad – 380054
Contact details: 079-68141414
Buddy – The Family Restaurant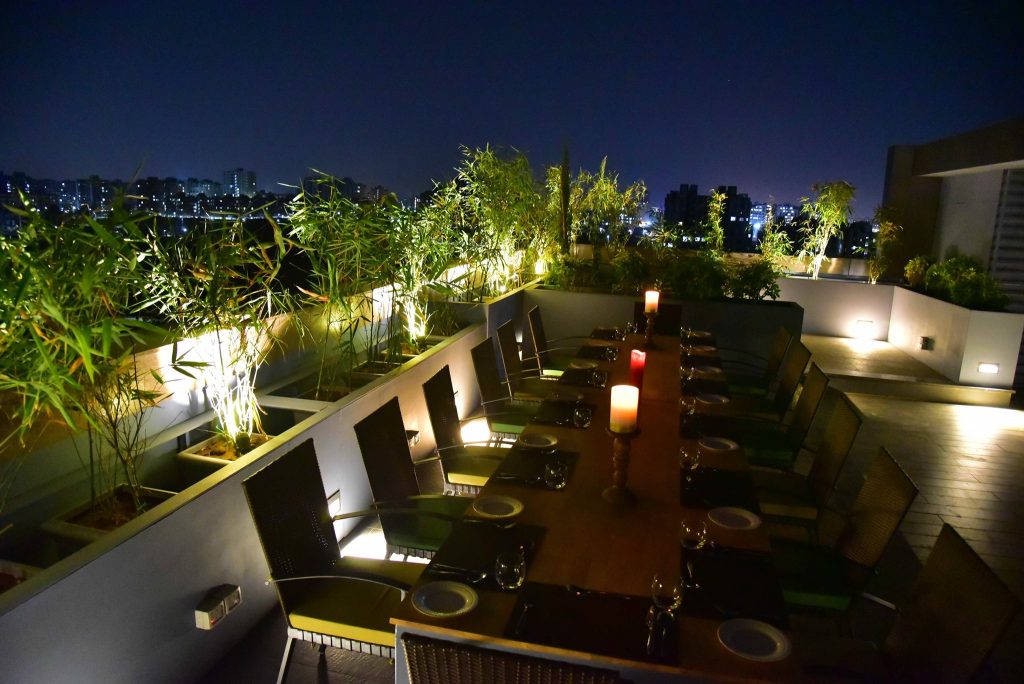 Famous for north Indian and fast food, this place will not burn a hole in your pocket but definitely fill your tummy with toothsome food.
Cost for two: Rs 800
Address: Eulogia Inn, Beside Prime Status, Nr Gota Bridge, Gota, Ahmedabad 382481
Contact details: 07567016000
Head on to these rooftop restaurants in Ahmedabad! Don't forget to let us know about your gastronomical experience.