Responsibly Digital (ReDi), a voluntary organization at the forefront of promoting ethical and responsible use of digital technologies, is proud to announce its upcoming event, the "Digital Dialogue on AI: Generative or Degenerative" in association with Ahmedabad Management Association.
The event will take place on June 30, 2023 at AMA from 3pm to 7pm.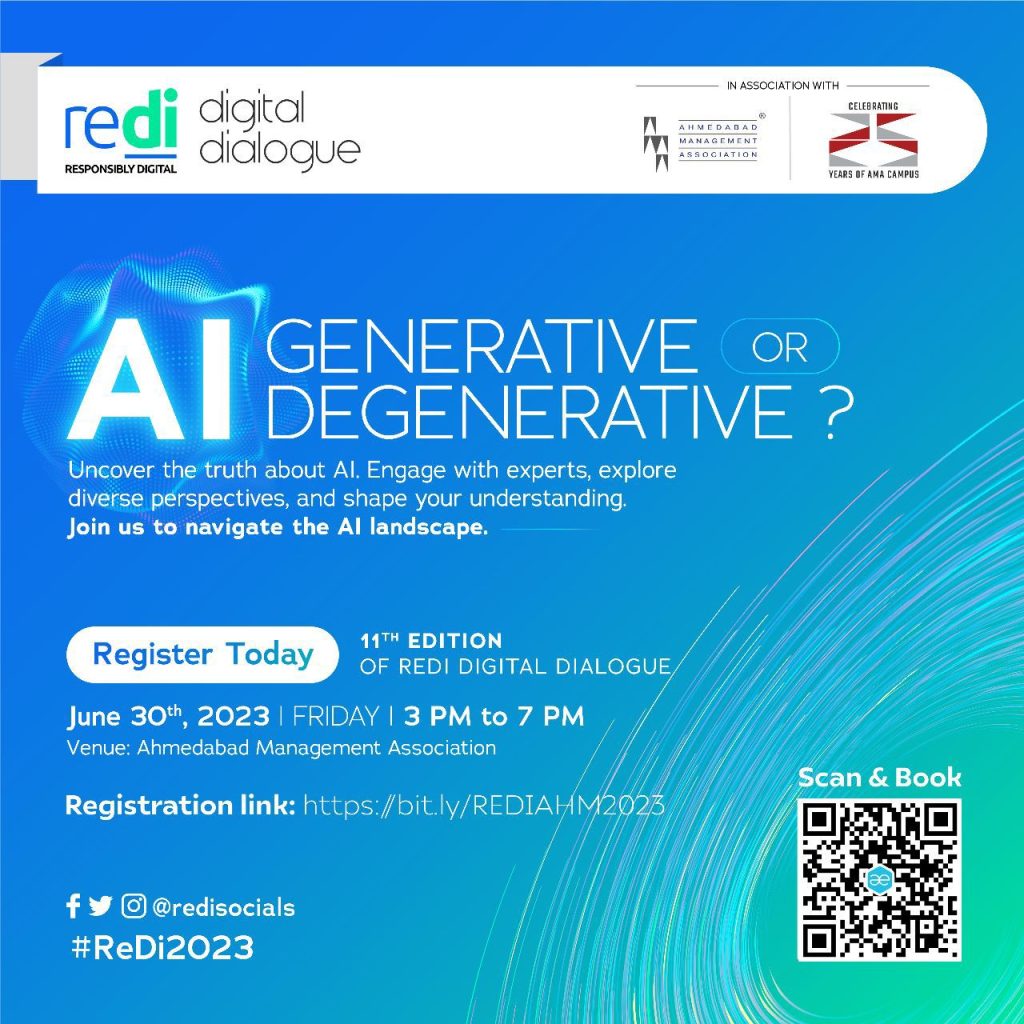 As artificial intelligence (AI) continues to advance and permeate various aspects of our lives, it is crucial to foster meaningful discussions around its potential and its impact on society. The Digital Dialogue on AI aims to bring together esteemed experts, industry leaders, scholars, startup founders and technology enthusiasts to explore the topic of generative and degenerative AI and its implications for our digital future.
During this engaging event, participants will have the opportunity to delve into the nuanced aspects of generative AI, which focuses on AI systems that create original content, and degenerative AI, which refers to AI systems that manipulate, distort, or generate misleading information.Through thought-provoking panel discussions, captivating keynote speeches, and interactive workshops, attendees will gain valuable insights into the potential benefits and challenges associated with both aspects of AI.
The Digital Dialogue on AI will feature renowned speakers, including AI researchers, ethicists, industry experts, and policymakers. Attendees will have the chance to engage in constructive conversations, share perspectives, and exchange ideas on how to foster responsible AI practices that drive innovation while safeguarding against potential risks.
The keynote speaker is Sunil Parekh, an industry veteran and a workshop on AI tools by Sahil Shah, founder of Netsavvies. The first panel discussion on "Navigating in The Emerging AI Landscape" include speaker Kamal Bansal, Managing Director at GVFL Ltd, Amit Saluja, Senior Director & Center Head – Gandhinagar CoE at NASSCOM, Aeshesh Shaah, CEO, Fusion Informatics Limited and Jaydip Binniwale, co-founder & CTO of Downtown club
and on the 2nd panel "The Future of AI & Its Impact on Future Jobs & Organizations", speakers include Ayaz Saiyed, Head, AI/ML, Yudiz Solutions Ltd, Srinath Nair, co-founder, Virtual Slaps, Jyoti Sudhir, Co Founder & Chief Strategist, Inventindia and M Nagarajan, IAS & Collector, Mehsana
On digital dialogue, Kumar Manish, co-founder of ReDi said, ""We believe that open and inclusive dialogues are essential for understanding the transformative power of AI and its impact on society,"
Adding to it, Shailesh Goyal, co-founder of ReDI, said "The Digital Dialogue on AI serves as a platform for individuals from diverse backgrounds to come together and collectively navigate the ethical, social, and economic dimensions of generative and degenerative AI."
The event is open to professionals, students, researchers, policymakers, and anyone interested in gaining deeper insights into the world of AI. Attendees can expect to connect with like-minded individuals, expand their knowledge, and contribute to shaping a responsible and ethical digital future.
Registrations for the Digital Dialogue on AI: Generative or Degenerative are now open. Interested individuals are encouraged to secure their spot as soon as possible, as spaces are limited. The event is by registration only on : www.bit.ly/REDIAHM2023