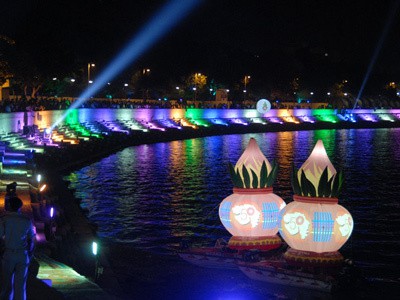 The generic reference of carnival is festival but Kankaria Carnival is more than that. It is the wide expanse of Gujarat's decorated culture, knowledge, art and celebration. Kankaria Carnival 2017 is grander with the festivities expanding to venues like Bhadra Plaza as well as the Sabarmati riverfront. It has come up with the theme "Heritage", to celebrate Ahmedabad's World Heritage City status, this year.
Kankaria Carnival 2017 has commenced with the pompous inauguration by Gujarat's dear CM Vijay Rupani on 25th December, 2017. The five-day celebration has wrapped in several attractions for children as well as adults.
Well how can we miss out the history of Kankaria Lake when the theme of Kankaria Carnival is Heritage? Kankaria Lake is the biggest lake in Ahmedabad. Kankaria Lake is a 550 years old artificial lake, constructed by Sultan Qutbuddin in the 15th century. Currently, the lakeside of Kankaria is a chief entertainment hub of Ahmedabad. Whether its thrill or adventure, whatever the tourist looks up for they will find it here.
This year Kankaria Carnival is hosting a 70-minute audio visual performance under the theme 'Ame Utsav Premi Amdavadi' involving more than 125 artists. A coffee table book showcasing carnivals held since 2008 was released on 25th Decemeber by our designated CM Vijay Bhai Rupani. He even launched "Vavs of Ahmedabad" book.
There is a special corner for aeromodelling fans where unmanned helicopters, powered aero planes, gliders, quadcopter, line control aero plane, hex copter, will be flown from December 29 to December 31 at the football ground and Naginawadi.
From the very first day, Kankaria Carnival is sparkling with crowds engaged in social gathering. Mesmerizing laser and sound show reflected the ecstatic heritage of Ahmedabad on the first day.None of the ahmedabadis could expect better Christmas than this.
Several gujarati singers like Kinjal Dave, Devang Patel,Fareeda Meer, Sanjay Oza and Arvind Vegda are invited to give the heart-warming performance. Drama performances will be organised at Law Garden and Manek Chowk in 2017's Kankaria Carnival. Lecture series on heritage has also been organised.
Skit performance on 'Beti Bachao' theme and yoga-aerobics events have also been planned this year. And this year special focus is on Green Carnival where in no birds and animals will be disturbed.2017 Kankaria Carnival is going to be smoke free carnival with no crackers bursting. The city police, this year, have deployed about 100 young women police who will be dressed in jeans and T-shirts to nab eve teasers.
Major attractions in Kankaria Carnival 2017
Light and sound show
Performance by Sufi singer Kutle Khan
Hasya Darbar
Live performance by band Kabir Cafe
Performance by singers Parth Oza and Sanjay Oza at Bhadra Plaza
Magic show
Police dog show
The most important query is what is the time to enjoy the grand Kankaria Carnival 2017?We have the answer to this question in our blog.
Kankaria Carnival Date: 25 Dec to 31 Dec 2017
Kankaria Carnival Timing: 4:00 pm to 10:00 pm
Kankaria Carnival Address: Kankaria Lakefront, Maninagar, Ahmedabad
Kankaria Carnival Entry Pass / Entry Ticket: Rs 0 (none) – FREE Event
Kankaria Carnival Parking Charges: Rs 0 (none) – FREE Event
A host of LED screens are visible at the venue that display glimpses of the heritage of the city  and by being your guiding light it will drift you towards Kankaria Carnival 2017.